The Adventures of Siggy and Carl
I performed a ten-minute excerpt of my new comedy, working title "The Adventures of Siggy and Carl," directed by Stanley Allan Sherman, as part of Theater for the New City's Lower East Side Festival of the Arts.
The comedy is about the troubled "master-student" relationship of Sigmund Freud and Carl Jung. It is ridiculously based on actual historical events and the two geniuses' published letters.
When a friend suggested that my next role should be Sigmund Freud, Mr. Sherman, who also directed "Duet for Solo Voice," invited me to participate in a couple of workshops he had created for clown theater performers in writing their own material.
In my reading about Freud and Jung, I found some of their history so bizarre that it just cries out for comedy. For example, as a young man in Switzerland, Jung had a persistent hallucination of God crapping from his golden throne onto the Bern Cathedral and smashing it asunder with a giant turd. You just can't make up material this funny.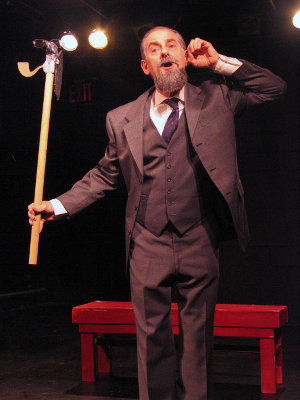 Siggy and Carl in Lower East Side Festival of the Arts, Theater for the New City. Photo by Clarissa Marzan.
An approach that finally worked for me came from reading their published letters and then "riffing" with my own thoughts and dialogue, leaving the historical sources far behind. There is a lot of physical theater.
The episode that was presented in the festival had Siggy and Carl paying a house call on Mrs. Hitler to see about her emotionally disturbed child. The scene is made up, but the info it relates about the Hitler household is strictly on the record. Adolph's mother lived close enough to Vienna that she might have considered engaging a psychoanalyst for her nasty little kid. I don't think she ever did, but I wish she had.
This "little experiment" was a rousing success and tremendously encouraging. I have been adding to the play steadily, with the goal that it can be performed as a full production.
Theater for the New City presented me in "Duet for Solo Voice" and has been a place of many creative beginnings for me. I am very grateful to TNC's Artistic Director, Crystal Field, for making this new one possible.