THEATER FOR THE NEW CITY'S DREAM UP FESTIVAL PRESENTS A CONCERT READING OF "ESCAPING QUEENS," A MUSICAL BY JOE ORTIZ
The story of an immigrant family and their struggle to stick together.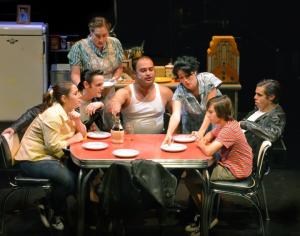 "Escaping Queens," a musical memoir by Joe Ortiz
(L-R) Samantha Pistoresi, Josiah Frampton, Vanessa Alvarez, Adam Saucedo, Danielle Crook, Danny Gould and Devon DeLeon. Photo by Jana Marcus.
WHERE AND WHEN:
September 13 at 8:00 PM, September 15 at 6:30 PM, September 16 at 9:00 PM, September 18 at 6:30 PM, September 20 at 5:00 PM.
Venue: Producers' Club Theaters, 358 West 44th Street.
Presented by Theater for the New City (Crystal Field, Artistic Director) as part of the Dream Up Festival 2015.
Tickets $15
Box office: (212) 254-1109, www.dreamupfestival.org
Runs: 140 mins.
Buy Tickets
NEW YORK, July 17 -- "Escaping Queens," a musical memoir in two acts written by Joe Ortiz and directed by Greg Fritsch, is a funny, edgy, ultimately hopeful story of an Italian/Puerto Rican immigrant family. Through the eyes of a young boy, we meet a cast of jubilant characters: a gambling Puerto Rican father, a nurturing Italian mother, a love-crazed teenager, a lurking neighborhood bookie and Doo Wop kids singing on the street corner. Together they weave a tale of a desperate escape from New York. "Escaping Queens" will have a concert reading September 13 to 20 at Producers' Club Theaters, 358 West 44th Street as part of Theater for the New City's 2015 Dream Up Festival.
The music, all original songs by composer Joe Ortiz, embodies a variety of styles: Latin beats, Sicilian ballads, bluesy riffs, jazz numbers, radio hits of the 1950s and doo wop numbers.
The story takes place in the shadow of the Queensborough Bridge. It opens around the kitchen table in a housing projects apartment, where Mama rules the home with a wooden spoon and a nurturing heart, but cannot control her charismatic, womanizing, gambling husband Herman. When Herman comes home to a festive Italian meal and tells Mama he's bought baseball tickets for their daughter Laura's birthday instead of paying the rent, we quickly learn that there are money troubles brewing in the Perez household. Sooner or later, something has to give--and does. In fact, Herman's bad habits of drinking, seeing other women and gambling create such turmoil that he's forced to flee Queens for California, leaving the family behind in order to escape the menacing threats of Freddie, the local bookie. Without Herman, the family must fend for themselves. Meanwhile, Herman's son Little Joey observes what's goes on in terror and struggles to cope by aspiring to become one of the kids in the hood.
In a concurrent subplot, Laura's new infatuation with boys shows she is starting to make the same mistakes her mother made, because she's attracted to Johnny, who is "just like her father." Johnny gets in a fight with Laura's current boyfriend, Manny, stabbing him and forcing Johnny to also run off to California. Finally Herman sends them plane tickets to come to L.A. and Mama and the kids must make a harrowing escape from the stranglehold Freddie has placed on the family.
Once in southern California, Mama decides to take the family's welfare into her own hands by opening a diner. She later throws a party to try and bring everyone back together after the turmoil they have experienced. Can they be reunited around the same kitchen table where it all began?
The show enjoyed its world premiere in 2012 with 11 sold-out performances at Cabrillo Stage in Aptos, California and was such a success that the company decided to bring it back again in 2013. (www.escapingqueens.com)
Joe Ortiz's (lyrics, music and co-librettist) songs have been featured in his self-produced stage production, "Bread! The Musical," in a 2005 West Valley College production of "Lysistrata," and in his 2010 show, "Smoke Cabaret," starring Lori Rivera. His first book, "The Village Baker," was published by Ten Speed Press and was nominated for the Julia Child cookbook award. He has co-authored three other books, "The Village Baker's Wife," "Shakespeare on Gold" and "The Gardener's Table." Ortiz has also published articles in Bon Appetite, Food and Wine, Cooks Illustrated, Organic Gardening and Writer's Digest.
Greg Fritsch (director and co-librettist) has directed more than sixty productions. An award-winning teacher of acting, Greg lectures on theater at the University of California at Santa Cruz and has been theater director for six years at Notre Dame de Namur University in Belmont, California. His teaching experience also includes stints at Music Theatre Conservatory and Santa Clara University. He earned Master of Arts and bachelor of education degrees at the University of Miami. At the Pocket Opera of San Francisco, Fritsch directed "Emperor Norton," "Starbird" and "Orpheus in the Underworld." For Notre Dame de Namur University, he directed "Into the Woods," "Rent," "Chicago," and "Company" and the operas "The Marriage of Figaro," and "The Magic Flute."
The musical director and accompanist is Max Bennett-Parker. The cast features Max Demers, Dale Badway, Evangelia Kingsley, Amanda Yachechak, Jessica Medoff, Pierre Marais, Michael Thatcher, Tamara Sevunts and Wyatt Bernard.
The sixth Dream Up Festival (www.dreamupfestival.org) will be presented by Theater for the New City (TNC) from August 30 to September 20, 2015, offering a lineup of wide-ranging and original theatrical visions embracing drama, musicals, improv, aerial and more. This year, owing to growing popularity, the festival has expanded beyond its primary venue. Previously, all productions were presented at Theater for the New City, 155 First Ave. This year, 19 productions will be presented at TNC and seven will be presented at an outside venue, The Producers Club Theaters at 358 West 44th Street.
The festival is dedicated to new works. TNC feels this festival is especially needed now in a time of declining donations to the arts, when grants are not being awarded due to market conditions and arts funding is being cut across the country and abroad. The festival aims to push ideas to the forefront through imaginative presentations so as to challenge audience expectations and make us question our understanding of the way art illuminates the world around us.

# # #

Return to festival listings
Captioned, high-resolution photos of shows in this festival are available for download at: http://picasaweb.google.com/jslaff/Dream_Up_Festival
The festival's website is www.dreamupfestival.org.