JUNE 22
NEW FEDERAL THEATRE (VIRTUAL)
READING OF "JIMMY'S LAST NIGHT AT MIKELL'S" BY LARRY MUHAMMAD, DIRECTED BY A. DEAN IRBY
FINALE OF 2021 NTOZAKE SHANGE READING SERIES OF NEW PLAYS
James Baldwin, Miles Davis and Maya Angelou on poster image.
As the finale to its 2021 Ntozake Shange Readings Series, Woodie King Jr.'s New Federal Theatre will present a Zoom reading of "Jimmy's Last Night at Mikell's" by Larry Muhammad, directed by A. Dean Irby, with Alvin Alexis, Kene Holiday and Petronia Paley.
The series is named for the late playwright Ntozake Shange, whose relationship with Woodie King, Jr.'s New Federal Theatre (NFT) goes back to the 1976-76 season, when NFT presented the first production of "For Colored Girls Who Have Considered Suicide When the Rainbow is Enough." The series is used to develop African-American writers and to select plays that NFT may subsequently present as full productions.
In the play, James Baldwin, who has been writing himself into bad health, returns to New York City for some rest and relaxation. He meets up with Maya Angelou and Miles Davis at the iconic jazz club Mikel's, where his brother David tends bar and which is unexpectedly closing. What's intended as a celebration turns into an Irish wake.
The reading is free and virtual only; contributions (recommended $10) are gratefully accepted. For details go to https://newfederaltheatre.com.
JUNE 21 TO 25
MULTISTAGES PRESENTS "SPEAKOUT: POETRY PLAYS & MORE"
A VIRTUAL FESTIVAL OF PLAYS, POETRY AND DANCE
(L) Gloria Vando, Poet. (C) "Breath," choreographed by Jennfer Chin.
(R) Screenshot of Zoom rehearsal for "Trilogy" by Nathan Yungergerg.
MultiStages will present "SPEAKOUT: Protest Plays & More," a virtual festival of multidisciplinary commissioned works, live on June 21 and recorded from June 22 to 25. Conceived and directed by Artistic Director/activist Lorca Peress, the program is a 90 minute turntable of short plays, dance works and poetry exploring the essence of protest and activism in the modern period since the killing of George Floyd. The artistic goal of the festival is to pioneer the use of streaming technology for multidisciplinary protest plays, holding a mirror up to the times we are living in and the stories we wish to tell online with a synthesis of drama, dance, poetry, music and visual/projection imagery.
Ms. Peress commissioned five MultiStages alumni playwrights to create short new works and assigned choreographer Jennifer Chin to create new dances based on the plays' themes. What emerged were insightful treatments of the human condition in times of protest, with a uniquely universal perspective on the feelings and thoughts of activists today.
Peress also requested an "activist poem" from her mother, the noted poet Gloria Vando. It is used in the program as an introduction and a coda. The entire compilation is energized with a synthesis of projections, music and video. See the lineup here.

JUNE 23 & 29
BOHEMIAN NATIONAL HALL, 321 E. 73RD STREET
VACLAV HAVEL'S "AUDIENCE" WITH CZECH MARIONETTES
Vit Horejs as Vanek, Theresa Linnihan as Foreman/Brewmaster. Photo by Jonathan Slaff.
Czechoslovak-American Marionette Theatre will unveil a new marionette production of "Audience" by Vaclav Havel, translated and directed by Vit Horejs, as part of the 2021 Rehearsal for Truth Festival. The play, a dark comedy of spying in a brewery, will be staged with projected closeups of puppets from security cameras in order to suggest surveillance. In the last decade, such use of video has been employed to adapt marionette theater for large houses. The production's concept is by Vit Horejs and Theresa Linnihan, who will act the play together. The 300-seat theater in Bohemian Hall, with socially-distanced seating for this production, is a good venue for this approach of mixing live performers, marionettes and projected live video.

JULY 8 TO 30
ONLINE ONLY
"THE GOLDEN RECORD" PIONEERS SCI-FI IN VIRTUAL THEATER
Jennifer Healy as an artificial intelligence which is gaining consciousness on a disabled spacecraft. Photo by John Gallagher. Digital effects by Kenneth Oum.
"The Golden Record," a new play by Micah Kosstrin-Greenberg, pioneers the use of virtual theater for science fiction. It brings a futuristic cosmic fantasy to life on Zoom using virtual backgrounds, digital makeup, audience participation and techniques of immersive theater. Unlike the Zoom readings and plays which have now become familiar, there is no fourth wall. The audience watches a drama of digital characters as if they are accompanying them through space. They also converse with the actors and guide the plot development interactively. The play's title is a reference to a NASA time capsule program, "The Golden Record," in which Voyagers 1 and 2--robotic interstellar probes--carry a twelve-inch gold-plated copper disk containing sounds and images selected to portray the diversity of life and culture on Earth.

JULY 31 TO SEPTEMBER 12
IN PARKS, PLAYGROUNDS AND CLOSED-OFF STREETS THROUGHOUT ALL FIVE BOROUGHS
THEATER FOR THE NEW CITY STREET THEATER, "CRITICAL CARE, OR REHEARSALS FOR A NURSE"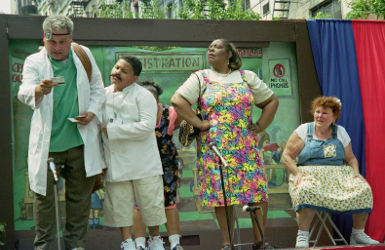 Hospital scene from "The State of the Union" (TNC Street Theater, 2012). A mixup over health insurance cards is the start of a vaudeville-style comedy of identitiy confusion. Photo by Jonathan Slaff.
This rip-roaring musical tells the story of a young person studying to be nurse who, in
order to pay for tuition and books, takes a job in a nursing home. Book, lyrics and direction by Crystal Field; musical score composed and arranged by Joseph Vernon Banks.
TNC's street theater productions typically provide a bouncy joyride through the undulations of the body politic with astute commentary couched in satire, song and slapstick. Their scores are a mix of music from Bossa Nova to Hip Hop to Musical Comedy to classic Cantata. They are delightfully suited for family audiences, since complex social issues are often presented through children's allegories, with children and neighborhood people as the heroes. A brand new work has been presented annually since 1976.
SEPTEMBER 3, 4, 10 & 11
THE PLAYERS, 16 GRAMERCY PARK SOUTH
SIX ONE ACTS BY HAROLD DEAN JAMES
Six diabolical short comedies (TBA) written and directed by Harold Dean James, whose plays have mostly been presented by La MaMa since he made his New York debut there in 1993 with "X Train." These playlets deal with themes of secrecy, charity, the power of art, greed, seduction and afterlife. The performance on September 3 will be an opening night gala benefit for We Three Productions. Ensemble includes Jesse N. Holmes, Paul Albe and Maja Wampuszyc; costumes are by Ramona Ponce.
SEPTEMBER, 2021
THEATER 80 ST. MARKS
NEGRO ENSEMBLE COMPANY PRESENTS "GRANDMA'S QUILT"
Karen A. Brown in "Grandma's Quilt" at Theatre 80 St. Marks. Photo by Jonathan Slaff.
Run resumes for the Nego Ensemble Company's production of "Grandma's Quilt" that was suspended when theaters went dark in March, 2020. In this solo play by Karen A. Brown, an elderly poor, unpretentious Black woman in rural Arkansas is sewing a quilt as the final act of her life. Each scrap of material is a prism into a chapter of her family's past. As she reflects on each period, she transforms into younger versions of herself to lead us through the history that she intends to pass on to her granddaughter. Grandma's strength is her humanity and ability to survive; to hope, to love, and to just carry on. Her quilt is significant, her story universal and her message inspirational. One actress portrays the old woman at six points in her life as well as the granddaughter. Performed by the author, who is is Executive Artistic Director of The Negro Ensemble Company, Inc. Directed by Anthony J. Hamilton.
OCTOBER 14 TO 24
THEATER FOR THE NEW CITY
ELECTRIC'S WEST SIDE STORY (ON THE LOWER EAST SIDE)
While "West Side Story" recently returned to Broadway and will soon be released as a feature film by Spielberg, seven-time Emmy award winner William Electric Black is concocting a one-man show inspired by the famous musical. "Electric's West Side Story (On The Lower East Side)" is the well-known playwright, director and performer's take on the famous play, its place in history, role today and issues it presents. In this version, audience members can become part of the performance.
William Electric Black as a gang member.
"I am telling the story in my own Electric way, using bits of "Romeo and Juliet" while channeling the characters of Tony - Riff – Maria, Bernardo, Lt. Shrank, Doc and a few others," Electric says. "I will use the show to talk about racial prejudice - hatred - and today's racial divide.
Performance will workshop July 1 at 6:45 PM at FAB outdoor performance space on East 4th Street, between 2nd & 3rd Avenues.
OCTOBER 31
THEATER FOR THE NEW CITY
VILLAGE HALLOWEEN COSTUME BALL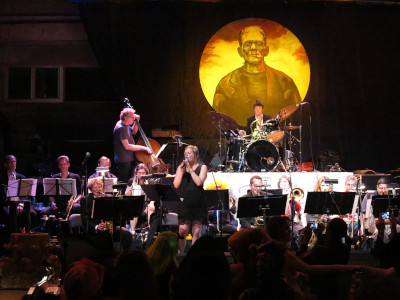 Hot Lavendar Swing Band performs at Theater for the New City's Village Halloween Costume Ball, 2014. Photo by Jonathan Slaff.
Nonstop theater, a costume competition and ballroom dancing will bewitch the East Village October 31 in the 45th Village Halloween Costume Ball, which is presented annually by Theater for the New City (TNC), 155 First Avenue. The one-night fiesta customarily takes over all four of TNC's theater spaces, plus its lobby and the block of East Tenth Street between First and Second Avenues. Typically, over 1,500 wildly-clad celebrants gather for big-band dancing, dining, showing off costumes and viewing acts from the cutting-edge of Cabaret and Theater. Outdoor entertainment, free to the public, starts at 4:00 PM. Once inside, everything is free except food and drink, which are graveyard dirt-cheap. Doors open at 7:30 PM and indoor entertainment begins at 8:00 PM. Two continuously-running cabarets offer theater all evening. Big Band dance orchestras begin at 9:00 PM. Costume competition with celebrity judges begins at midnight. Admission is $20; costume or formal wear is required. With Covid safeguards to observe, the event may be somewhat modified, but its magic will be preserved!
BEGINS DECEMBER 23, 2021
THEATER FOR THE NEW CITY
"THE SLAVE WHO LOVED CAVIAR" BY ISHMAEL REED, DIRECTED BY ROME NEAL
Ishmael Reed
Renowned playwright, poet and satirist Ishmael Reed takes aim at the New York City art world with this new play about the life and career of Jean-Michel Basquiat. Reed examines the racism directed at Basquiat and the ways that Andy Warhol, the art establishment and the fashion industry exploited and profited from Basquiat's artistry. Why was racism toward Basquiat allowed to masquerade as "art criticism"? How does this implicate the New York City art world? Directed by Rome neal, Artistic Director of Nuyorican Poets Cafe.
RESCHEDULED TO SEPT. 19 TO OCT. 9 (WAS JUNE 3 TO 20)
THEATER FOR THE NEW CITY
"OCCASIONALLY NOTHING" BY NATALIE MENNA
"Occasionally Nothing" L-R: Brad Fryman, Maiken Wiese, Sean Hoagland in Theater for the New City's Dream Up Featival, 2018. Photo by Jonathan Slaff.
The Theater for the New City production of "Occasionally Nothing" by Natalie Menna, which was originally scheduled for June 4-20, 2021, has been postponed to September 19-October 9, 2021 upon receiving notice from Actors Equity Association that the union is not yet allowing the use of the showcase code for in-person work. I guess the road back from the Covid shutdown is a little bumpy sometimes.
The play is set in the near future. The world is nearing its end. In a bizarre bomb shelter, Harry, Clay and Luella, British expats, cope by taunting each other with warped games of verbal wordplay and by blurring each other's realities while losing touch with their own. It's a bleak glimpse at life in the dystopic wake of a failed revolution where war abounds, words have lost their meaning and people have lost their way. "Occasionally Nothing" premiered inTheater for the New City's DreamUp Festival 2018.
FEBRUARY 21 TO MARCH 13, 2022
THEATER FOR THE NEW CITY
"DANCE OF DEATH" PARTS ONE AND TWO BY AUGUST STRINDBERG
This two-part play, written in 1900, is is being presented together for the first time in North America by August Strindberg Rep. It is labeled by some critics, not without justice, as Strindberg's greatest work. In an isolated fort Edgar, a captain of artillery, and Alice, his wife, have lived for 25 years, hating each other with a deadly venom and each wishing the other's death. Their home becomes peopled with devils. When Kurt, Edgar's friend, comes to stay in it, he is caught up in the atmosphere of evil. He falls in love with Alice and becomes her associate in a plot designed to destroy her husband. During a stroke, Edgar suddenly gains a new vision of life, realizing his own errors and pleading for reconciliation. Thus ends the first part of the drama.
August Strindberg
The second shows the final triumph of the wife. Remorselessly, she drives Edgar to his death--although in the very process of doing so, a bitter doubt enters her mind. The play's legacy can be seen in a number of contemporary plays. In "Play Strindberg," Friedrich Dürrenmatt condensed the two parts into a terse, brutal series of boxing rounds. The claustrophobic atmosphere and treatment of marital dysunction in Strindberg's masterpiece reverberate through Albee's "Who's Afraid of Virginia Woolf?," Harry Kondoleon's "The Houseguests" and even John Guare's "The House of Blue Leaves."
FEBRUARY 3 TO 20, 2022
THEATER FOR THE NEW CITY
"WHO MURDERED LOVE?"

"Who Murdered Love" by Lissa Moira and Richard West is set in 1924 New York City and in a Paris dreamscape. The story follows WWI veteran & private eye, "Sleepy" Sam Speed, Gail Friday & Everett Greene as they attempt to unravel the disappearance and possible murder of DaDa Love, at the behest of their client, the stunning heiress Honey Potts. DaDa Love is at the center of the world of DaDa artists, at the time when the Surrealists are vying for artistic supremacy. Their quest leads the trio through a mad adventure sparked by artistic and sexual jealously as they find themselves inside an Absinthe dream, peopled by outrageous artists of every stripe – some very predatory.
APRIL, 2022
THE NEGRO ENSEMBLE COMPANY, INC. (VENUE TBA)
"LAMBS TO SLAUGHTER" BY KHALIL KAIN
During the Covid-19 hiatus, The Negro Ensemble Company, Inc. has been developing "Lambs to Slaughter" by Khalil Kain, a new play with poetry and music, under the direction of Reginald L. Douglas. Kalil Kain is an urban icon who is renowned for his performances in the 1992 crime thriller "Juice," the UPN/CW sitcom "Girlfriends" (2001-2008) and the title role in the film "Tiger Woods." Reginald L. Douglas is a distinguished developer of new works and advocate for new voices. Off-Broadway opening is projected for April, 2022. Venue is TBA as of this writing.
Khalil Kain. Source: Stage 32.
The play is a drama of a single mother who has lost her older son to gun violence and must navigate the mourning process with the help of an upstairs neighbor and an ex-lover. She fears failing her younger son, who wrestles with his own demons and guilt. The piece will be Kain's first produced play. It blends compelling realistic dialogue with verse that is crafted for call-and-response. Instrumental underscore is provided by Keith Edward Johnson. The verse, seamlessly woven into the story, provides an emotional release for the characters, exploding with heightened truth and pulsating through an incendiary look at the current state of America. Kain will portray the ex-lover, a former convict who has turned his life around and seeks to save the single mother who is the play's tragic heroine.
APRIL 25 TO MAY 15, 2022
THEATER FOR THE NEW CITY
"COMMITTED" BY NATALIE MENNA
Dutch Fimmaker Theo Van Gogh in 2004. Source: Wikimedia Commons.
A work of historical fiction about the last two days of Dutch filmmaker Theo Van Gogh's life. When his highly controversial and vulgar documentary causes a tremendous uproar in Amsterdam and abroad, Theo spirals downward. The play explores the collision of an artist's radical temperament and unyielding vision with modern political realities and the inevitable tragedy when uncompromising values clash. Can friendship, family, or love save Theo from his biggest threat - himself?
THEY HAD THE FIRST RED CARPET FILM OPENING IN NYC SINCE THE PANDEMIC SHUTDOWN.
(L) Marshall Bonny, Maureen O'Connor, writer & director Sophia Romma, Ox King, Grant Morenz. Photo by Magda Katz. (R) Clas Duncan and Emily Seibert.
When live audience events were finally able to return to New York art houses, "Used and Borrowed Time," written and directed by Sophia Romma, had its red carpet world premiere May 7 at Quad Cinema, 34 West 13th Street in Greenwich Village. The film is a psychological drama phantasma in which an interracial couple's idyllic love rises above the hatred of a vengeful white supremacist family in segregationist Alabama during the 1960s. It has been translated from its original English into Greek, Spanish and Italian and is available currently on Amazon Prime, Apple TV, Roku, Vyre Network and AlohaStream.
"FEATHERS OF FIRE"
The UNIMA award winning "Feathers of Fire," a cinematic shadow play for all ages, is readying for a multi-platform release. It tells the action-packed tale of Zaul and Rudabeh, two star-crossed lovers of old Persia. Zaul is raised by a mythical bird in the wild. Rudabeh is the granddaughter of the dreaded Serpent King. Their deep love for each other enables them to triumph over inconceivable odds.
Vibrant graphics, derived from the visual tradition of the Middle East, are rendered as puppets, costumes, masks, scenography and digital animation, all of which come to life in a "live animation" shadow casting technique that is performed against a cinema-size screen.
The production is the most elaborate shadow theater experience ever created. Francis Ford Coppola called the production "Fantastic! One of the greatest epics of all time and my favorite 'Shahnameh' brought to life in a spectacular fashion by Hamid Rahmanian with shadow puppets design and cinematic wizardry." Its Off-Broadway run at Kaye Playhouse in 2018 received glowing reviews.
VIDEO ON DEMAND
NEW YIDDISH REP & THEATER FOR THE NEW CITY PRODUCTION OF "THE DYBBUK"
Screenshot of "The Dybbuk" at TNC.
"The Dybbuk" is arguably the most well-known play in the Yiddish theater lexicon. It was premiered on December 9, 1920 by the Vilna Troupe at the Eizeum theater in Warsaw. Its success catapulted that company onto the International stage. It has since been translated into 27 languages and performed worldwide. From December 9-13, New Yiddish Rep celebrated the play's 100th birthday with a live performance streamed from Theater For The New City. A recording of the production has been released for the general public to view on Vimeo. More info
WOODIE KING, JR. RETIRES JUNE 30 AS HEAD OF NEW FEDERAL THEATRE
Hands company's leadership to Elizabeth Van Dyke
(L) Woodie King, Jr.
(R) Elizabeth Van Dyke, new Artistic director, as Zora Neale Hurston in 2016

Woodie King, Jr., Founder and Producing Director of New Federal Theatre (NFT), will retire from leadership of the famed theater company on June 30, 2021, handing the baton to NFT's newly appointed Artistic Director, Elizabeth Van Dyke.
Mr. King will remain on NFT's board of directors, but his creative projects will change tracks. He is writing a book on Black Theater in New York and is associate producer of an animated film for Netflix, "Bud, not Buddy," an adaptation of the historical fiction novel by Christopher Paul Curtis about a ten-year-old boy's journey through Michigan during the Great Depression seeking a father whom he has never met.
Since 1970, Woodie King, Jr.'s New Federal Theatre has produced over 450 mainstage plays, an astonishing and influential record of achievement, sending multiple plays to Broadway and launching an honor role of minority and women playwrights and actors into prominent careers.
On May 19, 2020 the Off-Broadway Alliance named Woodie King, Jr. a "Legend of Off Broadway," recognizing sustained achievement in Off Broadway theater. In recent years, he has been the subject of biographical documentaries including "The King of Stage: the Woodie King, Jr. Story" directed by Juney Smith and TCG's "Legacy Leaders of Color" video project. His numerous awards include an Obie Award for Sustained Achievement, TCG's Peter Zeisler Award, AEA's Paul Robeson Award, AEA's Rosetta LeNoire Award, an Honorary Doctorate in Humane Letters from Wayne State University, a Doctorate of Fine Arts from the College of Wooster and Honorary Doctorates from Lehman College and John Jay College of Criminal Justice. In 2012 he was inducted into the American Theatre Hall of Fame and received the Innovative Theatre Award's Sustained Excellence in Theatre.
NFT turned 50 last year. It will continue to be known as "Woodie King Jr.'s New Federal Theatre."

ACTIVIST LAWYER ARTHUR SCHWARTZ FOR CITY COUNCIL
I'm endorsing Arthur Schwartz, the noted activist lawyer, for City Council in the third district, which includes the West Village, SoHo, NoHo, Flatiron, Chelsea, Hell's Kitchen/Clinton, and parts of Murray Hill. The district is now represented by Corey Johnson, who is term-limited. Schwartz is presently the male Democratic district leader for Greenwich Village.
I served as a public member of Community Board 2's Waterfront Committee under his chairmanship and later on the Arts & Institutions Committee when he was chair. His fair, principled and intelligent leadership of these committees have taught me many valuable lessons. See his bio in his campaign website.
This campaign ad (above) recounts some of his accomplishments, which include saving Beth Israel Hospital, restoring gas in NYCHA housing, saving the Village Hallloween Parade, and founding Friends of Hudson River Park. Arthur frequently offers himself as counsel to social movements, and has counseled anti-nuclear groups, anti-Central America intervention groups, ACORN, NY Communities for Change, Occupy Wall Street, anti-gas pipeline activists, and Black Lives Matter, among others. When WBAI was faced with closure in 2019, he successfully litigated in court to keep the nonprofit, listener-supported station on the air, and then became General Counsel to the Pacifica ationwide network it is part of.
INDUSTRY INTELLIGENCE

Performing Arts Insider is your everything theater guide. Publisher David Lefkowitz is constantly expanding its coverage of recorded and virtual shows--both limited-run zooms and perpetual videos on YouTube.
Subscriptions are available for both the hardcopy and digital versions.
NEGRO ENSEMBLE READYING "THE ROOTWOMAN" BY MICHAEL BRADFORD
For June, 2022, The Negro Ensemble Company Inc. is preparing to mount "The Rootwoman," a contemporary play by Michael Bradford with accompanying music and vocals. In a small rural community on the outskirts of New Orleans, Cleveland Temple hasn't been able to keep a morsel of food in his stomach for weeks. His wife, Wanda Temple, is finally pregnant. His best friend, Lucias Steady can't seem to shake a twenty year old dream. His former mistress, Cecelia Shacklefoot, is drowning in the river flowing in her own back and Ms. Janie, the Rootwoman, has a secret for which even she cannot find the cure. At the end of the day, it is the whistle of a coming train that sounds the final blue note of this syncopation. This is a play about the seduction of love, the bitter taste of regret and the necessity of redemption.

STATE ANNOUNCES $105 MILLION IN GRANT FUNDING FOR NONPROFIT ARTS ORGANIZATIONS & ARTISTS
Governor Cuomo wrote on June 14: "Today we announced grant funding is available for nonprofit arts and cultural organizations and artists. The COVID-19 pandemic had a devastating effect on many artists and performers, but we are committed to reviving the arts and culture—they are part of what makes New York so special. The New York State Council on the Arts will offer four rounds of flexible funding grants, with applications opening on Wednesday, June 16." Learn more.
---
Jonathan Slaff & Associates
55 Perry Street, Ste. #1M, New York, NY 10014