MAY 31 TO JUNE 24
NUYORICAN POETS CAFE
"LIFE AMONG THE ARYANS" BY ISHMAEL REED
In "Life Among the Aryans," an American political satire by Ishmael Reed, directed by Rome Neal, the time is the future and the political pendulum has swung way back. Now the president is Jewish and the head of the FBI is a Black woman, presenting such a nightmare to the far right that they now miss the president they called The Muslim King.
The government has enacted reparations to Black Americans for the unpaid labor of their ancestors. This inspires envy and desperation among impecunious members of the Alt-Right. But it also inspires them to a new, uproarious strategy of "if you can't beat 'em, join 'em."
Angela Pierce plays a modern-day Antigone.
Photo by Jonathan Slaff.
JUNE 6 TO 30
FLEA THEATRE MAIN STAGE
"A BLANKET OF DUST"
This production comes to New York in a time when, with authoritarianism growing the world over, plays of resistance feel urgent and immediate. "A Blanket of Dust" by Richard Squires is the story of Diana Crane, the daughter of a high-ranking US senator who is a modern day Antigone. Her husband dies in the World Trade Center. Diana's subsequent ordeal in seeking justice for his murder ultimately drives her to the outer fringes of society. Struggling with facts that the government, the media, her family and her countrymen deny, she finally confronts her doubters with a harrowing act of sacrificial tragedy. World premiere; Christopher Murrah directs.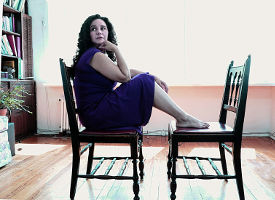 Rachel Botchan as Irene. Photo by Jonathan Slaff.
JUNE 16 TO JULY 14
CLURMAN THEATER, THEATER ROW
"THE PROPERTY"
Robert Kalfin directs "The Property" by Ben Josephson, the story of a woman, two men she has loved and one she is tempted to, and the ardent teenage son she stifles with good intentions.
Irene was once carefree and artistic but now is a low-level corporate manager. Alarmed by the erosion of her family's financial security, she imposes two measures to shore the family up. She rents out a property--the garden cottage that has been her current husband's retreat--to a teacher who infatuates her. Then she inveigles her ex, who is her son's vehemently estranged but influential father, into launching the boy on a lucrative career path. A drama of five people on the edge, constrained by an increasingly ungenerous world, who transform into selves that would horrify the selves they once had been.
Director Robert Kalfin was named a Legend of Off-Broadway by the Off-Broadway Alliance in 2015. This world premiere is presented by New Light Theater Project's Spotlight Series, Sarah Norris, Artistic Director; Michael Aguirre, Managing Director.
(L-R) Tomomi Imai, Morgan McManon, Jessica Ames. Photo by Jonathan Slaff.
JUNE 21 TO 23
GRAHAM CENTER OF CONTEMPORARY DANCE
VENCL DANCE IN "CRITICAL JUNCTURES"
Choreographer Susan Vencl returns to Graham Center of Contemporary Dance with "Critical Junctures," an evening of contemprary modern dance with music by Arlene Sierra. The concert premiers "Intersections," a 35 minute sextet, and presents a 30 minute reconstruction of Vencl's 2016 meditation on randomness and unpredictability, "Long Before Afterward."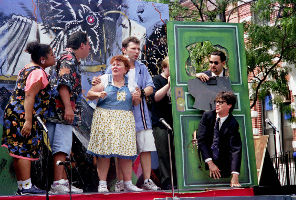 "The State of the Union," Theater for the New City's 2003 Street Theater production. Identity confusion causes the neighborhood to be raided by men in black. Photo by Jonathan Slaff.
AUGUST 4 TO SEPTEMBER 16
THEATER FOR THE NEW CITY STREET THEATER
"SHAME OR THE DOOMSDAY MACHINE"
Theater for the New City's award-winning Street Theater Company will open its 42nd annual tour August 4 with "Shame or the Doomsday Machine," a rip-roaring musical. Free performances will tour City streets, parks and playgrounds throughout the five boroughs through September 16. Book, lyrics and direction are by Crystal Field; the musical score is composed and arranged by Joseph Vernon Banks.
AUGUST 26 TO SEPTEMBER 16
THEATER FOR THE NEW CITY
NINTH ANNUAL DREAM UP FESTIVAL
Theater for the New City, under the direction of Crystal Field, Artistic Director, will present its ninth Dream Up Festival, a feast of adventurous theater featuring new works from across the country and abroad. Helmed by the theater's Literary Manager, Michael Scott-Price, the festival will offer over 20 plays, mixing world premieres, American premieres and New York premieres. It's an ultimate new work festival dedicated to the joy of discovering new authors and edgy, innovative performances.
Nathalie Ellis-Einhorn in
"I.M. LOST!" (2017)
Photo by Ron Wyatt.

Ivette Dumeng and Bryan Hamilton in "Guilty" by Icelandic playwright Hrafnhildur Hagalín (2017). Photo by Jonathan Slaff.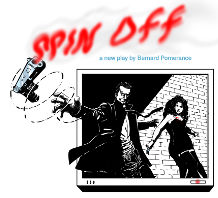 SEPTEMBER 21 TO OCTOBER 13
"SPIN OFF" BY BERNARD POMERANCE
RIVERSIDE THEATRE, 91 CLAREMONT AVE.
Creative Women New York will present the world premiere of "Spin Off" by the late Bernard Pomerance, author of "The Elephant Man," in a production directed by Ron Canada. The play is set within the world of a network television series and weaves a surrealistic tale of characters attempting to "immigrate" from the world of fiction into reality and beyond the soundstage. Figures from television's seemingly endless stream of cop shows have mysteriously awakened to the narrow limits of their existence as TV stereotypes. They devise a plan to "cross over" in order to find fully dimensional lives. In preparing to escape the confines of their artificial world, they make discoveries about the nature of memory, aspiration, identity, loyalty and, most importantly, love.
L-R: China Colston, SJ Hannah, Seven Svatomir and Adrain Washington. Photo by Jonathan Slaff.
PLAYS THROUGH MAY 27
THEATRE 80 ST. MARKS
"HERCULES DIDN'T WADE IN THE WATER"
The Negro Ensemble Company, Inc. presents the world premiere production of "Hercules Didn't Wade in the Water" by Michael A. Jones. The play is winner of the troupe's 2017 Emerging Playwrights Competition. We are offered a story of displacement of Black families and the forces that lead to it in modern America. It's 2005, during Hurricane Katrina in New Orleans. Two men who gambled on reporting for a day's work now cling for life on a rooftop. Two women are hundreds of miles away in Chicago: one is the fiancee of a man on the rooftop, the other has separated from her husband over the accidental death of their infant. Separation from loved ones gnaws at all five characters of the play as it reveals their struggles for love and happiness.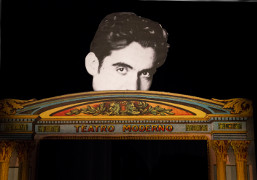 Photo by Richard Termine.
PLAYS THROUGH JUNE 3
LA MAMA E.T.C. (ELLEN STEWART THEATRE)
"THERE'S BLOOD AT THE WEDDING" BY THEODORA SKIPITARES
Why's that giant head of Federico Garcia Lorca rising over a colorful toy theater? Maybe it's because the lost weddings of Sean Bell and Justine Damond recall the tragedy of "Blood Wedding."
In "There's Blood at the Wedding," Theodora Skipitares, the famed creator of theater with giant-to-miniature puppetry, is evolving new and unfamiliar forms of storytelling. She thinks that a contemporary American tragedy--police killings of innocent civilians--should be an open book. So she has constructed six large-scale book pop-ups, within which to stage reflections on the deaths of six victims of police violence: Philando Castile, Amadou Diallo, Sandra Bland, Sean Bell, Justine Damond and Eric Garner.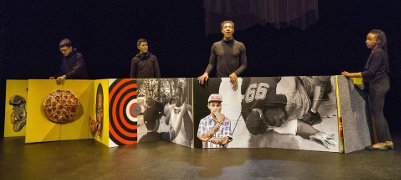 "Book"of Eric Garner. L-R: Nishan Ganimian, Chris Ignacio, Eric Taylor and Alexa Jordan. Photo by Richard Termine.
Flashes of Lorca's masterpiece connect a Circle of Mothers--the mothers of the American victims--with the grieving mothers of the classic play. Giant puppets, masks and performing books are created by Theodora Skipitares. Music is composed and performed by Sxip Shirey. Video projections are by Kay Hines. Co-set designer is Donald Eastman. Lighting design is by Yi Chung Chen. Performed by a cast of five puppeteer-storytellers.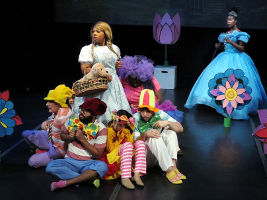 Dorothy (Taylor-Rey Rivera) and Munchkins cower before Wickjed Witch of the West. Right: Barbyly Noel as Glinda. Photo by Jonathan Slaff
EXTENDED THROUGH NOVEMBER 24, 2018
HARLEM REPERTORY THEATRE
TATO LAVIERA THEATRE, 240 E. 123RD ST.
"THE WIZARD OF OZ"
Harlem Repertory Theatre presents "The Wizard of Oz," co-produced by the Yip Harburg Foundation, for young (and young-at-heart) audiences. This production of the classic musical has a multi-racial cast, a jazzy underscore and authoritative dramaturgy by representatives of the Yip Harburg Foundation. Director/choreographer is Keith Lee Grant, Artistic Director of Harlem Rep, who is in the midst of a four-year project of presenting four classic musicals that have lyrics by E.Y. "Yip" Harburg, who was known in his lifetime as the "social conscience of Broadway."
Robert Homeyer (L) and David Kubicka (R) in "Creditors." Photo by Jonathan Slaff.
POSTPONED UNTIL THIS SUMMER:
"CREDITORS" BY AUGUST STRINDBERG
August Strindberg Rep presents "Creditors" by Strindberg, newly translated and directed by Robert Greer. During an afternoon in a lounge at a seaside resort, a revenge is played out. A credulous artist has his mind poisoned against his wife by her former husband. This masterpiece from Strindberg's naturalist period is rarely excelled in its unity of construction, dramatic tension and acute psychological analysis, but it is far less anthologized than "The Father" or "Miss Julie." Was to be presented May 16 to June 2 at Gene Frankel Theatre. New dates are TBA.
DARIO D'AMBROSI's TEATRO PATOLOGICO (PATHOLOGICAL THEATER)
On May 16, Dario D'Ambrosi's award-winning version of "Medea," performed with a chorus of actors with diverse abilities from his Teatro Patologico di Roma, was presented in Brussels before the European Parliament. European heads of state attended. It was part of the initiative, "EU: performing arts and disabilities - the Italian Way."
Teatro Patologico at European Parliament in Brussels
Watch this
Italian news coverage
of Dario D'Ambrosi in Campidoglio Place, Rome, with Mayor of Rome, Virginia Raggi, and members of Teatro Patologico in a street theater production May 2, 2018 commemorating the 40th anniversary of "
Legge 180
" (a.k.a. "
Legge Basaglia
"), the parliamentary act that established the closure of mental institutions in Italy. Music was conducted by Maestro Francesco Santalucia.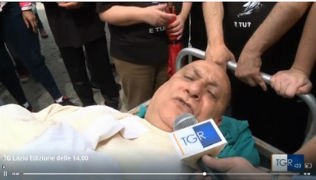 TG Lazio Edizione della 14.00
On May 7, Mr. D'Ambrosi opened the
In Scena! Italian Theater Festival NY
with his breakthrough work, "Tutti Non Ci Sono/ We are Not Alone."
Mephistos of all sizes face off with Dr. Faust.
Photo by Jonathan Slaff, 2007.
CZECH MARIONETTES
Catch Czechoslovak-American Marionette Theatre Wednesday, May 30 at 7:00 PM in "The Tradition of Czech Puppetry--More than Entertainment" followed by a documentary film, "Faust on a String," at Bohemian National Hall, 321 E 73rd St. betw. 1st-2nd Ave.
CABARET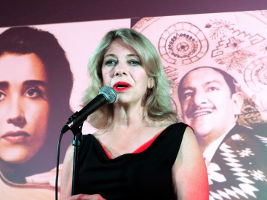 Photo by Jonathan Slaff.
STEPHANIE TRUDEAU
Stephanie Trudeau is now touring in her docu-cabaret, "Chavela: Think Of Me," a musical theater project on the life and songs of the legendary Mexican singer Chavela Vargas. Next stop: June 15 at the Gardenia Restaurant and Lounge, 7066 Santa Monica Blvd, Los Angeles, CA at 9:00 PM.
Photo by Jonathan Slaff.
LINDA GLICK
Linda Glick returns to Pangea Restaurant & Supper Club, 178 Second Ave., June 1 and 8 with "Teach Me Tonight, Part II - Voila!" It's an eclectic program combining new works with classics and signature songs by Charles Aznavour, Alberto Manzanero and others. Musical director is Ian Herman.
SUPPORT FIRST RESPONDERS FIGHTING EBOLA IN DR CONGO
There is a daunting lack of international medical staff for the treatment of Ebola patients. Once again, Doctors Without Borders (Médecins Sans Frontières - MSF) are right at the frontlines, doing their best to help affected countries. Please contribute to their Emergency Relief Fund.
You will be directed to a donations page
on the Doctors Without Borders (MSF) website.
Outbreaks such as Ebola create a unique set of public health challenges. The disease spreads quickly, supplies of protective equipment (such as disposable rubber gloves) are scarce, the government is distrusted, local health care facilities are abandoned and local health care systems collapse. MSF desperately needs contributions to overcome these and other challenges.
HINT TO GMAIL USERS
Make sure you receive emails from Jonathan Slaff & Associates by dragging and dropping this email into your PRIMARY tab or by starring the email.