SEPTEMBER 19 TO 29
LA MAMA E.T.C.
"THIS IS WHY WE LIVE"
"This Is Why We Live" by Open Heart Surgery, a Lecoq-bred performance troupe from Toronto, brings poetry of Polish Nobel Laureate Wislawa Szymborska to the stage using devised movement, poetry-theatre, live music and collage. Two actors and a musician journey through fragmented and visceral encounters with Szymborska's verse, which is used in the original Polish plus French and English. Projected English translations will be provided for the Polish and French language texts.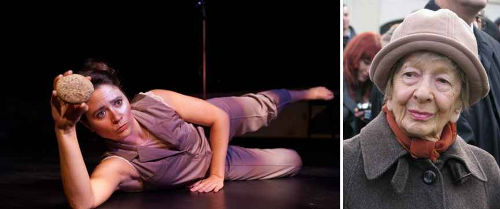 L: Elodie Monteau (Photo: Michael Cooper) R: Wislawa Szymborska in Cracow, 2009.
Wislawa Szymborska (1923-2012) was a Polish poet, essayist, translator and recipient of the 1996 Nobel Prize in Literature. Her body of work (only 325 pieces) often employs the literary devices of ironic precision, paradox, contradiction and understatement to illuminate philosophical themes and obsessions. She explored humanity's relationship with nature, the irony of existence and the existential questioning of our place within the universe. This theater piece uses her poetry to relight the aura of routine, day-to-day life for our self-obsessed times. In Szymborska's view, no matter how horrific the world may be we can still stand in awe, be amazed and remember what came before us.
SEPTEMBER 26 TO OCTOBER 13
THEATER FOR THE NEW CITY
"LUDWIG AND BERTIE"
"Ludwig and Bertie" by Douglas Lackey, directed by Alexander Harrington, takes on the forty-year love/hate relationship between Ludwig Wittgenstein and Bertrand Russell,two leading twentieth-century philosophers, from their first meeting at Cambridge in 1911 to Wittgenstein's death in 1951.
L-R: Ludwig Wittgenstein, Bertrand Russell, Stan Buturla as Russell and Connor Bond as Wittgenstein.
Russell is heterosexual, hedonistic and agnostic; Wittgenstein is puritanical, gay and Jewish. Russell is an imprisoned pacifist; Wittgenstein a decorated combat soldier. Wittgenstein is intensely religious; Russell mocks religion from first to last. Wittgenstein regards Russell as his "mental father," but their relationship has elements of rivalry. In Lackey's telling, Wittgenstein's thinking kindles the demolition of facts in our post-truth world while Russell's inspires the National Science Foundation. This play will show you how.
The piece is a successor to TNC's production last season of "Arendt-Heidegger: A Love Story" by Lackey, which dramatized the troubling, lifelong affair between Zionist Hannah Arendt and Nazi sympathizing philosopher Martin Heidegger, which was also directed by Harrington.
SEPTEMBER 26 TO OCTOBER 13
THEATER FOR THE NEW CITY
"SINGIN' IN THE ER" BY RUBY LYNN REYNER
Ruby Lynn Reyner directs and appears in her musical satire, "Singin' in the ER," a bad trip to the hospital that's performed in Playhouse of the Ridiculous style. Cast of eight. The piece is inspired by ordeals in a New York City hospital suffered by the author and her husband. Now she believes that the only way to deal with such life changing experiences is through unrestrained, exorbitant laughter. The score includes the song, "Biggest Balls in Town," written by Reyner and Jackie Curtiss.
RIGHT, L-R: Sara Cook, Robin Brenner, Ruby Lynn Reyner, Levi Wise, Richard Craven, Joyce Miller, Mila Levine, Xan Aspero. Photo by Jonathan Slaff.
Ms. Reyner was a star of Vaccarro's Playhouse of the Ridiculous, appearing in "Conquest of the Universe," "Heaven Grand In Amber Orbit" and "Trilby in La Bohemia" (Drama Desk Award for Acting), among others and starting her well-known band, Ruby and the Rednecks, with musicians she worked with in the Playhouse.

Danielle Aziza and Crystal Field. Photo by Jonathan Slaff.

OCTOBER 31
THEATER FOR THE NEW CITY
VILLAGE HALLOWEEN COSTUME BALL
Nonstop theater, a costume competition and ballroom dancing will bewitch the East Village in Theater for the New City's 43rd annual Village Halloween Costume Ball on Thursday, October 31 at TNC, 155 First Avenue. This unique festival continues as a grand coming-together for real witches, everyday New Yorkers and artists alike. An explosive fall tradition, the event is held annually on the actual night of Halloween and celebrates artistic creation and fertilization.
William Electriic Black
NOVEMBER 7 TO 24
THEATER FOR THE NEW CITY
"THE WHITES (A STORY ABOUT BLACK PEOPLE, PLAYED BY WHITE PEOPLE)" BY WILLIAM ELECTRRIC BLACK
The cast is all White but the characters are Black in William Electric Black's timely new story. We are hurled into a society that has turned upside down. Imagine if Blacks had enslaved White people. If prisons were filled with White people. If White communities were plagued by gun violence, overt police brutality and an abundance of health issues. What if White people had to sit in the back of the bus, face numerous lynchings and job discrimination? What if the United States were run by Black people and Whites were considered the minority? A daring, haunting, powerful play about race in America. (NOTE: This show replaces "Betty and the Belrays: A Girl Group Story," which had initially been announced for this time slot.)
William Electric Black won seven Emmys as a writer for "Sesame Street" between 1992 and 2002. He is also known for his socially-conscious, high-impact dramas. His five-play GUNPLAYS Series, all produced by Theater for the New City between 2013 and 2018, dramatized the epidemic of gun violence using differing approaches and theatrical styles. In 2009, he directed Theater for the New City's sensational and serious "Lonely Soldier Monologues: Women at War in Iraq," a staged series of monologues based on a book by Helen Benedict. The play earned widespread notice and significantly helped the issues of America's female soldiers to be widely recognized for the first time.
NOVEMBER 17
SYMPHONY SPACE
THE CAPITOL STEPS IN "THE LYIN' KINGS"
The Capitol Steps, America's premiere political-musical-satire troupe, returns to New York November 17 with their all new show, "The Lyin' Kings," for two performances, at 4:00 PM and 7:00 PM. This is the group that puts the "MOCK" in Democracy! Originally made up of congressional staffers, the past decade has seen the "Steps" harvest the talents of finely-tuned musical theater professionals from around the country. "The Lyin' Kings," drawing its humor from today's headlines and twitter feeds, will include the latest songs about the Democratic primary candidates ("76 Unknowns") and the newest late-night thoughts from President Trump ("Tweet It").
PLAYS THROUGH SEPTEMBER 15
"NO BRAINER, OR THE SOLUTION TO PARASITES"
THEATER FOR THE NEW CITY STREET THEATER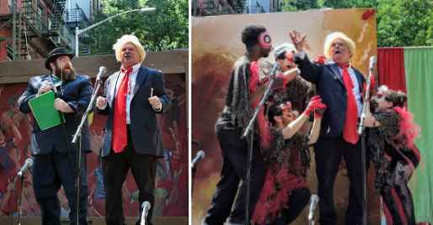 A Virtual Real Estate Mogul (T. Scott Lilly) conspires with the head of Deutsche Bank (Matt Angel, L) and is attacked by parasites (R). Photos by Quinn Calcote.
Theater for the New City's 2019 Street Theater production is "No Brainer or the Solution to Parasites," a rip-roaring musical which portrays our road to national madness as a bad trip to Hades. Free performances tour parks, playgrounds and closed-off streets throughout the five boroughs through September 15. Book, lyrics and direction are by Crystal Field; the musical score is composed and arranged by Joseph Vernon Banks.

UPCOMING PERFORMANCES:
Saturday, Sept. 14 - 2 PM - Staten Island - Corporal Thompson Park, B'way & Wayne St., West New Brighton
Sunday, September 15 - 2 PM - Manhattan - Manhattan - Tompkins Square Park at E. 7th St. & Avenue
PLAYS THROUGH SEPTEMBER 15
THEATER FOR THE NEW CITY'S TENTH DREAM UP FESTIVAL

L-R: Jennifer Joy Pawlitschek in "The Chaos Theory of Now," Tara Lake in "I Know It Was The Blood," Mimi B. Francis, Andrew R. Cooksey, Jr., Dan Kelley in "Quilting in the Sun"
Theater for the New City, Crystal Field, Artistic Director, is presenting its tenth Dream Up Festival, a feast of adventurous theater featuring new works from across the country. Helmed by the theater's Literary Manager, Michael Scott-Price, the festival offers 25 plays, mixing world premieres and New York premieres. It's an ultimate new work festival dedicated to the joy of discovering new authors and edgy, innovative performances.
Cover of View with a Grain of Sand: Selected Poems by Wislawa Szymborska
SEPTEMBER 12
WORD INDEPENDENT COMMUNITY BOOKSTORE, 126 FRANKLIN STREET GREENPOINT, BROOKLYN
"EMBODYING THE POETRY OF WISLAWA SZYMBORSKA"
"
Embodying the Poetry of Wislawa Szymborska
," a discussion of the poetry of Wislawa Szymborska, the late Polish Nobel Prize-winner, will be held at WORD Independent Community Bookstore, 126 Franklin St., Greenpoint Brooklyn, Sept. 12 at 7:00 PM. This discussion will be led by Polish poet-in-exile and Slavic scholar
Anna Frajlich
.
Szymborska's poetry is brought to the stage in "This Is Why We Live" (La MaMa, Sept. 19-29), a Lecoq-based performance in which her verses are rendered with physical theater. Excerpts of the play will be presented at this Brooklyn bookstore event.
INDUSTRY READING FOR "DELIKATESSEN" BY RICHARD ATKINS, DIRECTED BY MATTHEW PENN WITH DRAMATURGY BY MARK MEDOFF
SEPTEMBER 23 AT 4:30 PM in MARY RODGERS ROOM OF THE DRAMATISTS GUILD, 1501 BROADWAY
"DeliKateSSen" by Richard Atkins is set in New York on the eve of the 1972 Munich Olympics massacre. When a landmark delicatessen falls on hard times, its Jewish owners suspect a new, German restaurant across the street may be to blame. The powerful play examines the long-term scars of the Holocaust.
Directed by Matthew Penn with dramaturgy by Mark Medoff. "DeliKateSSen" was a finalist for Abingdon Theatre's Christopher Brian Wolk playwriting award and has been produced in Albuquerque, NM, Greenville, SC and Rhinebeck, NY. This reading is being held to introduce the play to the NYC producing community at a time when the play's themes seem especially urgent and timely. Complete info
IT WAS THE 80TH BIRTHDAY WEEK OF "THE WIZARD OF OZ"
August 25 was 80th Anniversary of the release of the classic 1939 MGM Fantasy/Adventure film "The Wizard of Oz" and on August 24, Harlem Repertory Theatre's staging of "The Wizard of Oz: a Jazz Musical for All Ages," co-produced by the Yip Harburg Lyrics Foundation, played its 61st performance. On August 27, the production was featured on WNBC-TV's "New York Live" with Joelle Garguilo. See pictures or go straight to the video. Owing to continuing and steady audience interest, the production has been extended through January 11, 2020.
Joelle Garguilo interviews Taylor-Rey Rivera (Dorothy) and Derrick Montalvo (Scarecrow).
This production of the classic musical has a multi-racial cast, a jazzy underscore and authoritative dramaturgy by representatives of the Yip Harburg Lyrics Foundation. Director/choreographer is Keith Lee Grant, Founding Artistic Director of Harlem Rep, who is in the midst of a four-year project of presenting four classic musicals that have lyrics by E.Y. "Yip" Harburg, who was known in his lifetime as the "social conscience of Broadway."
LARRY MUHAMMED IS BACK IN LOUISVILLE...FOR NOW
Larry Muhammad, author of "Looking for Leroy," is gearing up for the November 15 performance of his play, "Jockey Jim," at The Speed Art Museum in Louisville, KY. It's a bioplayabout Jimmy Winkfield, the Black jockey who won the Kentucky Derby in 1901 and 1902 and was the last African-American rider to win the Run for the Roses.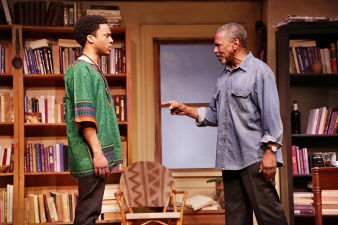 "Looking for Leroy," presented by New Federal Theatre, 2018. L-R: Tyler Fauntleroy, Kim Sullivan. Photo by Gerry Goodstein.
Muhammed's New York debut, "Looking for Leroy," was presented by Woodie King, Jr.'s New Federal Theatre, directed by Petronia Paley, last March at Castillo Theatre on West 42nd Street. The two-character play imagines five encounters between Leroi Jones/Amiri Baraka, a literary lion now in his 60s, and an intern in his 20s who idolizes him, challenges him and aims to be like him. This summer, the play became one of the outstanding offerings of the National Black Theatre Festival. Michael Hewlett, writing in the Winston-Salem Journal, called it "a deeply felt appreciation for black theater" that "ably captures the essence of Baraka's sometimes maddeningly complex persona."
Muhammad's other current projects include "Vote For Me and I'll Set You Free," a play about voter suppression, which he hopes to present at Kentucky Black Repertory Theatre by next summer, and "Sweet Evening Breeze," a musical in which a famous drag queen goes undercover to trap a gay predator who is blackmailing college athletes into throwing games. The latter will be co-produced by Kentucky Black Repertory Theatre, where Muhammad is producing director, and Pandora Productions in February, 2020 at Henry Clay Theater in downtown Louisville.
WHO WAS THAT MASKED MAN?
Stanley Allan Sherman has been making custom hand crafted theatrical masks in the heart of Manhattan since 1976. He is profiled in a new book, Theatre Artisans and Their Craft: The Allied Arts Fields (ed. Rafael Jaen, Poe Durbin and Christin Essin, Focal Press and Routledge - Taylor & Francis Group). The chapter on Sherman, written by Michael Vincent, includes accounts of how he developed techniques that have made his work formative, successful and unique. These include leather stretching (to make a top hat for prolonged spinning), masks with movable jaws and re-creation of the slapstick, a Commedia dell' Arte performing accessory of the 1500s.
L-R: "zanni" mask, book cover, slapstick
HINT TO GMAIL USERS
Make sure you receive emails from Jonathan Slaff & Associates by dragging and dropping this email into your PRIMARY tab or by starring the email.