AUGUST 27 TO SEPTEMBER 17
THEATER FOR THE NEW CITY
DREAM UP FESTIVAL
Theater for the New City (TNC), under the direction of Crystal Field, Artistic Director, will present its eighth Dream Up Festival, a feast of adventurous theater featuring new works from across the country and abroad. Helmed by the theater's Literary Manager, Michael Scott-Price, the festival offers over 25 plays, of which twelve are world premieres, four are American premieres and two are New York premieres. There are four full-blown musicals, four shows on LGBTQ themes, five solo shows, a clown show, two on themes of race in America and one based on visual art. One play is an English language premiere from Iceland.
| | | |
| --- | --- | --- |
| | | |
| Nathalie Ellis-Einhorn in I.M. LOST! | Painting by Susan Tammany that is basis for "In the Attic," one of the plays in "The Voire Dire Project 1.5" | Cast of "Sword of the Unicorn" |
SEPTEMBER 27 TO OCTOBER 8 (CHANGED FROM AUGUST 30 TO SEPTEMBER 17)
THEATRE 80 ST. MARKS
NEGRO ENSEMBLE COMPANY IN "A SOLDIER'S PLAY"
The 50th season of Negro Ensemble Company, a year-long retrospective of some of the troupe's signature works, culminates with "A Soldier's Play" by Charles Fuller (original production November 20, 1981), directed by Charles Weldon. The play, evocative of Melville's "Billy Budd," uses a murder mystery in a Black U.S. Army base during World War II to expose angers and resentments among African Americans that curiously mimic white racist attitudes. The play won the Pulitzer Prize, an Outer Critics Circle Award for Best Off-Broadway Play, a New York Drama Critics' Circle Award for Best American Play and an Obie Award for Distinguished Ensemble Performance.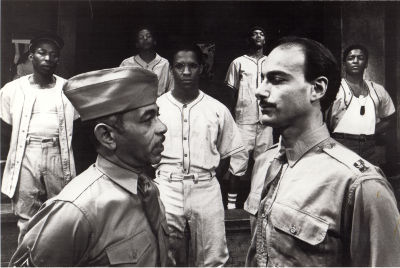 "A Soldier's Play," 1981. L-R: (back row) Eugene Lee, Samuel L. Jackson; (middle row) Brent Jennings, Denzel Washington, Larry Riley; (Front row) Adolph Caesar, Reyno Shine. Photo by Bert Andrews.
OCTOBER 5 TO 28
THE WORKSHOP THEATER, 312 WEST 36th STREET
"MESQUITE, NV"
Based on actual events, "Mesquite, NV" by Leegrid Stevens follows a contentious mayoral campaign in the retirement community of Mesquite, Nevada. The election turns nasty as accusations of illegal activity surrounding a $90 travel voucher are leaked to the local press. The accusations quickly divide the town and lead to a complete political upheaval in this dark comedy about power and politics in the USA. Directed by Thomas Cote.
Ivette Dumeng as the wife. Photo by Jonathan Slaff.
SEPTEMBER 5 TO 17
THEATER FOR THE NEW CITY'S DREAM UP FESTIVAL
"GUILTY"
Iceland in the 19th Century was not exactly an idyll; it was an island nation of farming and fishing communities, pretty much cut off from the much of the rest of the world. Crime was rare and capital crimes rarer still. So the country's criminal cases have become the stuff of legend, including the child rape case in Rifsaedasel of 1837, which is as infamous to Icelanders as The Manson Family is to Americans. Contemporary Icelandic playwright Hrafnhildur Hagalín revisits this infamous case with "Guilty" (2014), a verse play that gracefully and provocatively examines issues of obsession and mercy which cling to it to this day. Robert Greer, Artistic Director of New York's August Strindberg Rep, discovered the piece, translated by Salka Gudmundsdottir, at a staged reading in Denmark in 2015 and resolved to bring the play to American audiences. Theater for the New City's Dream Up Festival has made this possible, presenting the work September 5 to 17 as part of its eighth annual festival of edgy new works.
Gordon Palagi. Photo by Johannes Oberman.
OCTOBER 11 TO 31
ST. MAZIE BAR AND SUPPER CLUB, 345 GRAND STREET, BROOKLYN (WILLIAMSBURG)
"THE COOPING THEORY:
WHO KILLED EDGAR ALLAN POE?"
Poseidon Theatre Company, an emerging theater company, is mounting an original, immersive site-specific show: "The Cooping Theory: Who Killed Edgar Allan Poe?," an intimate theatre event for only 30 guests per night featuring craft cocktails, food (full dinner menu available) and a paranormal experience, all framed by the great words of the master of the macabre Edgar Allan Poe. This is a mystery play in the genre of "Then She Fell" and "Sleep No More," with one significant difference: unlike most immersive shows, which are dance-driven, this one is text-based. It is presented in the former basement speakeasy of St. Mazie Bar and Supper Club, 345 Grand Street, Williamsburg Brooklyn (between Havemeyer and Marcy). Production went on hiatus June 28 and resumes with a Halloween Edition.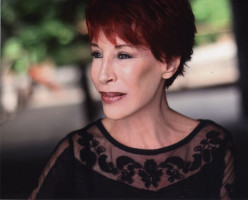 Linda Glick
OCTOBER 18 TO NOVEMBER 10
PANGEA RESTAURANT & SUPPER CLUB
LINDA GLICK IN "TEACH ME TONIGHT"
Linda Glick, a sassy and seasoned redheaded chanteuse, will unveil her newest cabaret show, "Teach Me Tonight." The evening features an eclectic program with new works written collaboratively by Glick and Musical Director Ian Herman plus classics and signature songs by Charles Aznavour, Alberto Manzanero and others. Glick has been described as "full of grace and dignity, leavened by a touch of continental cynicism" by Backstage (Eric Haagensen).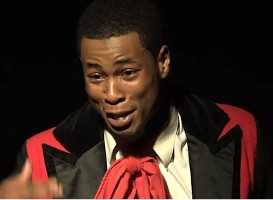 J Alphonse Nicholson in "Freight: The Five Incarnations of Abel Green."
OCTOBER 19 TO NOVEMBER 26
NEW FEDERAL THEATRE PRESENTS
"FREIGHT: THE FIVE INCARNATIONS OF ABEL GREEN" BY HOWARD CRAFT
CASTILLO THEATRE, 543 WEST 42ND STREET
This is the story of an African American male named Abel Greene who exists in five different dimensions in the same universe at a different point in American history. In each incarnation he works as a minstrel, performer, a cult leader, an FBI informant, a struggling actor and an out-of-work mortgage broker. In each incarnation, Abel finds himself stuck somewhere between the American Dream and the American Nightmare. The character in the play's journey parallels the migration of African-Americans out of the South to the North. Performed by J. Alphonse Nicholson, directed by Joseph Megel. Presented by Woodie King, Jr.'s New Federal Theatre.
OCTOBER 31
THEATER FOR THE NEW CITY
VILLAGE HALLOWEEN COSTUME BALL
Nonstop theater, a costume competition and ballroom dancing will bewitch the East Village in Theater for the New City's 41st annual Village Halloween Costume Ball on Tuesday, October 31 at TNC, 155 First Avenue. This unique festival continues as a grand coming-together for real witches, everyday New Yorkers and artists alike. An explosive fall tradition, the event is held annually on the actual night of Halloween and celebrates artistic creation and fertilization. The one-night fiesta takes over all four of TNC's theater spaces, plus its lobby and the block of East Tenth Street between First and Second Avenues. Customarily over 1,500 wildly-clad celebrants gather for dancing, dining, showing off costumes and viewing acts from the cutting-edge of Cabaret and Theater. Admission is $20; costume or formal wear is required. Once inside, everything is free except food and drink, which are graveyard dirt-cheap.
Costumed revelers behold aerial performance by Suspended Cirque in 2015 Village Halloween Costume Ball. Photo by Jonathan Slaff.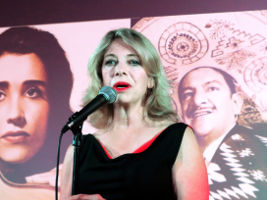 Stephanie Trudeau stands before projections of Chavela Vargas and Jose Alfredo Jimenez. Photo by Jonathan Slaff.
NOVEMBER 2, 9, 16
PANGEA RESTAURANT & SUPPER CLUB, 178 SECOND AVE.
STEPHANIE TRUDEAU IN "CHAVELA: THINK OF ME"
"Chavela: Think Of Me," written and performed by Stephanie Trudeau, is more than just a musical cabaret based on the songs of legendary Mexican singer Chavela Vargas. It is also a documentary theater project that traces the famed ranchera singer's artistic evolution and the key relationships of her life, including those with her musical mentor, Jose Alfredo Jimenez (the world's greatest composer of ranchera songs), the painters Diego Rivera and Frida Kahlo, the great Cuban courtesan Macorina, and the producers, notably Pedro Almodovar, who enabled her comeback at age 74 after a 15 year battle with alcoholism. The show is an homage to the arts of Mexico at a time when our southern neighbor is the focus of stereotyping and right-wing disrespect in America today. Trudeau introduced the piece at Pangea last Spring. November 2 is a Mexican holiday, Day of the Dead, and Ms. Trudeau is planning special visuals to celebrate.
NOVEMBER 9 TO 26
THEATER FOR THE NEW CITY
"PRAGUE 1912: THE SAVOY CAFÉ YIDDISH THEATRE"
"Prague, 1912: the Savoy Café Yiddish Theatre" by Lu Hauser is a comedy based on a historic chapter of the Yiddish Theater. A vagabond troupe comes to Prague: it's Jak Lowy and his leading lady, Mme. Trassik. He's an old actor who has put stars in her eyes and they are lovers. Their ragtag theater subsists more by selling baked sweet potatoes than by selling tickets. Along comes a young struggling writer named Gregor Samsa, who passionately offers to write plays for them. Gregor's got some serious father issues and his relationship with these theatricals is not a source of pride for his forceful and pragmatic dad. "If you sleep with dogs, you wake up with fleas!," the old man admonishes. Gregor is chewing on a story about a hunger artist. The three-character play--about this writer and the two actors--is a backstage comedy of everyone's love for the theater.
This world premiere is directed by George Ferencz, who guided playwright Lu Hauser in the evolution of the play, which was written between 2009 and her death in 2011. It was the successor (and antithesis) to Hauser's play on Kafka, "Kafka's Quest," which TNC premiered in 2015. Jenne Vath plays Mme. Trassik, John Barilla plays Lowy and Jason Howard plays Kafka. Director George Ferencz is best known for his stagings of landmark plays by Sam Shepard. His TNC productions include "Lincoln on Hester Street," "Fear Itself," "Piecework," "Delicate Feelings," two musicals by Toby Armour, and "The Space Show," the first TNC production at 155 First Avenue. At La MaMa, where he was a resident director for over 30 years, he staged over 30 productions.
August Strindberg
NOVEMBER 19 TO DECEMBER 16
GENE FRANKEL THEATRE, 24 BOND STREET
"THE BLACK GLOVE" BY AUGUST STRINDBERG
In August Strindberg's version of "A Christmas Carol," a lost black glove found in the entryway to a large apartment building the day before Christmas Eve mystically passes through the hands of many of its residents as it bestows a Christmas spirit. Presented by August Strindberg Rep. Newly translated by Robert Greer (Artistic Director), directed by Mr. Greer.
Photo by David Michael Friend
NOVEMBER 2 TO 19
LA MAMA E.T.C.
CZECHOSLOVAK-AMERICAN MARIONETTE THEATRE IN
"THE LIFE AND TIMES OF LEE HARVEY OSWALD"
In the era of alternative truth, it is timely to revisit three 1960s national traumas which are shrouded in dense cobwebs of multiple conspiracy theories: the assassinations of President Kennedy, Robert Kennedy and Rev. Martin Luther King. To elucidate them with puppet theater wisdom, Czechoslovak-American Marionette Theatre revisits these tragedies in "The Life and Times of Lee Harvey Oswald," conceived, written, and directed by Vít Horejš and co-directed by Matthew Cahoon. The piece represents the main protagonists as a peculiar cross between Greek tragic figures and stock characters from traditional puppet murder mysteries.
POW-WOW 2017 --L-R: Julian Gabourel, Carlos Ponce, Alan Brown, Kitty Gabourel.2017. Photo by Remy.
FEBRUARY 2 TO 11
THEATER FOR THE NEW CITY
THUNDERBIRD AMERICAN INDIAN DANCERS' 43rd ANNUAL DANCE CONCERT AND POW-WOW
The 43rd annual Thunderbird American Dancers Dance Concert and Pow Wow will offer dances, stories and traditional music from the Iroquois and Native Peoples of the Northeast, Southwest and Great Plains regions. The event has become a treasured New York tradition for celebrating our diversity by honoring the culture of our first Americans. A Pow-Wow is more than just a spectator event: it is a joyous reunion for native peoples nationwide and an opportunity for the non-Indian community to voyage into the philosophy and beauty of Native culture. Highlights will include storytelling, a Hoop Dance, a Grass Dance and Jingle Dress Dance (from the Northern Plains people), a Stomp Dance (from the Southeastern tribes), a Shawl Dance (from the Oklahoma tribes), a Deer Dance (from the Yaqui Tribes of Southern Arizona), a Fancy Dance (from the Oklahoma tribes) and a Robin Dance and Smoke Dance (from the Iroquois). As the audience enters the theater, they will be serenaded by the Heyna Second Son Singers (various tribes). In the final section of the program, the audience will be invited to join in the Round Dance/Friendship Dance (in evening shows) and a Contest Dance (in matinees). After the program, the dancers stay for photographs and to meet the audience.
FEBRUARY 8 TO MARCH 11
NEW FEDERAL THEATRE PRESENTS "HARRIET'S RETURN"
CASTILLO THEATRE, 543 WEST 42ND STREET
At a time when the USA is deciding to honor Harriet Tubman with her image on the 20 dollar bill, Woodie King, Jr.'s New Federal Theatre presents a 20th anniversary restaging of "Harriet's Return," a bioplay on Harriet Tubman written and performed by Karen Jones Meadows. The production takes audiences on a deeply personal, high energy journey into the private and public life of this famed Underground Railroad conductor, spiritual icon, revolutionary, and entrepreneur, whose life spanned nine decades and still influences the consciousness of people throughout the world.
"When Black Boys Die," 2015, second play in the GUNPLAYS series.
FEBRUARY 22 TO MARCH 18
THEATER FOR THE NEW CITY
"SUBWAY STORY (A SHOOTING)"
"Subway Story (A Shooting) will be the fifth play in the GUNPLAYS series written and directed by William Electric Black. The entire series has been presented by Theater for the New City. In 2014, Black launched the series with "Welcome Home Sonny T," a drama that spotlighted two significant forces driving the current epidemic of gun violence: the social impact of alienation and unemployment on young black males and the declining influence of black ministers as a force of stability in affected neighborhoods. The second play in the series, "When Black Boys Die" (2015), premiered in 2015. The third, presented for 2016 Gun Awareness Month, was "Death of a Black Man (A Walk By)," a play with hip hop verse, chanting, songs and poetry. The fourth play, "The Faculty Room" (2017), was an immersive drama set in a high school that is in a hard lockdown because an argument between two students has escalated to armed conflict because of the prevalence of guns in the school.
LAST CHANCE -- CLOSES AUGUST 12
SHAKESPEARE IN THE PARKING LOT
LA PLAZA@THE CLEMENTE PARKING LOT, 114 NORFOLK STREET
"HENRY VI PART 3
Left: Skyler Gallun as King Henry the Sixth. Right (foreground): Bryce Dutton as Soldier in an attack by the House of Lancaster, Photos by Jonathan Slaff.
We can gain insight into our current polarized politics from Shakespeare's plays on the Wars of the Roses. That's why Shakespeare in the Parking Lot, presented by The Drilling Company, will present "Henry VI Part 3" from July 27 to August 12. The play, which is seldom done, lays bare the passions of the Medieval English war between York and Lancaster. In doing so, it illuminates the animosity between today's Republicans and Democrats on one hand and the tenacity of irreconcilable conflicts, including current civil and sectarian wars, on the other. Hamilton Clancy directs.
Refugees entreat the Statue of Liberty. Photo by Jonathan Slaff.
THROUGH SEPTEMBER 17
CITY STREETS, PARKS & PLAYGROUNDS
THEATER FOR THE NEW CITY STREET THEATER TOUR, "CHECKS AND BALANCES, OR BOTTOMS UP!"
Theater for the New City's award-winning Street Theater Company began its 41st annual tour August 5 with "Checks and Balances, or Bottoms Up!," a rip-roaring musical in which a teacher, a subway conductor and a neighborhood school girl lead community activists in the fight against the monster of apple pie fascism and threats of planetary death from the pumpkin head of state. Free performances will tour City streets, parks and playgrounds throughout the five boroughs through September 17. Book, lyrics and direction are by Crystal Field; the musical score is composed and arranged by Joseph Vernon Banks.
L-R: Dexter Thomas-Payne (Lion), Derrick Montalvado (Scarecrow), Ben Harburg (Tin Man), Taylor-Rey Rivera (Dorothy). Photo by Remy.S.
EXTENDED THROUGH DECEMBER 16
HARLEM REPERTORY THEATRE
TATO LAVIERA THEATRE, 240 E. 123RD ST.
"THE WIZARD OF OZ"
Harlem Repertory Theatre presents "The Wizard of Oz," co-produced by the Yip Harburg Foundation, for young (and young-at-heart) audiences. This production of the classic musical has a multi-racial cast, a jazzy underscore and authoritative dramaturgy by representatives of the Yip Harburg Foundation. Director/choreographer is Keith Lee Grant, Artistic Director of Harlem Rep, who is in the midst of a four-year project of presenting four classic musicals that have lyrics by E.Y. "Yip" Harburg, who was known in his lifetime as the "social conscience of Broadway."
Louis Mofie emcees 2016 Pow-Wow at Theater for the New City. Photo by Farnaz Taherimotlagh.
KUDOS FOR HEAD OF THUNDERBIRD AMERICAN INDIAN DANCERS
On September 7, American Dance Guild will honor Louis Mofsie, Director of Thunderbird American Indian Dancers, with a lifetime achievment award for his work in sustaining the legacy of indigenous American Indian dances for the past 54 years. It's part of an evening of awards for three American dance masters. The other recipients are Garth Fagan, the African-American choreographer of Lion King fame and reformer of the American dance tradition, and Martha Myers, the dance educator, dance medicine pioneer and Dean of the American Dance Festival.
Thunderbird American Indian Dancers will hold its 43rd annual Pow-Wow at Theater for the New City February 2-11, 2018. TNC has been presenting the troupe's Pow-Wows annually as a two-week event since 1976, with all box office receipts donated to scholarships for Native American students.
NEGRO ENSEMBLE COMPANY WILL CELEBRATE 50 YEARS
Director/actor Michelle Shay and actor Brandon Dirden will host Negro Ensemble Company's Golden Celebtration September 11 from 6:00 to 10:00 PM at CCNY's Aaron Davis Hall (Theatre B), 160 Convent Ave (betw. W. 133 and 135th Streets). There will be a photo exhibit by Carmen de Jesus curated by Debra Vanderberg Spencer and a screening of "A Soldier's Play and Beyond," produced and directed by Susan Watson-Turner. Lighting designer Shirley Prendergast will be honored. General admission is $150; seniors/seniors/groups $100. Buy Tickets
Original cast of "A Soldier's Play" by Charles Fuller, presented by Negro Ensemble Company at Theatre Four, 1981. L-R: Brent Jennings, Steven Jones, Eugene Lee, Denzel Washington, Samuel L. Jackson, Jame Pickens and Reyno Shine. Photo by Bert Andrews.
HINT TO GMAIL USERS
Make sure you receive emails from Jonathan Slaff & Associates by dragging and dropping this email into your PRIMARY tab or by starring the email.