Yvette Wyatt and Allen Craig Harris. Photo by Jonathan Slaff.

MAY 3 TO 20
THEATER FOR THE NEW CITY
"A PUNK OR A GENTLEMAN"
In "A Punk or a Gentleman," playwright Andrea J. Fulton explores the complex psyche of a Black, middle-aged Don Juan who loves to captivate women but falls victim to physical abuse by the women he loves. A ten-character play directed by Kymbali Craig.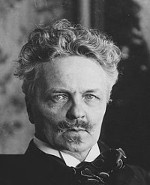 August Strindberg
MAY 16 TO JUNE 2
GENE FRANKEL THEATRE
"CREDITORS" BY AUGUST STRINDBERG
August Strindberg Rep presents "Creditors" by Strindberg, newly translated and directed by Robert Greer. During an afternoon in a lounge at a seaside resort, a revenge is played out. A credulous artist has his mind poisoned against his wife by her former husband. This masterpiece from Strindberg's naturalist period is rarely excelled in its unity of construction, dramatic tension and acute psychological analysis, but it is far less anthologized than "The Father" or "Miss Julie."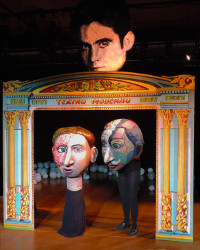 Inflated head of Lorca rises above toy theater. Photo by Jane Catherine Shaw.
MAY 18 TO JUNE 3
LA MAMA E.T.C. (ELLEN STEWART THEATRE)
"THERE'S BLOOD AT THE WEDDING" BY THEODORA SKIPITARES
Why's that giant head of Federico Garcia Lorca rising over a colorful toy theater? Maybe it's because the lost weddings of Sean Bell and Justine Damond recall the tragedy of "Blood Wedding." Theodora Skipitares, the famed creator of theater with giant-to-miniature puppetry, thinks that a contemporary American tragedy--police killings of innocent civilians--should be an open book. So her latest puppet theater creation, "There's Blood at the Wedding," is set in six large-scale book pop-up constructions, within which the piece reflects on the lives and deaths of six victims of police violence: Philando Castile, Amadou Diallo, Sandra Bland, Sean Bell, Justine Damond and Eric Garner. Flashes of Lorca's masterpiece connect a Circle of Mothers--the mothers of the American victims--with the grieving mothers of the classic Spanish play. Giant puppets, masks and performing books are created by Theodora Skipitares. Music is composed and performed by Sxip Shirey. Video projections are by Kay Hines. Co-set designer is Donald Eastman. Lighting design is by Yi-Chung Chen. Performed by a cast of five puppeteer-storytellers including Jane Catherine Shaw.
Models for performing books on Sean Bell, Sandra Bland, Philando Castile. Photos by Theodora Skipitares
JUNE 6 TO JULY 8
FLEA THEATRE MAIN STAGE
"A BLANKET OF DUST"
Casting is in process for "A Blanket of Dust" by Richard Squires, the tragic story of a modern day Antigone. The daughter of a US Senator endures the death of her husband in the World Trade Center. Her subsequent ordeal in seeking justice for his death ultimately drives her to the outer fringes of society. Struggling with facts that the government, the media, her family and her countrymen deny, she finally confronts them all with a harrowing act of sacrificial tragedy. World premiere. Chris Murrah is director; Stephanie Klapper is casting director.
JUNE 16 TO JULY 14
CLURMAN THEATER, THEATER ROW
"THE PROPERTY"
Bob Kalfin directs "The Property" by Ben Josephson, the story of a woman, two men she has loved and one she is tempted to, and the ardent teenage son she stifles with good intentions. Irene was once carefree and artistic but now is a low-level corporate manager. Alarmed by the erosion of her family's financial security, she imposes two measures to shore the family up. She rents out a property--the garden cottage that has been her current husband's retreat--to a teacher who infatuates her. Then she inveigles her ex, who is her son's vehemently estranged but influential father, into launching the boy on a lucrative career path. A drama of five people on the edge, constrained by an increasingly ungenerous world, who transform into selves that would horrify the selves they once had been. Presented by New Light Theater Project's Spotlight Series, Sarah Norris, Artistic Director; Michael Aguirre, Managing Director. Casting is in process now via Irene Stockton, Casting Director.
Jane Bradley as Rosalind in "As You Like It" (2015). Photo by Lee Wexler/Images for Innovation.
JULY 5 TO 28
PARKING LOT BEHIND THE CLEMENTE, 114 NORFOLK STREET
SHAKESPEARE IN THE PARKING LOT
The Drilling Company, Hamilton Clancy Artistic Director, will present "Hamlet," directed by Karla Hendrick and starring Jane Bradley, for its 2018 Shakespeare in the Parking Lot production. This popular New York summer institution is now in its 24th year. Its concept--presenting Shakespeare plays with a "poor theater" aesthetic in a working parking lot--is now widely imitated around the US and around the world, with productions as far away as New Zealand.
AUGUST 26 TO SEPTEMBER 16
THEATER FOR THE NEW CITY
NINTH ANNUAL DREAM UP FESTIVAL
Theater for the New City, under the direction of Crystal Field, Artistic Director, will present its ninth Dream Up Festival, a feast of adventurous theater featuring new works from across the country and abroad. Helmed by the theater's Literary Manager, Michael Scott-Price, the festival will offer over 20 plays, mixing world premieres, American premieres and New York premieres. It's an ultimate new work festival dedicated to the joy of discovering new authors and edgy, innovative performances.Applications will be accepted until May 7. Send inquiries and application materials to tncdreamup@gmail.com. Applications must be accompanied with a submission fee. You can pay the $40 submission fee here.
Nathalie Ellis-Einhorn in
"I.M. LOST!" (2017)
Photo by Ron Wyatt.

Ivette Dumeng and Bryan Hamilton in "Guilty" by Icelandic playwright Hrafnhildur Hagalín (2017).
Photo by Jonathan Slaff.
L-R: Dexter Thomas-Payne (Lion), Derrick Montalvado (Scarecrow), Ben Harburg (Tin Man), Taylor-Rey Rivera (Dorothy). Photo by Remy.S.
EXTENDED THROUGH NOVEMBER 24, 2018
HARLEM REPERTORY THEATRE
TATO LAVIERA THEATRE, 240 E. 123RD ST.
"THE WIZARD OF OZ"
Harlem Repertory Theatre presents "The Wizard of Oz," co-produced by the Yip Harburg Foundation, for young (and young-at-heart) audiences. This production of the classic musical has a multi-racial cast, a jazzy underscore and authoritative dramaturgy by representatives of the Yip Harburg Foundation. Director/choreographer is Keith Lee Grant, Artistic Director of Harlem Rep, who is in the midst of a four-year project of presenting four classic musicals that have lyrics by E.Y. "Yip" Harburg, who was known in his lifetime as the "social conscience of Broadway."
DARIO D'AMBROSI IN BRUSSELS AND NEW YORK
Celeste Moratti (Medea) and Ensemble in "Medea" at La MaMa 2015. Photo by Jonathan Slaff.
Dario D'Ambrosi's award-winning version of "Medea," performed with a chorus of actors with diverse abilities from his Teatro Patologico di Roma, will be presented in Brussels for the European Parliament on May 16 at 6:00 PM in the Espace Yehudi Menuhin on the first floor of the European Parliament's Paul-Henri Spaak building. Emmanuel Macron and other European heads of state will attend. It's part of the initiative, "EU: performing arts and disabilities - the Italian Way."
Dario D'Ambrosi in "Tutti Non Ci Sono"
D'Ambrosi will appear in New York May 7 at 7:00 PM at the Cherry Lane theater, 38 Commerce Street, in "Tutti Non Ci Sono/ We are Not Alone," to open the sixth annual In Scena! Italian Theater Festival NY, presented by Kairos Italy Theater and KIT Italia. The festival will feature a record twelve shows, brought over from Italy to NYC. "We are Not Alone," written and performed by Mr. D'Ambrosi, was first presented at La MaMa in 1980 and is about a psychiatric inmate victimized by neglect in the outside world. This seminal play was written as a reaction to the Italian Mental Health Act of 1978, which was the first law to reform the psychiatric system. Performed in Italian and English.
D'Ambrosi will also speak at the festival's conference on theater's changing relationships with critics, artists and audiences on May 11 from noon to 4:00 PM at Casa Italiana Zerilli-Marimò, 24 West 12th Street.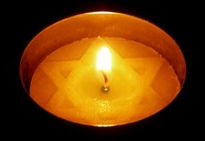 BARNES & NOBLE BOOK FAIR SUPPORTS MIRAGE THEATER'S "DISTANT SURIVORS"
Mirage Theatre Company's "Distant Survivors" is based on the poetry of William Heyen and tells of one man's search for meaning in contemplation of the Holocaust. You can support performances of this play with a purchase at any Barnes & Noble store in NYC or nation-wide, at the Barnes & Noble Book Fair at its Poughkeepsie location, 2518 South Road, from 1:00 - 5:00 PM April 14, and on their website www.BN.com from April 14 to 19. Use unique Book Fair ID #12324885 at checkout. Books recommended by Mirage Theater will be on display at the Fair, along with copies of the published playscript of "Distant Survivors." The event will also include excerpts from "Distant Survivors" performed by Linda Roper and Chuck Muckle, a musical performance by Robert Bard & Amy Benedict, and various performances by Vassar students.
Mirage Theatre Company, led by June Prager, produces and tours an international repertoire of premieres and revivals to celebrate cultural differences, affect social change, and uplift the spirit. Its focus is on social justice themes. In another project, playwright Melisa Tien is developing an important work for the company on the human trafficking of women. Ms. Tien is a member of New Dramatists and a fellow of the New York Foundation for the Arts in Playwriting/ Screenwriting. There is a crowdfunding campaign for this project on generosity.com.
HINT TO GMAIL USERS
Make sure you receive emails from Jonathan Slaff & Associates by dragging and dropping this email into your PRIMARY tab or by starring the email.