MARCH 2 TO 5
LA MAMA
GRUSOMHETEM THEATRE (NORWAY) IN
IBSEN'S "THE MOUNTAIN BIRD"
Grusomhetens Teater--Norwegian for "The Theater of Cruelty" (a nod to Antonin Artaud)--is celebrating its 25th anniversary this year. This independent, Oslo-based theater troupe will make its North American debut at La MaMa with "The Mountain Bird" (Fjeldfuglen) by Henrik Ibsen, its celebrated staging of a romantic 1859 opera libretto by the great giant of Norwegian theater.

The production contains a critically acclaimed original score by contemporary composer Filip Sande and is the company's longest-running show. The piece, staged with a company of eight actors and two musicians, has appeared at festivals and as a guest performance at theaters in Norway (including the Norwegian Opera House and the National Theater's International Ibsen Festival), Sweden, Germany, France, England, Poland, Russia, Turkey, India, and Japan. The avant-garde opera's Romantic narrative is inspired by a medieval Norwegian legend of a woman discovered to be the sole survivor of the Black Death. US premiere. In Norwegian with English supertitles.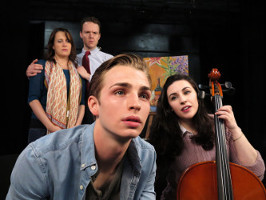 Foreground: Matt Mitchell as Sam and Michelle Siracusa as Suzanna. Behind: Brandon Grimes and Erin Evers as Suzanna's parents.
MARCH 2 TO 19
THEATER FOR THE NEW CITY
"YOUR NAME ON MY LIPS" BY ERIC SIROTA
Playwright/composer/lyricist Eric B. Sirota examines the changing nature of young love in "Your Name On My Lips," his new musical about a young artist fighting to hold on to the love of his life as the materialistic world tugs at her. This 14-character musical (with a cast of seven) examines love and passion, obsession and commitment. It debuted in TNC's Dream Up Festival in 2015. Gerald vanHeerden directs. Eric B. Sirota is a classically-trained composer and author of a number of book musicals other works since 1990.
Stig Dagerman, author of "Marty's Shadow," and his wife, actress Anita Björk
MARCH 4 TO APRIL 1
GENE FRANKEL THEATRE, 24 BOND STREET
"MARTY'S SHADOW" BY STIG DAGERMAN (SWEDEN) AND
"JOURNEY IN LIGHT AND SHADOW" BY STIG DALAGER (DENMARK)
August Strindberg Rep presents two mystery plays by modern Scandinavian playwrights.
Lauren Smith (L) and Carol Carter (R) play the parts of actresses rehearsing mother and daughter roles in "Journey in Light and Shadow" by Stig Dalager.
Stig Dagerman, the acclaimed Swedish playwright, poet, novelist and journalist, was first in Paris after the liberation and the first in Berlin after the fall of the Third Reich. His play, "Marty's Shadow," is a tale of the aftermath of the resistance and is based on actual characters he met in Paris. Translated by Nancy Pick with Lo Dagerman and directed by Whitney Gail Aronson.
"Journey in Light and Shadow" by Danish dramatist Stig Dalager is a play-within-a-play with three actors. Are they rehearsing, are they performing or are they not actors at all? Is it the present, the past, or in the future? The piece is something of an examination of playwriting process, with strains of Strindberg and Pirandello sewn in. Adapted by Natalie Menna from the Danish ttranslation by Robert Greer, directed by Mr. Greer.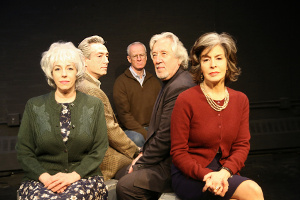 L-R: Tracy Newirth, Robert Meksin, Jed Dickson (as the Interviewer), Alex Dmitriev, Emily Zacharias. Photo by Gerry Goodstein.
MARCH 9 TO APRIL 1
WORKSHOP THEATER, 312 W 36TH ST.
"THROUGH THE DARKNESS"
"Through the Darkness" by Alan C. Breindel recounts the unimaginable journeys and true stories of four courageous men and women who left everything behind, including their loved ones, so that they might stay one step ahead of the Holocaust.
They are composite characters that playwright Breindel built from interviews with Holocaust survivors. Three of the four characters managed to avoid the horrors of the concentration camps and remained free, even if freedom was no more than the right to die on their own terms. Chaos was inescapable, freedom was motion, and the only safe place was any place other than where they were. Each of the characters repeatedly come face to face with seemingly insurmountable obstacles to daily survival and show us that when life is vastly different, life is still livable. Directed by Leslie Kincaid Burby.
MARCH 23 TO APRIL 2
LA MAMA
"TERRA DEI FUOCHI / LAND OF FIRES"
"Terra dei Fuochi / Land of Fires" is an environmental performance project blending modern dance, music and documentary theater to tell the story of Campania Felix, an area in Italy north of Naples that suffered devastating loss of life due to a scandal-ridden toxic waste disaster. The piece is a three-person dance with multimedia drawn largely from life stories of mothers in the region whose children "have become angels too quickly." Accompanying the performance will be a booth providing information about Campania Felix and how it can be compared to others around the world. The aim is to provide further education in the increasing land and water contamination issues facing our global community. This world premiere is choreographed and directed and by Bianca Falco (Napoli, Campania - NYC) and composed by Alberto Falco (Napoli, Campania).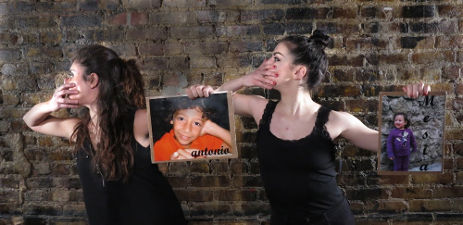 Bianca Delli Priscoli (left) and Laura Orfanelli (right). Boy in photo (L) is Antonio De Michele, son of Marzia Caccioppoli, who died age nine from Brain Stem Glioma. Girl in photo (R) is Mesia Nasi, who died age three from Adrenal Neuroblastoma. Photo by Jonathan Slaff.
MARCH 23 TO APRIL 9
LA MAMA
"BENGHAZI - BERGEN-BELSEN"
An epic romance retrieves from oblivion the lost story of the Holocaust of Libyan Jews in "Benghazi – Bergen-Belsen," a play by Lahav Timor that is inspired by the Brenner Prize-winning 2016 novel of the same name by Yossi Sucary, the first book about Jews in World War II Libya. The play is translated from Hebrew by Inbal Timor and directed by Michal Gamily. La MaMa Theatre will present its world premiere run in its Downstairs Theater, 66 East Fourth Street.
L-R: Michal Gamily, Mouna R'miki, Giacomo Rocchini, Veracity Butcher, Ayelet Kaznelson, Lili Leah Azrielant. Photo by Jonathan Slaff.
The production has a contemporary approach. By citing the marginalized racial politics of the Holocaust, it urges a reconsidering of both historical and contemporary religious, cultural, and racial oppression and violence. Its multicultural cast is led by Mohammad Bakri, who plays Silvana's father--the head of a Jewish family. Bakri is an Arab/Palestinian actor from Israel who is also known for his starring role on HBO's "The Night Of." The original score is by Avi Belleli, composer of HBO's "In Treatment." Lighting design is by Avi Yona Bueno ("Bambi"), one of Israel's most prominent lighting designers, who is renowned for his work with Batsheva Dance Company.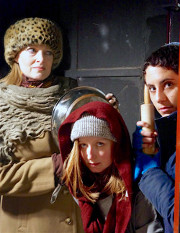 .L-R: Annalisa Loeffler, Kate Garfield, Zohra Benzerga.
MARCH 23 TO APRIL 9
THEATER FOR THE NEW CITY
"DEAD MAN'S DINNER"
Squeaky Bicycle Productions, a resident company of Theater for the New City, in the world premiere of "Dead Manís Dinner" by W.M. Akers. When the chips are down, are we men or beasts? That's the question of this new tragicomedy, to be directed by Kathryn McConnell. The piece is an absurdist adventure story set in a dystopian future. New York has been under siege for ten years and three women are struggling to survive in a frigid, rent-stabilized apartment on the Upper West Side. Olympia and her daughter Petra have spent years surviving any way they can. When Petra falls in love with Jackie, an injured soldier, their food supplies are stretched to the limit. Death creeps closer and each woman is torn between love and hunger. Hunger always wins.
Barbara and Carlton Molett, authors of "Rosalee Pritchett"
APRIL 5 TO 22
THEATRE 80 ST. MARKS
NEGRO ENSEMBLE COMPANY IN "ROSALIE PRITCHETT" AND "PERRY'S MISSION"
The Negro Ensemble Company continues the celebration of its 50th Anniversary season in which it is remounting NEC Classic Plays. The company will present two companion pieces, "Rosalie Pritchett" by Barbara and Carlton Molette and "Perry's Mission" by Clarence Young III. Both plays were produced originally in 1971 at St. Marks Playhouse, a half block from Theatre 80 St. Marks where this production will be staged.
APRIL 7 TO 29
GENE FRANKEL THEATRE, 24 BOND STREET
"OF MICE AND MEN"
The Onomatopoeia Theatre Company, a resident company of Gene Frankel Theatre, presents John Steinbeck's "Of Mice and Men." The company, led by Thomas R. Gordon, draws inspiration from a sonic approach to stage language. With this naturalistic play, its attention shifts to "the sounds of nature" in the setting. Mr. Gordon intends for the production concept to draw upon the vivid, impressionistic colors he saw when working in California's Great Valley where this play is set. The play has a filmlike quality, so it will be presented with a lot of offstage foley, like dogs barking, horseshow games, and the natural sounds that are heard as George and Lennny settle down for night and late day turns into evening. There is unmistakeable currency in the play's theme of "the best laid plans of mice and men." Mr. Gordon explains, "The play's protagonists, two ranch hands, have great plans for future, but circumstances interfere, just as many of us had great expectations that were upset by the current election." This play is part of a series of plays the company has undertaken devoted to the theme of "searching for honor," which has included "Medea" last season and will include "Julius Caesar" this summer, July 7 to 29.
Sarah Shah and Kaylin Reed as students who precipitate a lockdown and take refuge in the faculty room. Photo by Jonathan Slaff.
APRIL 13 TO 30
THEATER FOR THE NEW CITY
"THE FACULTY ROOM"
Baby Boomers had nuclear air raid drills in school that stamped their souls with the realization that death is always close by. Their children now have lockdown drills, rehearsing what to do when a shooter is on the loose in the school. A nuclear attack never materialized (at least, not yet), but the present generation has Sandy Hook, Columbine, Virginia Tech and a host of other massacres to remind them of their own mortality. The hard lockdown--when an imminent danger is known--is an unforgettable rite of passage for many people, and it is the setting of "The Faculty Room," the newest play by William Electric Black that is the fourth in his GUNPLAYS series. Directed by the author.
MAY 16 TO 30
STUDIO THEATRE, THEATER ROW
"ANTIGONE"
Fusion Theatre performs Jean Anouilh's "Antigone," translated by Lewis Galantiere. A ground breaking adaptation merges the worlds of classical theatre and opera, obliterating preconceived boundaries between theses two great theatrical worlds. Fusion Theatre draws its cast from a tiny pool of classically trained actors who are also renowned opera singers. Directed by award winning actress Eilin O'Dea. Features operatic arias as well as the fusion of both the classical play Antigone with the chorus line from the opera Antigone.
Michelle Shay, Barbara Montgomery, Olivia Williams and Frances Foster. Photo by Bert Andrews, 1979.
MAY 24 TO JUNE 10
THEATRE 80 ST. MARKS
NEGRO ENSEMBLE COMPANY IN
"DAUGHTERS OF THE MOCK"
The 50th season of Negro Ensemble Company, a year-long retrospective of some of the troupe's signature works, continues with "Daughters of the Mock" by Judi Ann Mason (original production March 3, 1976), directed by Denise Dowse.
Timothy Simonson as Adam Clayton Powell. Photo by Gerry Goodstein.
THROUGH MARCH 12
CASTILLO THEATRE, 543 W. 42nd STREET
NEW FEDERAL THEATRE PRESENTS "ADAM" BY PETER DEANDA
"ADAM" by Peter DeAnda is a historical and compelling play on the Honorable Reverend Adam Clayton Powell, Jr. set in Bimini, the House of Representatives and Abyssinian Baptist Church. It captures Rev. Powell's dynamic words and thoughts and brings the handsome and charismatic reverend back to life as we follow his political journey as the Congressman who represented Harlem between 1945 and 1971. Timothy Simonson plays Adam. Ajene D. Washington directs. Presented by Woodie King, Jr.'s New Federal Theatre.
L-R: Dexter Thomas-Payne (Lion), Derrick Montalvado (Scarecrow), Ben Harburg (Tin Man), Taylor-Rey Rivera (Dorothy). Photo by Remy.S.
THROUGH MAY 27
HARLEM REPERTORY THEATRE
TATO LAVIERA THEATRE AT HARLEM PREP, 240 E. 123RD STREET
"THE WIZARD OF OZ"
Harlem Repertory Theatre presents "The Wizard of Oz," co-produced by the Yip Harburg Foundation, for young (and young-at-heart) audiences. This production of the classic musical has a multi-racial cast, a jazzy underscore and authoritative dramaturgy by representatives of the Yip Harburg Foundation. The schedule of the extension is all Saturday matinees for the convenience of family audiences. Director/choreographer is Keith Lee Grant, Artistic Director of Harlem Rep, who is in the midst of a four-year project of presenting four classic musicals that have lyrics by E.Y. "Yip" Harburg, who was known in his lifetime as the "social conscience of Broadway."
Michelle Beshaw, Vit Horejs, Deborah Beshaw-Farrell, Ben Watts and puppets. Photo by Jonathan Slaff.
THROUGH MARCH 5
THEATER FOR THE NEW CITY
CZECHOSLOVAK-AMERICAN MARIONETTE THEATRE IN
"THREE GOLDEN HAIRS OF GRANDFATHER WISDOM"
For the delight of audiences aged five to 105, Czechoslovak-American Marionette Theater performs its newest work, "Three Golden Hairs of Grandfather Wisdom," an ensemble creation that encompasses three classical Czech fairy tales. It's named for the first one. Features four performers and a room crammed with marionettes of various sizes and found objects; written and directed by Vit Horejs. Each Saturday of the run, Vit Horejs also performs "The Winter Tales," a marionette play for young audiences based on three fairy tales that are set in blizzards.
Wynn Handman (right), with APT co-founder Sidney Lanier (center), receiving the Margo Jones award at City Hall in 1966 from Mayor John Lindsay (left).
DOCUMENTARY FILM, "IT TAKES A LUNATIC," WILL SPOTLIGHT WYNN HANDMAN
Wynn Handman, now a young 94, is teaching actors at his usual pace and continues to run The American Place Theatre's Literature to Life program, which has merged with Young Audiences New York. His assistant and long-time student, Billy Lyons, together with a few collaborators, is crowdfunding to complete a feature length documentary film about Mr. Handman his American Place Theatre titled "It Takes a Lunatic." Sources for the film include numerous hours of footage of Handman in his acting studio, at The American Place Theatre and elsewhere, plus interviews with former students, playwrights and friends including Norman Lear, Sydney Pollack, Michael Douglas, Olympia Dukakis, Tony Roberts, James Cann, Allison Janney, Richard Schiff, Tom Strelich, Sidney Lanier and Sam Shepard.
The current campaign goal of $80,000.00 (25% of the overall feature-length budget) is about three-quarters met. It is dedicated to completing nearly two dozen remaining interviews, logging and transcribing numerous hours of footage, and hiring the most talented editing team. Contributions are tax-deductible through the film's fiscal sponsor, Film Forum, NY's leading non-profit cinema. To learn more and view the trailer, please visit the IndieGoGo page.
TCG'S LEGACY LEADERS OF COLOR VIDEO PROJECT
On Monday, March 14, 2017 at 7:00 PM, Castillo Theater, 543 W. 42nd Street, will host a special, one-night only event to screen "Legacy Leaders of Color Video Project" (LLCVP). The film is being launched by Theater Communications Group (TCG), which worked with MOPED, a video production company, and with support from the Doris Duke Charitable Foundation, to film a series of interviews chronicling the stories of founding leaders of theaters of color.
The nine leaders featured in the videos are: Lou Bellamy, Penumbra Theatre, St Paul, MN; Tisa Chang, Pan Asian Repertory Theatre, New York, NY; Frank Chin, Asian American Theater Company, San Francisco, CA; Miriam Colón, Puerto Rican Traveling Theater, New York, NY; Woodie King, Jr., New Federal Theatre, New York, NY; Muriel Miguel, Spiderwoman Theater, New York, NY; Jackie Taylor, Black Ensemble Theater, Chicago, IL; Luis Valdez, El Teatro Campesino, San Juan Baptista, CA; and Douglas Turner Ward, Negro Ensemble Company, New York, NY.
Left: Douglas Turner Ward (L) and Woodie King, Jr.(R) add their signatures to the Sidewalk of Stars at Theatre 80 St. Marks. Photo by Jonathan Slaff. Right: Muriel Miguel in "Red Mother." Photo by Tim Matheson.
The interviews in the film reveal how these leaders were inspired to create opportunities lacking for artists of color; to challenge appropriation and misrepresentation through staging the full richness and complexity of racial, ethnic and cultural identities; to gain political power and creative autonomy; and to contribute their unique aesthetic and social perspectives to our culture. The LLCVP is intended to serve as a roadmap for future theater leaders and to raise broader cultural awareness of the impact of theaters of color. The screening series is led by Elena Chang, TCG's associate director of equity, diversity & inclusion, and August Schulenburg, TCG's director of communications & community engagement, and is rolling out over an 18-month period in the leaders' communities.
There will be a panel discussion, film screening and audience Q&A, followed by a reception. RSVP to John Rankin at Castillo Theatre at jrankin@allstars.org or 212-941-1234 (box office).
Photo from Mark Morris website.
PIANISTS: TRAIN FOR DANCE ACCOMPANIMENT
The Mark Morris Dance Group, in partnership with The Center for Ballet and the Arts at New York University (CBA) will launch the Mark Morris Dance Accompaniment Training Program, a new, innovative program to train and provide practical experience for dance accompanists. This one-of-a-kind program recognizes the significance of music in the dance studio and aims to further legitimize dance accompaniment as a viable and much needed profession within the music and dance industries. For more information go here or email sarah@mmdg.org.

NEVER TOO LATE
Irene Backalenick, the veteran theater writer for Backstage, has published "Rueful Reflections: Book 1" (Volume 1) Paperback, January 26, 2017. It's is a collection of the works of a beginner poet. Written in her 90's, it is like standing on a hilltop and looking back over the landscape. Irene looks back upon a lifetime of successes and regrets, of right turns and wrong turns.
Left: Irene Backelenick. Photo by Jonathan Slaff. Right: book cover.
IL DOTTORE EXPLAINS IT TO YOU ALL
Stanley Allan Sherman's Roving Classical Commedia University (totally unaccredited) and Mask Arts Company have announced summer workshops and labs for actors, artists, singers, dancers, directors, clowns, teachers and variety artists. Courses will include Commedia dell'Arte / Mime - movement - rhythm / Neutral mask - metaphysical mask lab / Creating original material. Classes will be held in the spacious salon of Centro Español, 239 West 14 Street (on the border of Chelsea/West Village). Master teacher Stanley Allan Sherman is a graduate of Ecole Jacque Lecoq Theatre Mime Movement and has worked as a performer, actor, clown, mime, teacher, director, writer and mask maker since 1972. Special summer Commedia dell'Arte workshop Guest Teacher will be Michela Musolino teaching Sicilian and Southern Italian tambourine and dance. Contact: il-dottore@commediau.com.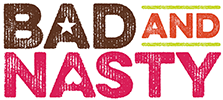 BAD AND NASTY HELD A "NOT MY PRESIDENT'S DAY."
"Not My President's Day: A Nationwide Day of Protest Through Performance" was held on February 20, 2017. Bad hombres, nasty women and Trump voters with buyer's remorse all staged a nationwide day of protest through performance. The "Bad and Nasty" collective is the brainchild of Holly Hughes (who fought Jessie Helms for her artistic freedom all the way to the Supreme Court) and Lois Weaver (co-founder of Spiderwoman Theatre, Split Britches, and WOW Café Theatre). The collective has over 1700 members, and counting, from across the country and around the globe who hosted events throughout the month of February.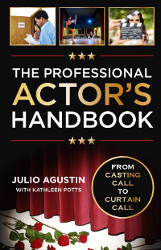 NEW HANDBOOK FOR ACTORS
The Professional Actor's Handbook (Rowman & Littlefield) has been published by Julio Agustin, Assistant Professor of Theater and Dance at James Madison University. He has performed in Broadway's Chicago and Fosse and runs a monthly audition studio in New York City, the Transition Workshop. Co-author is Kathleen Potts, an academic, dramaturge, and award-winning playwright on faculty at CUNY. Mr. Augustin directed the groundbreaking Latino version of "Sweet Charity" that was presented by New Haarlem Arts Theatre in 2012. Pre-order here.
HINT TO GMAIL USERS
Make sure you receive emails from Jonathan Slaff & Associates by dragging and dropping this email into your PRIMARY tab or by starring the email.