AUGUST 25 TO SEPTEMBER 15
THEATER FOR THE NEW CITY
TENTH DREAM UP FESTIVAL

L-R: Jennifer Joy Pawlitschek in "The Chaos Theory of Now," Tara Lake in "I Know It Was The Blood," cast of "EEEEEEEEE" by Emily Abrams.
Theater for the New City, under the direction of Crystal Field, Artistic Director, will present its tenth Dream Up Festival, a feast of adventurous theater featuring new works from across the country, August 25 to September 15. Helmed by the theater's Literary Manager, Michael Scott-Price, the festival will offer 27 plays, mixing world premieres and New York premieres. It's an ultimate new work festival dedicated to the joy of discovering new authors and edgy, innovative performances. The motto of the festival is "Dream Up: Invent, Concoct."
AUGUST 25 TO SEPTEMBER 2
THEATER FOR THE NEW CITY
"THE FATHER" BY AUGUST STRINDBERG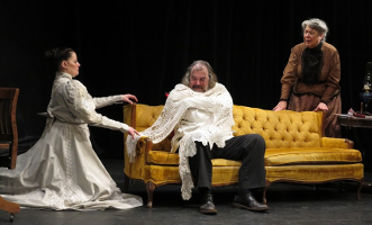 Brad Fryman plays the Captain, Natalie Menna plays his wife and Jo Vetter plays the Captain's old Nurse in "The Father"
Theater for the New City's Dream Up Festival offers Robert Greer's new translation of Strindberg's 1887 tragedy "The Father", in which a wife uses her erotic influence over her doctor and her readiness to claim that her family lawyer is her child's father to drive her husband into madness. The play offers a proto-Freudian explanation of the unreasonable hatred that can exist between husbands and wives. Greer's translation mines the hidden sexual meanings in the original Swedish dialogue (bowdlerized in many translations) that seem to drive the play.
SEPTEMBER 19 TO 29
LA MAMA E.T.C.
"THIS IS WHY WE LIVE"
"This Is Why We Live" by Open Heart Surgery, a Lecoq-bred performance troupe from Toronto, brings poetry of Polish Nobel Laureate Wislawa Szymborska to the stage using devised movement, poetry-theatre, live music and collage. Two actors and a musician journey through fragmented and visceral encounters with Szymborska's verse, which is used in the original Polish plus French and English. Projected English translations will be provided for the Polish and French language texts.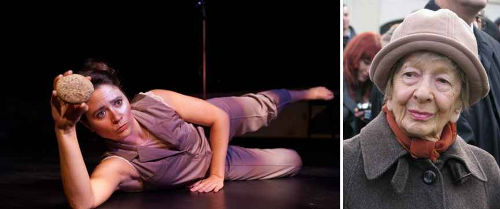 L: Elodie Monteau (Photo: Michael Cooper) R: Wislawa Szymborska in Cracow, 2009.
Wislawa Szymborska (1923-2012) was a Polish poet, essayist, translator and recipient of the 1996 Nobel Prize in Literature. Her body of work (only 325 pieces) often employs the literary devices of ironic precision, paradox, contradiction and understatement to illuminate philosophical themes and obsessions. She explored humanity's relationship with nature, the irony of existence and the existential questioning of our place within the universe. This theater piece uses her poetry to relight the aura of routine, day-to-day life for our self-obsessed times. In Szymborska's view, no matter how horrific the world may be we can still stand in awe, be amazed and remember what came before us.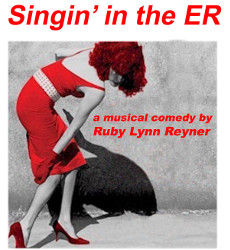 SEPTEMBER 26 TO OCTOBER 13
THEATER FOR THE NEW CITY
"SINGIN' IN THE ER" BY RUBY LYNN REYNER
Ruby Lynn Reyner directs and appears in her musical satire, "Singin' in the ER," a bad trip to the hospital that's performed in Playhouse of the Ridiculous style. Cast of eight. The piece is inspired by ordeals in a New York City hospital suffered by the author and her husband. Now she believes that the only way to deal with such life changing experiences is through unrestrained, exorbitant laughter. The score includes the song, "Biggest Balls in Town," written by Reyner and Jackie Curtiss. Ms. Reyner was a star of Vaccarro's Playhouse of the Ridiculous, appearing in "Conquest of the Universe," "Heaven Grand In Amber Orbit" and "Trilby in La Bohemia" (Drama Desk Award for Acting), among others and starting her well-known band, Ruby and the Rednecks, with musicians she worked with in the Playhouse.
SEPTEMBER 26 TO OCTOBER 13
THEATER FOR THE NEW CITY
"LUDWIG AND BERTIE"
Is it possible that an act of child abuse perpetrated by an Austrian schoolteacher in 1926 could have created the 21st century's demolition of factuality and the post-truth world of Donald Trump? The answer is "yes" if the teacher was Ludwig Wittgenstein, a man otherwise recognized as one of the great philosophers of the twentieth century. That is the premise of this wildly plausible new play, "Ludwig and Bertie" by Douglas Lackey, which charts the forty-year love/hate relationship between the philosopher Bertrand Russell ("Bertie" to his friends) and his most famous student, Wittgenstein. Alexander Harrington directs.
L: Ludwig Wittgenstein. R: Bertrand Russell
The piece is a successor to TNC's production last season of "Arendt-Heidegger: A Love Story" by Lackey, which dramatized the troubling, lifelong affair between Zionist Hannah Arendt and Nazi sympathizing philosopher Martin Heidegger, which was also directed by Harrington.
Danielle Aziza and Crystal Field. Photo by Jonathan Slaff.

OCTOBER 31
THEATER FOR THE NEW CITY
VILLAGE HALLOWEEN COSTUME BALL
Nonstop theater, a costume competition and ballroom dancing will bewitch the East Village in Theater for the New City's 43rd annual Village Halloween Costume Ball on Thursday, October 31 at TNC, 155 First Avenue. This unique festival continues as a grand coming-together for real witches, everyday New Yorkers and artists alike. An explosive fall tradition, the event is held annually on the actual night of Halloween and celebrates artistic creation and fertilization.
Dario D'Ambrosi in "Tutti non ci sono"
NOVEMBER 1-3
LA MAMA E.T.C.
DARIO D'AMBROSI IN "TUTTI NON CI SONO - ALL MAD FREE"
First presented at La MaMa in 1980, "Tutti non ci sono" is a seminal play about a psychiatric inmate victimized by neglect in the outside world was written as a reaction to the Italian Mental Health Act of 1978, which was the first law to reform the psychiatric system. It is a call for help and understanding instead of indifference and fear. Dario D'Ambrosi, founder of the Pathological Theater of Rome is one of the major Italian avanguard artists. Author, director and actor, he has been working for over thirty years on his personal research on madness, developing some among the most interesting theater shows on the Italian and International scene.
NOVEMBER 7 TO 24
THEATER FOR THE NEW CITY
"THE WHITES (A STORY ABOUT BLACK PEOPLE/PLAYED BY WHITE PEOPLE)"
The cast is all White - the characters are Black. In William Electric Black's timely story, we are hurled into a society that has turned upside down. Imagine if Blacks had enslaved White people. If prisons were filled with White people. If White communities were plagued by gun violence, overt police brutality and an abundance of health issues. What if White people had to sit in the back of the bus, face numerous lynchings and job discrimination? What if the United States were run by Black people and Whites were considered the minority? A daring, haunting, powerful play about race in America. NOTE: This show replaces "Betty and the Belrays: A Girl Group Story."
NOVEMBER 17
SYMPHONY SPACE
THE CAPITOL STEPS IN "THE LYIN' KINGS"
The Capitol Steps, America's premiere political-musical-satire troupe, returns to New York November 17 with their all new show, "The Lyin' Kings," for two performances, at 4:00 PM and 7:00 PM. This is the group that puts the "MOCK" in Democracy! Originally made up of congressional staffers, the past decade has seen the "Steps" harvest the talents of finely-tuned musical theater professionals from around the country. "The Lyin' Kings," drawing its humor from today's headlines and twitter feeds, will include the latest songs about the Democratic primary candidates ("76 Unknowns") and the newest late-night thoughts from President Trump ("Tweet It").
AUG 3 TO SEPT 15
"NO BRAINER, OR THE SOLUTION TO PARASITES"
THEATER FOR THE NEW CITY STREET THEATER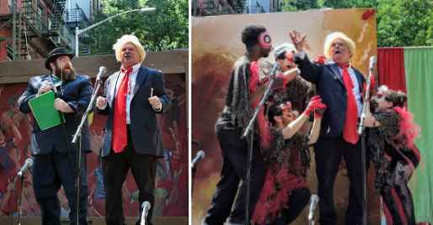 A Virtual Real Estate Mogul (T. Scott Lilly) conspires with the head of Deutsche Bank (Matt Angel, L) and is attacked by parasites (R). Photos by Quinn Calcote.
Theater for the New City's 2019 Street Theater production is "No Brainer or the Solution to Parasites," a rip-roaring musical which portrays our road to national madness as a bad trip to Hades. Free performances tour parks, playgrounds and closed-off streets throughout the five boroughs through September 15. Book, lyrics and direction are by Crystal Field; the musical score is composed and arranged by Joseph Vernon Banks.
EXTENDED THROUGH JANUARY 11, 2020
HARLEM REPERTORY THEATRE
TATO LAVIERA THEATRE, 240 E. 123RD STREET
"THE WIZARD OF OZ: A JAZZ MUSICAL FOR ALL AGES "
L-R: Taylor-Rey Rivera (Dorothy), Jenna Vega (Lion), Ben Harburg (Tin Man), Derrick Montalvo (Scarecrow). Photos by Jonathan Slaff.
Harlem Repertory Theatre stages "The Wizard of Oz: a Jazz Musical for All Ages," co-produced by the Yip Harburg Foundation, for young (and young-at-heart) audiences. This production of the classic musical has a multi-racial cast, a jazzy underscore and authoritative dramaturgy by representatives of the Yip Harburg Foundation.
Director/choreographer is Keith Lee Grant, Artistic Director of Harlem Rep, who is in the midst of a four-year project of presenting four classic musicals that have lyrics by E.Y. "Yip" Harburg, who was known in his lifetime as the "social conscience of Broadway."
"THE HISTORY GUY" PRESENTS LYRICIST E.Y. "YIP" HARBURG AS A CASE OF FAME WITHOUT RECOGNITION.
The July 12, 2019 episode of The History Guy, "Yip Harburg: Forgotten Lyricist of Over the Rainbow," has drawn over 40,000 views to-date. It's a production of Lance Geiger, who can justifiably lay claim these days to being the Internet's most popular historian. His channel now has over 450,000 subscribers and attracts an average of 1,000 new subscribers per day.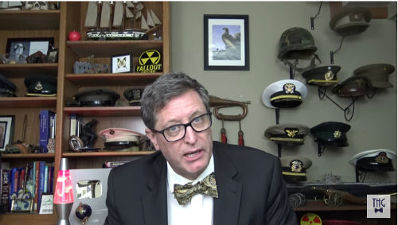 Lance Geiger, "The History Guy"
Geiger's aim, as a historian, is to profile extraordinary people who did not get the acknowledgement they deserve. This segment illuminates a peculiarly Hollywood paradox: fame without recognition. E.Y. "Yip" Harburg wrote the lyric for "Over the Rainbow," one of the most beloved movie film songs of all time, yet relatively few people know his name. Geiger notes that Harburg also wrote the lyric of "Brother, Can You Spare a Dime?," which was celebrated as the anthem of the Great Depression, and he was known throughout the theater industry as "the social conscience of Broadway." Yet ironically, he was blacklisted for this willingness to speak out on social issues. Geiger quips, "He was the quintessential Hollywood artist forgotten by history."
Left: The Wizard of Oz. Right: Yip Harburg sings "Brother, Can You Spare a Dime?"
HINT TO GMAIL USERS
Make sure you receive emails from Jonathan Slaff & Associates by dragging and dropping this email into your PRIMARY tab or by starring the email.