MARCH 19
CATHEDRAL OF ST. JOHN THE DIVINE
"HEALING JOURNEYS WITH THE BLACK MADONNA"
Alessandra Belloni and her I Giullari di Piazza performance troupe will return to the Cathedral of St. John the Divine, 1047 Amsterdam Ave., with a concert, "Healing Journeys With The Black Madonna," and an accompanying book launch. The launch is for Belloni's book, "Healing Journeys With The Black Madonna" (Inner Traditions - Bear & Company), which is presently No. 1 on Amazon pre-sales in the category of Folk Dances. The book is an experiential guide to the ancient healing rituals surrounding the Black Madonna legend, which can be traced to pre-Christian times. It contains a forward by bestselling author Matthew Fox.
Left: Book cover. Center: Alessandra Belloni (right) and dancers in Spinning Dance. Right: Alessandra Belloni and Black Madonna statue.
An ensemble of nine will perform live versions of healing chants, ritual drumming and trance dance ceremonies that are found on the CD accompanying the book. These include rites of the Tammorriata, the transgender rite of Femminielli, and the erotic "spider dance" of the Tarantella, which has been used for centuries in the Mediterranean for healing.

MARCH 21 TO APRIL 7
THEATER FOR THE NEW CITY
CZECHOSLOVAK-AMERICAN MARIONETTE THEATRE IN
"JOHANNES DOKCHTOR FAUST, A PETRIFYING PUPPET COMEDYE"
Czechoslovak-American Marionette Theatre (CAMT) re-imagines its perennially popular "Johannes Dokchtor Faust, a Petrifying Puppet Comedye," translated and directed by Vit Horejs. The story of the learned Johannes Faust, who sold his soul to the devil for ultimate knowledge, is staged with age-old technical tricks of Czech puppetry, including fire and thunder, hellish gargoyles and underwater creatures. A classic of the Czech marionette repertoire, it traditionally contains satires to make fun of a king or a local mayor. The company's adaptation was initially developed in 1990 and its topical references will be updated for current times.

L: Kasparek (Pimprle) rides on Mephisto's back. C: Faust is grilled by devils. R: Head of Vit Horejs with puppets of Dr. Faust, a minor Angel and a minor Devil.
The script is the first definitive American translation of the classic Czech text by the author known today only as "A.B." The main Mephistopheles puppet, about 26 inches high and about 100 years old, was fashioned in Kladno, Bohemia by Karel Krob, a mason and shoemaker. There are three copies of Mephisto, differently-sized, used to make him shrink and grow as he gains and loses power. Faust is a copy of a folk puppet originally crafted in a Czech-American company over 200 years ago. The balance of the 20-or-so puppets in the show come from the troupe's repertory, notably century-old Czech puppets discovered in 1990 in a hidden storeroom at the Jan Hus Church on East 74th Street. Recommended for ages 6-106.
MARCH 22
THEATER FOR THE NEW CITY
READING OF "DOCTOR FAUSTUS" BY CHRISTOPHER MARLOWE
Anonymous portrait in Corpus Christi College, Cambridge, believed to show Christopher Marlowe.
On Friday, March 22 at Theater for the New City, a special 90-minute, acoustic-punk reading of Christopher Marlowe's tragedy, "Doctor Faustus," directed by Elizabeth Ruf Maldonado, will follow the 8:00 PM production of "Johannes Dokchtor Faust, a Petrifying Puppet Comedye" by Czechoslovak-American Marionette Theatre. Crystal Field, Co-Founder and Artistic Director of Theater for the New City, will portray Doctor Faustus. The Czech/British/U.S. cast also includes: Jonathan Slaff, Briana Bartenieff, Emily Pezzella, Robert (Moe) Maloney, Elizabeth Ruf Maldonado, Matt Roper, Vit Horejs, Bonnie Stein, Kerry Milliron, Michelle Beshaw, Deborah Beshaw-Farrell and Ben Watts. Karl Bateman will provide a live soundscape on acoustic instruments. Refreshments will be served. Admission is free but donations will be gratefully accepted. The reading will start around 9:20 PM. No RSVP is required.
MARCH 23 & 30
MARC A. SCORCA HALL OF NATIONAL OPERA CENTER
FUISION THEATRE IN "A NIGHT AT THE OPERA
Fusion Theatre will present Spinto Soprano Eilin O'Dea and Tenor Byron Singleton in "A Night at the Opera," an evening of extracts (duets and arias) from "Aida," "Tosca" and "Madama Butterfly," at Marc A. Scorca Hall of National Opera Center, 330 Seventh Ave., 7th floor. Musical direction is by pianist Maestro Brian Holman.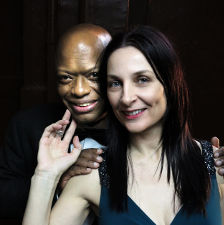 Byron Singleton and Eilin O'Dea. Photo by Jonathan Slaff.
Eilin O'Dea founded Fusion Theatre in 2016 to fulfill her concept that synthesizing the worlds of theater and opera can provide the ultimate theatrical experience. Now it is giving its first opera performance. Fusion chose three of the best known and loved operas of all time to launch its Opera Series. The excerpts presented will be representative of the dramatic and musical journey of each of the chosen operas and the performers, dual-trained as classical actors/opera singers, aim to maintain their absolute commitment to dramatic truth.

APRIL 12 AND MAY 17
DON'T TELL MAMA
"CHAVELA: THINK OF ME" WITH STEPHANIE TRUDEAU
"Chavela: Think Of Me," written and performed by Stephanie Trudeau, is more than just a musical cabaret based on the songs of legendary Mexican singer Chavela Vargas, it is the first Ranchera musical. It is also a documentary theater project that traces the famed ranchera singer's artistic evolution and the key relationships of her life, including those with her musical mentor, Jose Alfredo Jimenez (the world's greatest composer of ranchera songs), the painters Diego Rivera and Frida Kahlo, the great Cuban courtesan Macorina, and the producers, notably Pedro Almodovar, who enabled her comeback at age 72 after a 15 year battle with alcoholism.
Stephanie Trudeau and portraits of Chavela Vargas
The piece combines stories about the iconic singer with performances of key songs of her career. It dramatizes the singer's life and also illuminates the culture of Latin America's "golden age" from the 1930's through the 1960's. Narration and enactment of the singer's life story are in English, but Vargas' ranchera songs and Latin American pop hits are sung in Spanish with some translated lyrics. Multimedia containing historical images of the principal characters and their social and artistic milieu illustrate the piece. The show is topical because Chavela Vargas' life story (1919-2012) reflects so many of today's hot topics: gender issues, gay rights, immigration and Mexican culture. Trudeau is accompanied by her arranger, David Lahm on piano and by Diego Cebollero on guitar. Direction is by Tanya Moberly.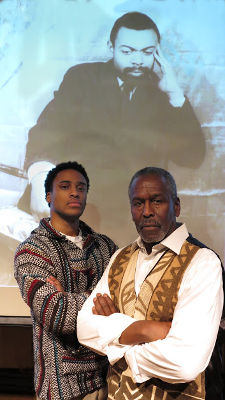 Tyler Fauntleroy as the intern, Kim Sullivan as Baraka. Photo by Jonathan Slaff.
FEBRUARY 28 TO MARCH 31
CASTILLO THEATRE, 543 WEST 42ND STREET
WOODIE KING, JR.'S NEW FEDERAL THEATRE PRESENTS
"LOOKING FOR LEROY" BY LARRY MUHAMMAD
What is black theatre? How is it defined and by whom? What is the relationship between the black dramatist, their creation and the black community at large? "Looking for Leroy" by Larry Muhammad explores these questions through the career of LeRoi Jones/Amiri Baraka, arguably the most important black playwright of the 20th century and one who intended his art have social impact. A poet, novelist, essayist and music critic probably best known for his plays, Baraka's intellectual development from Beatnik to black nationalist to Marxist was reflected in his art.
In this two-character play, a young theatre intern struggles to comprehend the artistic metamorphoses of his hero, a great playwright at the pinnacle of his powers. While the intern assists with play development, his casual observations infuriate his mentor and the two heatedly debate theatre fundamentals, examining the fungible nature of aesthetics, questioning whether artistic expression is ever nonideological and weighing the added responsibility of artists of color. Patronia Paley directs.
The show is currently trending on Show-Score.
THROUGH MARCH 17
THEATER FOR THE NEW CITY
"COLORSTRUCK" BY DONALD E. LACY, JR.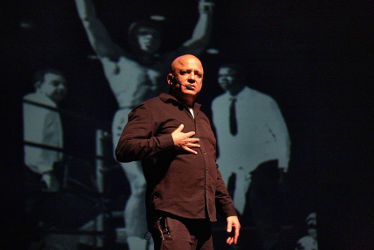 Donald E. Lacy, Jr. in "Color Struck." Projection: Mohammed Ali. Photo by Auintard Henderson.
Prominent comedian/actor/broadcaster Donald E. Lacy Jr. performs the New York debut of his one man show, "ColorStruck." The piece begins as a comedic autobiography of a sensitive, light-skinned African American man growing up in Oakland during the height of the Black Pride movement and morphs into an interactive experience that uses comedy, music, spoken word, dance and images to stimulate conversation on one of America's most intractable challenges, institutional racism.
The play was born in California's Bay Area and has been presented on college campuses around the country and at the National Black Theatre Festival. It was presented twice for the U.S. Congressional Black Caucus. Director is Sean San Jose; soundscape and music are by Grammy nominee Tommy Soulati Shepherd.
Watch Sandra Bookman's terrific interview with Donald E. Lacy, Jr. on ABC7NY's "Here and Now."
EXTENDED THROUGH JUNE 8, 2019
HARLEM REPERTORY THEATRE
TATO LAVIERA THEATRE, 240 E. 123RD STREET
"THE WIZARD OF OZ: A JAZZ MUSICAL FOR ALL AGES "
L-R: Taylor-Rey Rivera (Dorothy), Ben Harburg (Tin Man), Derrick Montalvo (Scarecrow), Isaac Antonio (Lion). Photos by Jonathan Slaff.
Harlem Repertory Theatre stages "The Wizard of Oz: a Jazz Musical for All Ages," co-produced by the Yip Harburg Foundation, for young (and young-at-heart) audiences. This production of the classic musical has a multi-racial cast, a jazzy underscore and authoritative dramaturgy by representatives of the Yip Harburg Foundation.
Director/choreographer is Keith Lee Grant, Artistic Director of Harlem Rep, who is in the midst of a four-year project of presenting four classic musicals that have lyrics by E.Y. "Yip" Harburg, who was known in his lifetime as the "social conscience of Broadway."
BROOKLYN'S MYSS TIC ESCAPE ROOMS WILL TAKE YOU BACK TO THE ZIEGFELD FOLLIES

Myss Tic Escape Rooms, located at 794 Union Street in Brooklyn's Park Slope, offers theatrical performances, exceptional scenic design, smart games and magic. Their new room, "Ghost Light," will open next month. It takes you backstage at the New Amsterdam Theater during the Vaudeville era. A ghost light illuminates the mstery of Olive Thomas, one of the most famous girls of the Ziegfeld Follies. She died under mysterious circumstances when she was poisoned in Paris. Since then, many stage hands swear they still see her. A ghost light is placed on the stage so that Olive and her colleagues can relive performances during the night and not bother the living during the day. Your mission is to turn on the light, but once the spirits start performing, you have to run fast if you don't want to be trapped in their world.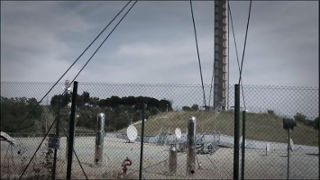 Until this room's built (and after), you can experience "Montauk Project," in which you infiltrate the old Montauk Air Force Station, which was shut down in the 1970's (or actually, transformed into Camp Hero State Park). Your mission is to learn what's alive there from past experiments--and why people are disappearing in its surrounding forests.

THEY'RE OFF TO A SINGING SARTRE
Jean-Paul Sartre
Fusion Theatre (see above) will mount its opera-charged version of Sartre's "No Exit" from April 5 to 25, 2019 as the opening production of a new OOB venue, The Theater at 244, located at 244 West 54th Street, 10th floor. Over the rest of the year, Fusion will conduct an extended residency there.
In 2016, the company mounted a short proof-of-concept run of its adaptation of "No Exit" at Walkerspace Theatre. It opened with operatic arias representative of the transition as between life and death and the instant in between. This will be the full production's debut run. The company injected operatic arias into Anouilh's "Antigone" in 2017.
HINT TO GMAIL USERS
Make sure you receive emails from Jonathan Slaff & Associates by dragging and dropping this email into your PRIMARY tab or by starring the email.