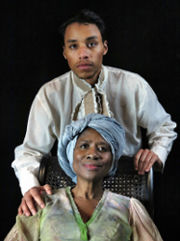 Justin Foster and Alicia Foxworth. Photo by Jonathan Slaff.
FEBRUARY 1 TO 18
THEATER FOR THE NEW CITY
"ONE DROP"
"One Drop" by Andrea J. Fulton, inspired by her actual family history, is a family drama with music that brings to life the politics of a young mixed-race man's "passing" for white in post-Civil War Louisiana. The ten-character play illustrates the risks taken by those not afraid to love despite bigotry, telling of a family torn apart by racism but ultimately reunited. It elucidates for the audience the stakes of pursuing love across lines of race and class during Reconstruction. The piece debuted in Theater for the New City's Dream Up Festival in 2010. Directed by Sabura Rashid.
POW-WOW 2017 --L-R: Julian Gabourel, Carlos Ponce, Alan Brown, Kitty Gabourel.2017. Photo by Remy.
FEBRUARY 2 TO 11
THEATER FOR THE NEW CITY
THUNDERBIRD AMERICAN INDIAN DANCERS' 43rd ANNUAL DANCE CONCERT AND POW-WOW
The 43rd annual Thunderbird American Dancers Dance Concert and Pow Wow will offer dances, stories and traditional music from Native Peoples of the Northeast, Southwest and Great Plains regions. The event has become a treasured New York tradition for celebrating our diversity by honoring the culture of our first Americans. A Pow-Wow is more than just a spectator event: it is a joyous reunion for native peoples nationwide and an opportunity for the non-Indian community to voyage into the philosophy and beauty of Native culture. Highlights will include storytelling, a Hoop Dance, a Grass Dance and Jingle Dress Dance (from the Northern Plains people), a Stomp Dance (from the Southeastern tribes), a Shawl Dance (from the Oklahoma tribes), a Deer Dance (from the Yaqui Tribes of Southern Arizona), a Fancy Dance (from the Oklahoma tribes) and a Robin Dance and Smoke Dance (from the Iroquois). As the audience enters the theater, they will be serenaded by the Heyna Second Son Singers (various tribes). In the final section of the program, the audience will be invited to join in the Round Dance/Friendship Dance (in evening shows) and a Contest Dance (in matinees). After the program, the dancers stay for photographs and to meet the audience.
Foreground: Curry Whitmire. Behind: Krystle Adams, Betty Hudson. Photo by Jonathan Slaff.
FEBRUARY 2 TO 25
THEATER FOR THE NEW CITY
"OR CURRENT RESIDENT"
Part of our shared experience as Americans today is how we strain under the weight of the tech sector. Millionaires are made overnight and we endure the distortions of social media while gentrification pushes us out of our homes. When that happens, it rips us away from our history as if we never mattered. That's the idea behind "Or Current Resident," a new play by Joan Bigwood, which will be performed by Squeaky Bicycle Productions. It's 2013 and three generations of the Finch family live in a bungalow in the rapidly-changing community at the heart of Silicon Valley. They have weathered the neighborhood's rapid changes through the years, but nothing has prepared them Facebook's impact on the family's teens and the aggressive real estate market that is throwing them out of their home. Playwright Joan Bigwood is a former Silicon Valley resident and her family drama throws the covers off a cozy little universe that has survived on distortions and self-deception; a universe that now lies shivering in the cold glare of unexpected, untenable revelations. Brandi Varnell, Artistic Director of Squeaky Bicycle, directs.
FEBRUARY 8 TO MARCH 11
NEW FEDERAL THEATRE PRESENTS "HARRIET'S RETURN"
CASTILLO THEATRE, 543 WEST 42ND STREET
At a time when the USA is waffling on its commitment to honor Harriet Tubman with her image on the 20 dollar bill, Woodie King, Jr.'s New Federal Theatre will present "Harriet's Return: Based Upon the Legendary Life of Harriet Tubman," written and performed by Karen Jones Meadows. The production takes audiences on a deeply personal, high energy journey into the private and public life of this famed Underground Railroad conductor, spiritual icon, revolutionary, and entrepreneur, whose life spanned nine decades and still influences the consciousness of people throughout the world. Clinton Turner Davis directs.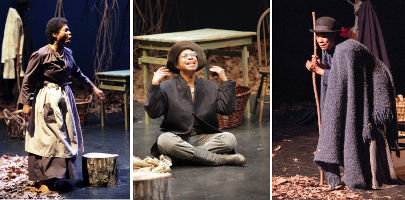 Karen Jones Meadows as Harriet Tubman. Photos by Ron Ross.
Dave Roberts as Josh Gibson, Daphne Danielle as his wife, Hattie. Photo by Jonathan Slaff.
FEBRUARY 8 TO 25
THEATER FOR THE NEW CITY
"JOSH: THE BLACK BABE RUTH"
"Josh: The Black Babe Ruth," written by Michael A. Jones and directed by Bette Howard, dramatizes the life, loves and ultimately the tragic decline of Josh Gibson, who was perhaps the greatest slugger of the Negro leagues and who, some say, died of a broken heart in 1947. The play, based on real events, shows Gibson struggling heroically to make it into the Big Leagues with emotional support from his good friend, the legendary pitcher Satchel Paige, and from the two women who are rivals for his heart--his common law wife and his mistress. Despite his majestic on-field performance, there are immovable obstacles, including resistance to Black players by Major League club owners and Gibson's own personal demons, which suffocate his chances.
FEBRUARY 14 TO MARCH 4
GENE FRANKEL THEATRE, 24 BOND STREET
NEGRO ENSEMBLE COMPANY IN "A SOLDIER'S PLAY"
As part of its 50th season, Negro Ensemble Company, Inc.(NEC) revived its most famous and successful production, "A Soldier's Play" by Charles Fuller, from September 27 to October 8, 2017 at Theatre 80 St. Marks. To share this much-praised revival with a wider audience, the company will re-mount it for Black History Month at Gene Frankel Theatre, 24 Bond Street. Director is NEC's Artistic Director, Charles Weldon, who staged this fall's revival.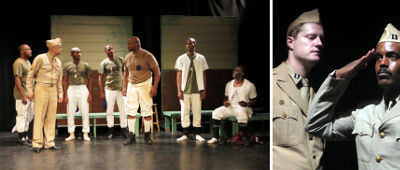 Left: Sgt. Williams (Gil Tucker) accuses Pvt. C.J. Memphis (Jimmy Gary, Jr.) of a murder. Photo by Jonathan Slaff. Right: Buck Hinkle and Chaz Reuben. Photo by Kamoier Williams.
The play uses a murder mystery in a segregated U.S. Army base during World War II to expose angers and resentments among African Americans that curiously mimic white racist attitudes. The original production ran for two years at Theatre Four, earned unanimous praise and launched the careers of many current stars including Denzel Washington, Samuel L. Jackson, Adolph Caesar and James Pickens, Jr. It won the Pulitzer Prize, an Outer Critics Circle Award for Best Off-Broadway Play, a New York Drama Critics' Circle Award for Best American Play and three Obie Awards before being brought to the big screen as "A Soldier's Story." This fall's production was deemed "gripping and powerfully performed" (TheaterScene.net), "masterful and stimulating play...the actors are incredible" (Times Square Chronicle) and "we need 'A Soldier's Play' [today] more than ever." (NY Theatre Wire).
L-R: Carol Carter as Sadie and Edythe Jason as Bessie in "Having Our Say." Photo by Edgar Chisholm.
FEBRUARY 16 TO MARCH 5
NORTH OF HISTORY, 445 COLUMBUS AVE (81-82 STREET)
"HAVING OUR SAY: THE DELANY SISTERS' FIRST 100 YEARS"
The Morningside Players will present Carol Carter and Edythe Jason in "Having Our Say: The Delany Sisters' First 100 Years" by Emily Mann, adapted from the book by Sarah H. Delany and A. Elizabeth Delany with Amy Hill Hearth. It will be the inaugural theater production at North of History, a new performance/gallery space founded by Gene Kaufman that is located at 445 Columbus Ave. (between 81st and 82nd Street). Edgar Chisholm directs.
The play is a tour-de-force for two black actresses. We enter the home of two centenarian sisters: Sadie Delany, a retired teacher, age 103 and her kid sister, Bessie Delany, a retired dentist, age 101. Like molasses and vinegar, these daughters of a former slave were always temperamental opposites, but together they grew up in the Jim Crow South, lived in Harlem during its renaissance and had professional careers. While making dinner to remember their father's birthday, the two sisters tell us of the last century as they lived it – through stories of racial injustice and personal strife, unified by faith, family, and time.
FEBRUARY 22 TO MARCH 18
THEATER FOR THE NEW CITY
"SUBWAY STORY (A SHOOTING)"
Innumerable American children and teens are exposed to gun violence at home, in school, in their communities and in the media. In "Subway Story (A Shooting)," playwright/director William Electric Black means to elucidate the pressures that drive the epidemic in young people. The piece is the final installment of his five-play GUNPLAYS Series, which has dramatized the epidemic of gun violence using differing approaches and theatrical styles.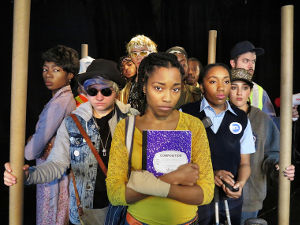 Sarah Q. Shah (foreground) and cast of "Subway Story (A Shooting)." Photo by Jonathan Slaff.
The play is the unfolding of an essay by an African-American teenage girl named Chevonn, which she must complete to pass junior English. It is supposed to be nonfiction but instead turns out surprisingly literary in style. In her composition, a troubled, abused high school student combs the subways, seeking to obtain a gun in order to shoot her mother. Her quest is narrated in a fantastical mashup of literary images that are part Lewis Carroll and part queasy reality, revealing issues affecting our children including alienation, discrimination, bullying and the easy availability of firearms. Chevonn's autobiographical tale strongly suggests how society needs to perceive the hopelessness that kids face and how this can make them lash out with guns or turn them on themselves.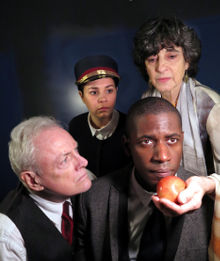 Clockwise from left: Angus Hepburn, Rosa Rodríguez, Elisa De la Roche and Sean Phillips. Photo by Jonathan Slaff.
FEBRUARY 23 TO MARCH 17
IATI THEATER, 64 E. FOURTH STREET
"THREE ON A MATCH"
The 50th Anniversary production of IATI Theater Toto Vanguardia will be the world premiere of "Three on a Match" by Rhett Martinez, directed by Eric Parness. Somewhere in mythic South America, in a decaying hotel, live three unlikely guests. Linked by trauma, they must face up to a global oppressor in a play of magical realism. The drama examines, absurdly and gravely, the terrifying plague of "disappearances" during Argentina's "Dirty War" of 1974-83 and similar experiences of countries across South America in ensuing decades.
IATI Theater, a non-profit performing arts organization founded in 1968 by Venezuelan director Abdón Villamizar and a group of Latino writers and actors, is committed to adventurous new works. IATI artists address contemporary issues of broad human interest and frame them in an appropriate cultural context of powerful social impact to provoke introspection and social awareness. In its 50th season, it will mount two mainstage shows, workshop productions, musical and dance concerts, free touring workshops and touring children's productions to schools and libraries
George Bartenieff as 'Uncle' in "Extreme Whether" at Theater for the New City, 2014. Photo by Beatriz Schiller.
MARCH 1-18
LA MAMA E.T.C.
"EXTREME WHETHER," WRITTEN AND DIRECTED BY KAREN MALPEDE
A new production of the post-Paris version of "Extreme Whether," written and directed by Karen Malpede. This "Cli-Fi" play juxtaposes psychological and magical realism in a tale of a courageous climate researcher who is defamed by special interests, including his own family. Obie-winner Rocco Sisto heads a cast of six.
Set during the record-hot summers of 2004 and 2012, the play pits a scientist named John Bjornson (Rocco Sisto) against his younger sister, Jeanne (Dee Pelletier), in a no-holds barred struggle over land ownership and the future use of their family's wilderness estate. The sister is an energy spokeswoman and is married to a climate-skeptic lobbyist (Khris Lewin), who helps strategize her actions. The siblings' dispute reveals the fault lines in America today over land usage, global warming and climate denial. Supporting John's struggle for the land are three people. One is the caretaker of the estate, an oracular, Thoreau-like man named Uncle (Obie-winner George Bartenieff). The others are John's precocious 13-year old daughter (Emma Rose Kraus) and a young ice scientist with an important new theory (Clea Straus Rivera). The characters and plot of this play are informed by the books, lives and experiences of several contemporary scientists including Dr. James Hansen, who told Congress in 1988 that Global Warming had begun and whose science was censored by the Bush administration.
L-R: Dexter Thomas-Payne (Lion), Derrick Montalvado (Scarecrow), Ben Harburg (Tin Man), Taylor-Rey Rivera (Dorothy). Photo by Remy.S.
EXTENDED THROUGH JUNE 16, 2018
HARLEM REPERTORY THEATRE
TATO LAVIERA THEATRE, 240 E. 123RD ST.
"THE WIZARD OF OZ"
Harlem Repertory Theatre presents "The Wizard of Oz," co-produced by the Yip Harburg Foundation, for young (and young-at-heart) audiences. This production of the classic musical has a multi-racial cast, a jazzy underscore and authoritative dramaturgy by representatives of the Yip Harburg Foundation. Director/choreographer is Keith Lee Grant, Artistic Director of Harlem Rep, who is in the midst of a four-year project of presenting four classic musicals that have lyrics by E.Y. "Yip" Harburg, who was known in his lifetime as the "social conscience of Broadway."
OPENING NIGHT EVENT FOR "ONE DROP" BENEFITS THE AUDELCO ORGANIZATION
On opening night February 3 of "One Drop" by Andrea J. Fulton at Theater for the New City, the production will team up with Rome Neal's Banana Puddin' Jazz for "A Night To Remember" at which, for $50, VIP theatergoers can attend the show at 8:00 PM at TNC and then be transported to Nuyorican Poets Cafe, 236 E. 3rd St., for live be-bop music by the Richard Clemens Trio, a soul food buffet, open mic festivities, special treats and a complimentary glass of wine. A portion of the proceeds will be donated to the AUDELCO organization. Tickets are 718/288-8048 and 718/812-4252.

BASEBALL HISTORIANS JOIN PANEL AT "JOSH: THE BLACK BABE RUTH"
"Josh: The Black Babe Ruth," a drama about famed Negro Leagues slugger Josh Gibson, presented by Theater for the New City February 8 to 15, will include a panel discussion with the playwright and three baseball historians following the 3:00 pm matinée performance on February 11. Historians Lee Lowenfish, Philip Ross and Ralph Carhart will join playwright Michael A. Jones to explore the history of the Negro Leagues as it relates to modern day baseball. There will be open discussion with participation and questions from audience members. MORE INFO

ART BENEFIT RAISES FUNDS FOR HUMAN TRAFFICKING AWARENESS PLAY
Painters and photographers have joined forces with Mirage Theatre Company to raise funds in support of the development of a new theater production, "Broken Dolls," that addresses the immorality of human trafficking. A benefit will be held at the Chinatown Soup Gallery at 16 Orchard Street, New York on Friday, February 16, 2018 from 7:00 p.m. to 10:00 p.m. Chinatown Soup is a curated space that features the work of underserved artists of all backgrounds. Mirage Theatre is working with playwright Melisa Tien, a NY Foundation of the Arts Fellow and member of New Dramatists, to create a play that gives voice to victims and survivors of human trafficking. Tien's script and the resulting production will confront the ordeals faced by the most vulnerable members of our society who live in a form of modern slavery that exists throughout the United States and globally. Works for sale will be offered by Amy Kaslow, Nancy Mendez, Margaret Reid Boyer, Tatiana Rhinevault and others. COMPLETE INF0

SOLDIER'S PLAY STAND UP COMEDY SHOW
On February 27 at Paris Blues, 2021 Adam Clayton Powell Jr. Blvd. (at 121st St.), The Negro Ensemble Company, Inc. will hold a comedy benefit to support its production of "A Soldier's Play." Benefit features cast members of the play who are also comedians. Hosted by Horace Glasper (BET, Li'l JJ's Almost Famous). With Gil T (HBO Def Comedy, Showtime, BET), Derek Dean & Special Guest. There will be a 50/50 raffle where the winner gets half the pot. Cash bar. $25 tickets include one free drink and finger food. Festivities start at 8:00 PM. Tickets: Ovation Tix, 866-811-4111.
HINT TO GMAIL USERS
Make sure you receive emails from Jonathan Slaff & Associates by dragging and dropping this email into your PRIMARY tab or by starring the email.