APRIL 23 & 24
LA PLAZA @ THE CLEMENTE PARKING LOT, 114 NORFOLK STREET
SHAKESPEARE IN THE PARKING LOT PERFORMS
"HAPPY BIRTHDAY SHAKESPEARE-457"
"As You Like It" in Clemente Parking Lot.
Photo: Lee Wexler/Images for Innovation.
Will Shakespeare turns 457 on Friday, April 23 and to celebrate the Bard's birthday, members of The Drilling Company's Shakespeare in the Parking Lot Company will mount an outdoor birthday bash, "Happy Birthday Shakespeare-457," on April 23 and 24 at 7:00 PM. An energetic, one-hour collection of scenes, songs, sonnets and soliloquies will be offered, all free to the public, all live and limited to 50 people.
MAY 7
QUAD CINEMA, 34 WEST 13TH STREET
WORLD PREMIERE OF FILM: "USED AND BORROWED TIME" BY SOPHIA ROMMA
Clockwise from top left: Emily Seibert and Clas Duncan, Gavin Rohrer, Manana Gitana, Cam Kornman and Sophia Romma. Photos by Alex Arbit.
Critics are invited to the world theatrical premiere May 7 of "Used and Borrowed Time," written and directed by Sophia Romma. This experimental avant-garde film, a psychological drama phantasma, has amassed 45 festival awards and 26 festival film selections. An interracial couple's idyllic love rises above the hatred of a vengeful white supremacist family in segregationist Alabama during the 1960s. The film pays homage to the French New Wave films of Goddard, Truffaut and Agnès Varda. It has been translated from its original English into Greek, Spanish and Italian and will be released imminently on on Amazon Prime, Apple TV, Roku and the Vyre Network.
MAY 28, 29 & 30
THEATER FOR THE NEW CITY
LOWER EAST SIDE FESTIVAL OF THE ARTS
Performers and steering committee of Lower East Side Festival of the Arts spill out of the front doors of Theater for the New City.
Over 150 performing arts organizations, independent artists, poets, puppeteers and film makers will assemble for Theater for the New City's 26th annual Lower East Side Festival of the Arts May 28 to 30. The gathering was formed in 1996 to demonstrate the creative explosion of the Lower East Side and the area's importance to culture and tourism for New York City. The three-day, indoor and outdoor festival of theater is organized by TNC and a coalition of civic, cultural and business leaders and is free to all New Yorkers. In 2020, it was produced virtually. In 2019, over 4,000 people attended.
The festival will offer three days of theater and theater-related events, employing two theater spaces at TNC plus the block of East Tenth Street between First and Second Avenues. The list of attractions includes artists presently residing on the Lower East Side, arts groups performing there, prominent writers and artists whose work has dealt directly with the Lower East Side experience and plays written especially for this festival. Disciplines presented have always included theater, music, dance, poetry, puppetry, cabaret, visual art, film and kids' programming.
JUNE 3 TO 20
THEATER FOR THE NEW CITY
"OCCASIONALLY NOTHING" BY NATALIE MENNA
"Occasionally Nothing" L-R: Brad Fryman, Maiken Wiese, Sean Hoagland in Theater for the New City's Dream Up Featival, 2018. Photo by Jonathan Slaff.
The near future. The world is nearing its end. In a bizarre bomb shelter, Harry, Clay and Luella, British expats, cope by taunting each other with warped games of verbal wordplay and by blurring each other's realities while losing touch with their own. It's a bleak glimpse at life in the dystopic wake of a failed revolution where war abounds, words have lost their meaning and people have lost their way. "Occasionally Nothing" premiered inTheater for the New City's DreamUp Festival 2018.
JUNE 8 TO 29
NEW FEDERAL THEATRE (VIRTUAL)
NTOZAKE SHANGE READING SERIES OF NEW PLAYS
L: S.M. Shephard Massat, C: Mustrapha Matura, R: Larry Muhammad.
On Tuesdays in June, Woodie King, Jr.'s New Federal Theatre (NFT) will host a virtual version of its Ntozake Shange Reading Series of New Plays. As of this writing, offerings will include "A Soft Escape" by S.M. Shephard Massat, directed by John Scutchins; "A Small World" by Mustrapha Mutura, directed by Seret Scott; "Jimmy's Last Night at Mikell's" by Larry Muhammad, directed by TBA; and one more play TBA. These readings are free and virtual only; contributions gratefully accepted. For complete program, schedule and details go to https://newfederaltheatre.com.
The series is named for the late playwright Ntozake Shange, whose relationship with Woodie King, Jr.'s New Federal Theatre (NFT) goes back to the 1976-76 season, when NFT presented the first production of "For Colored Girls Who Have Considered Suicide When the Rainbow is Enough." The series is used to develop African-American writers and to select plays that NFT may subsequently present as full productions.
SEPTEMBER 3, 4, 10 & 11
THE PLAYERS, 16 GRAMERCY PARK SOUTH
SIX ONE ACTS BY HAROLD DEAN JAMES
Six diabolical short comedies (TBA) written and directed by Harold Dean James, whose plays have mostly been presented by La MaMa since he made his New York debut there in 1993 with "X Train." These playlets deal with themes of secrecy, charity, the power of art, greed, seduction and afterlife. The performance on September 3 will be an opening night gala benefit for We Three Productions. Ensemble includes Jesse N. Holmes, Paul Albe and Maja Wampuszyc; costumes are by Ramona Ponce.
SEPTEMBER, 2021
THEATER 80 ST. MARKS
NEGRO ENSEMBLE COMPANY PRESENTS "GRANDMA'S QUILT"
Karen A. Brown in "Grandma's Quilt." at Theatre 80 St. Marks. Photo by Jonathan Slaff.
Run resumes for the Nego Ensemble Company's production of "Grandma's Quilt" that was suspended when theaters went dark in March, 2020. In this solo play by Karen A. Brown, an elderly poor, unpretentious Black woman in rural Arkansas is sewing a quilt as the final act of her life. Each scrap of material is a prism into a chapter of her family's past. As she reflects on each period, she transforms into younger versions of herself to lead us through the history that she intends to pass on to her granddaughter. Grandma's strength is her humanity and ability to survive; to hope, to love, and to just carry on. Her quilt is significant, her story universal and her message inspirational. One actress portrays the old woman at six points in her life as well as the granddaughter. Performed by the author, who is is Executive Artistic Director of The Negro Ensemble Company, Inc. Directed by Anthony J. Hamilton.
OCTOBER 31
THEATER FOR THE NEW CITY
VILLAGE HALLOWEEN COSTUME BALL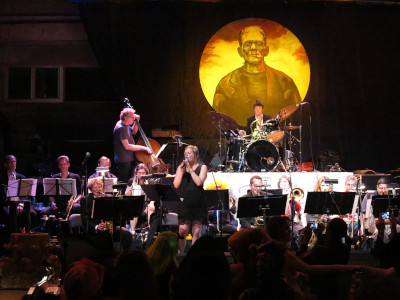 Hot Lavendar Swing Band performs at Theater for the New City's Village Halloween Costume Ball, 2014. Photo by Jonathan Slaff.
Nonstop theater, a costume competition and ballroom dancing will bewitch the East Village October 31 in the 45th Village Halloween Costume Ball, which is presented annually by Theater for the New City (TNC), 155 First Avenue. The one-night fiesta customarily takes over all four of TNC's theater spaces, plus its lobby and the block of East Tenth Street between First and Second Avenues. Typically, over 1,500 wildly-clad celebrants gather for big-band dancing, dining, showing off costumes and viewing acts from the cutting-edge of Cabaret and Theater. Outdoor entertainment, free to the public, starts at 4:00 PM. Once inside, everything is free except food and drink, which are graveyard dirt-cheap. Doors open at 7:30 PM and indoor entertainment begins at 8:00 PM. Two continuously-running cabarets offer theater all evening. Big Band dance orchestras begin at 9:00 PM. Costume competition with celebrity judges begins at midnight. Admission is $20; costume or formal wear is required. With Covid safeguards to observe, the event may be somewhat modified, but its magic will be preserved!
BEGINS DECEMBER 23, 2021
THEATER FOR THE NEW CITY
"THE SLAVE WHO LOVED CAVIAR" BY ISHMAEL REED, DIRECTED BY ROME NEAL
Ishmael Reed
Renowned playwright, poet and satirist Ishmael Reed takes aim at the New York City art world with this new play about the life and career of Jean-Michel Basquiat. Reed examines the racism directed at Basquiat and the ways that Andy Warhol, the art establishment and the fashion industry exploited and profited from Basquiat's artistry. Why was racism toward Basquiat allowed to masquerade as "art criticism"? How does this implicate the New York City art world? Directed by Rome neal, Artistic Director of Nuyorican Poets Cafe.
FEBRUARY 21 TO MARCH 13, 2022
THEATER FOR THE NEW CITY
"DANCE OF DEATH" PARTS ONE AND TWO BY AUGUST STRINDBERG
This two-part play, written in 1900, is is being presented together for the first time in North America by August Strindberg Rep. It is labeled by some critics, not without justice, as Strindberg's greatest work. In an isolated fort Edgar, a captain of artillery, and Alice, his wife, have lived for 25 years, hating each other with a deadly venom and each wishing the other's death. Their home becomes peopled with devils. When Kurt, Edgar's friend, comes to stay in it, he is caught up in the atmosphere of evil. He falls in love with Alice and becomes her associate in a plot designed to destroy her husband. During a stroke, Edgar suddenly gains a new vision of life, realizing his own errors and pleading for reconciliation. Thus ends the first part of the drama.
August Strindberg
The second shows the final triumph of the wife. Remorselessly, she drives Edgar to his death--although in the very process of doing so, a bitter doubt enters her mind. The play's legacy can be seen in a number of contemporary plays. In "Play Strindberg," Friedrich Dürrenmatt condensed the two parts into a terse, brutal series of boxing rounds. The claustrophobic atmosphere and treatment of marital dysunction in Strindberg's masterpiece reverberate through Albee's "Who's Afraid of Virginia Woolf?," Harry Kondoleon's "The Houseguests" and even John Guare's "The House of Blue Leaves."
FEBRUARY 3 TO 20, 2022
THEATER FOR THE NEW CITY
"WHO MURDERED LOVE?"

"Who Murdered Love" by Lissa Moira and Richard West is set in 1924 New York City and in a Paris dreamscape. The story follows WWI veteran & private eye, "Sleepy" Sam Speed, Gail Friday & Everett Greene as they attempt to unravel the disappearance and possible murder of DaDa Love, at the behest of their client, the stunning heiress Honey Potts. DaDa Love is at the center of the world of DaDa artists, at the time when the Surrealists are vying for artistic supremacy. Their quest leads the trio through a mad adventure sparked by artistic and sexual jealously as they find themselves inside an Absinthe dream, peopled by outrageous artists of every stripe – some very predatory.
APRIL, 2022
THE NEGRO ENSEMBLE COMPANY, INC. (VENUE TBA)
"LAMBS TO SLAUGHTER" BY KHALIL KAIN
During the Covid-19 quarantine, The Negro Ensemble Company, Inc. has been developing "Lambs to Slaughter" by Khalil Kain, a new play with poetry and music, under the direction of Reginald L. Douglas. Kalil Kain is an urban icon who is renowned for his performances in the 1992 crime thriller "Juice," the UPN/CW sitcom "Girlfriends" (2001-2008) and the title role in the film "Tiger Woods." Reginald L. Douglas is a distinguished developer of new works and advocate for new voices. Off-Broadway opening is projected for April, 2022. Venue is TBA as of this writing.
Khalil Kain. Source: Stage 32.
The play is a drama of a single mother who has lost her older son to gun violence and must navigate the mourning process with the help of an upstairs neighbor and an ex-lover. She fears failing her younger son, who wrestles with his own demons and guilt. The piece will be Kain's first produced play. It blends compelling realistic dialogue with verse that is crafted for call-and-response. Instrumental underscore is provided by Keith Edward Johnson. The verse, seamlessly woven into the story, provides an emotional release for the characters, exploding with heightened truth and pulsating through an incendiary look at the current state of America. Kain will portray the ex-lover, a former convict who has turned his life around and seeks to save the single mother who is the play's tragic heroine.
APRIL 25 TO MAY 15, 2022
THEATER FOR THE NEW CITY
"COMMITTED" BY NATALIE MENNA
Dutch Fimmaker Theo Van Gogh in 2004. Source: Wikimedia Commons.
A work of historical fiction about the last two days of Dutch filmmaker Theo Van Gogh's life. When his highly controversial and vulgar documentary causes a tremendous uproar in Amsterdam and abroad, Theo spirals downward. The play explores the collision of an artist's radical temperament and unyielding vision with modern political realities and the inevitable tragedy when uncompromising values clash. Can friendship, family, or love save Theo from his biggest threat - himself?
"FEATHERS OF FIRE"
The UNIMA award winning "Feathers of Fire," a cinematic shadow play for all ages, is readying for a multi-platform release. It tells the action-packed tale of Zaul and Rudabeh, two star-crossed lovers of old Persia. Zaul is raised by a mythical bird in the wild. Rudabeh is the granddaughter of the dreaded Serpent King. Their deep love for each other enables them to triumph over inconceivable odds.
Vibrant graphics, derived from the visual tradition of the Middle East, are rendered as puppets, costumes, masks, scenography and digital animation, all of which come to life in a "live animation" shadow casting technique that is performed against a cinema-size screen.
The production is the most elaborate shadow theater experience ever created. Francis Ford Coppola called the production "Fantastic! One of the greatest epics of all time and my favorite 'Shahnameh' brought to life in a spectacular fashion by Hamid Rahmanian with shadow puppets design and cinematic wizardry." Its Off-Broadway run at Kaye Playhouse in 2018 received glowing reviews.
VIDEO ON DEMAND
NEW YIDDISH REP & THEATER FOR THE NEW CITY PRODUCTION OF "THE DYBBUK"
Screenshot of "The Dybbuk" at TNC.
"The Dybbuk" is arguably the most well-known play in the Yiddish theater lexicon. It was premiered on December 9, 1920 by the Vilna Troupe at the Eizeum theater in Warsaw. Its success catapulted that company onto the International stage. It has since been translated into 27 languages and performed worldwide. From December 9-13, New Yiddish Rep celebrated the play's 100th birthday with a live performance streamed from Theater For The New City. A recording of the production has now been released for the general public to view on Vimeo. More info
On April 29, Stephanie Trudeau will perform a 20-minute excerpt of "Chavela Think of Me," her award-winning musical docu-cabaret on Mexican singer Chavela Vargas, in "75 Years of the Fulbright Program: Celebrating Educational and Cultural Exchanges between Mexico and the United States," presented by The Fulbright Association-Georgia Chapter and the Mexico-United States Commission for Educational and Cultural Exchange (COMEXUS), along with several binational partners.
Stephanie Trudeau (center) and images of Chavela Vargas.
This interactive event will recognize not only the landmark anniversary, but also the vibrant history of the Fulbright Program in Mexico — a longstanding symbol of friendship and collaboration between the U.S. and Mexico. Trudeau is a former Fulbright grantee (Italy 2006) and a member of the Fulbright Association-New York Chapter. Members of the press and general public are welcome. RSVP here. Trudeau is a 2020 Bistro Award Winner for Tribute Show.
---
Jonathan Slaff & Associates
55 Perry Street, Ste. #1M, New York, NY 10014