MAY 31 TO JUNE 16
THEATER FOR THE NEW CITY
"ZEN A.M." BY NATALIE MENNA, DIRECTED BY ANDREW BLOCK
This comedy of New Age manners and mores is set among the "worried creatives" of post-9/11 New York. It's Lower Manhattan in 2005 and a new painter and 9/11 survivor faces an artistic dilemma -- should he cave to shifting cultural mores or stand his sacred ground over a commission? Since classical times, artists have had to reconcile the demands of their patrons with their own artistic integrity. "Zen A.M.," a new comedy by Natalie Menna, illustrates the conundrum, nesting it in present-day issues of class identification, compassion, cultural identity and creative resistance. The play offers us laughable characters who are straining to act rationally when faced with difficult decisions of this sort. Andrew Block directs.
Amy Coleman and Yoni Bronstein. Photo by Jonathan Slaff.
JUNE 19-23
THE PLAYROOOM THEATER,
151 W. 46TH ST., 8 FL.
NEW YIDDISH REP PRESENTS
"THAT CRAZY MESHUGE HURRICANE EARTHQUAKE"
New Yiddish Rep will present "Crazy Meshuge Hurricane Earthquake," a new by Amy Coleman, directed by David Mandelbaum and Moshe Henderson. This six-character play is the story of an unlikely connection that develops between a middle aged non-religious Jewish woman and a young Hasidic man struggling with schizophrenia. Hired to be his caretaker, the woman attempts to give him the support he needs, but discovers that her agenda may have more to do with her own needs than his. The play offers important lessons on love and trust.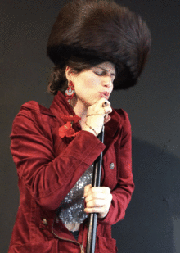 Lea Kalisch appears clad in a velvety doublet and shtreimal (a fur hat worn by many married Haredi Jewish men) and explores the creative repercussions of romance with the religious. Photo by George Xenos.
JUNE 19-23
THE PLAYROOOM THEATER,
151 W. 46TH ST, 8 FL.
NEW YIDDISH REP PRESENTS
LEA KALISCH PERFORMING
"IN LOVE WITH A DREAM"
Lea Kalisch is a dynamic, sexy, multidisciplinary performer originally from Zurich, Switzerland. Her piece is an autobiography in song, rap and comedy: a high-energy reflection on her clash of expectations and real-life experiences.
The piece is performed in English, but it is sprinkled with Spanish, Yiddish and German (Kalisch speaks seven languages). She sings, dances and raps and even takes a turn at the piano, where she croons a comedic song over a Bach piece. Her musical compositions are dramatic, theatrical and story-driven. She characterizes their musical genre as "blues-pop with a touch of Jewish." She views herself as a collage artist who is "Jewish with all my heart and Latin with my hips."
JUNE 19 TO 30
THEATRE 80, 80 ST. MARKS PLACE
THE NEGRO ENSEMBLE, INC. PRESENTS
"IMMINENTLY YOURS" BY KARIMAH
L-R: Edythe Jason, Dorothi Fox, Arthur French. Photo by Jonathan Slaff.
Dorothi Fox, Arthur French and Edythe Jason star as the elders of a mountaintop community in the premiere of "Imminently Yours" by Karimah, to be presented by The Negro Ensemble Company. The play deals with the socio/philosophical issues of expropriation of their land and history by eminent domain in today's politics. A secret mountain enclave has been inhabited for centuries by descendants of slaves. When its tradition of secrecy is breached by a millenial resident, the remote hamlet is discovered by the state's governor, who aims to evict its elderly residents by eminent domain for nonpayment of taxes, but underestimates the savvy community there. The play depicts an antagonistic society pitted against elders who are peacefully reliving their history. Generations ban together as they learn the past, teach the present and fight for their legacy. Count Stovall directs.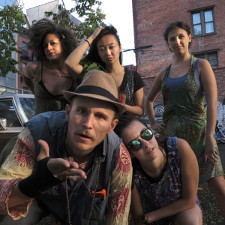 2016 "Midsummer Night's Dream" - Foreground: Drew Valins as Puck. Photo by Jonathan Slaff.
JULY 11 TO 27
SHAKESPEARE IN THE PARKING LOT
"ROMEO AND JULIET"
LA PLAZA @ THE CLEMENTE PARKING LOT
107 SUFFOLK STREET
The Drilling Company's Shakespeare in the Parking Lot returns to the Lower East Side for the 25th year with "Romeo and Juliet," directed by Lukas Raphael. The company's concept--presenting Shakespeare plays with a "poor theater" aesthetic in a working parking lot--is now widely imitated around the US and around the world, with productions as far away as New Zealand.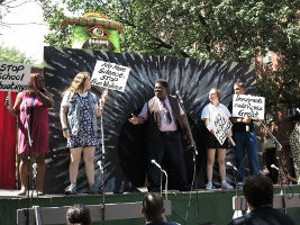 Street Theater 2018, -"Shame, or The Doomsday Machine."
Center: Michael David Gordon. Photo by Jonathan Slaff.
AUGUST 3 TO SEPTEMBER 15
"NO BRAINER, OR THE SOLUTION TO PARASITES"
THEATER FOR THE NEW CITY STREET THEATER
Theater for the New City's award-winning Street Theater Company will open its 43rd annual tour August 3 with "No Brainer, or The Solution to Parasites," a rip-roaring musical. Free performances will tour City streets, parks and playgrounds throughout the five boroughs through September 15. Book, lyrics and direction are by Crystal Field; the musical score is composed and arranged by Joseph Vernon Banks.
AUGUST 25 TO SEPTEMBER 15
THEATER FOR THE NEW CITY
TENTH DREAM UP FESTIVAL
Theater for the New City, under the direction of Crystal Field, Artistic Director, will present its tenth Dream Up Festival, a feast of adventurous theater featuring new works from across the country, August 25 to September 15. Helmed by the theater's Literary Manager, Michael Scott-Price, the festival will offer over 20 plays, mixing world premieres and New York premieres. It's an ultimate new work festival dedicated to the joy of discovering new authors and edgy, innovative performances.

DREAM UP 2018 -- L-R: "Apes at Play" by Jonathan Yukich, "The Torso" by Paige Esterly, "The Rounds" by Justin Moriarty.
Application deadline was May 10 for this year's Festival and plays are now being selected. The motto of the festival is "Dream Up: Invent, Concoct." More Info
EXTENDED THROUGH JANUARY 11, 2020
HARLEM REPERTORY THEATRE
TATO LAVIERA THEATRE, 240 E. 123RD STREET
"THE WIZARD OF OZ: A JAZZ MUSICAL FOR ALL AGES "
L-R: Taylor-Rey Rivera (Dorothy), Ben Harburg (Tin Man), Derrick Montalvo (Scarecrow), Isaac Antonio (Lion). Photos by Jonathan Slaff.
Harlem Repertory Theatre stages "The Wizard of Oz: a Jazz Musical for All Ages," co-produced by the Yip Harburg Foundation, for young (and young-at-heart) audiences. This production of the classic musical has a multi-racial cast, a jazzy underscore and authoritative dramaturgy by representatives of the Yip Harburg Foundation.
Director/choreographer is Keith Lee Grant, Artistic Director of Harlem Rep, who is in the midst of a four-year project of presenting four classic musicals that have lyrics by E.Y. "Yip" Harburg, who was known in his lifetime as the "social conscience of Broadway."
WOODIE KING, JR.'S NEW FEDERAL THEATRE SETS ANNUAL NTOZAKE SHANGE READINGS SERIES: "TUESDAYS IN JUNE"
JUNE 4-25 AT CASTILLO THEATRE, 543 W. 42ND STREET
| | |
| --- | --- |
| | |
| Ntozake Shange Readings Series logo | Watch video dedication by playwright Jeanette Hill. |
New Federal Theatre's Annual Ntozake Shange Readings Series is used to develop African-American writers and to select plays that Woodie King, Jr.'s New Federal Theatre may present as full productions. The June, 2019 series offers new works by Jeanette Hill (June 4), Bill Harris (June 11), Kermit Frazier (June 18) and Countee Cullen (June 25). Free.
DARIO D'AMBROSI, FOUNDER OF TEATRO PATOLOGICO (PATHOLOGICAL THEATER), TO ADDRESS UNITED NATIONS JUNE 13
Left: Teatro Patologico at EU Parliament, Bruxelles, 2018.
Center: "Medea at EU Parliament, Brussels, 2018.
Right: D'Ambrosi (center right) with Virginia Raggi (Rome's Mayor, center left) at Rome's City Hall, 2018.
Dario D'Ambrosi, founder and president of Italy's Pathological Theater Association, will address the United Nations in New York on June 13 at the Conference for the Rights of Persons with Disabilities. The event is called: "A Billion Voices: Making the Invisible Visible" and D'Ambrosi will read an address titled "All Mad Free," in which he will share an overview of Italy's leadership in care for the mentally disabled and the radical contribution his Teatro Patologico (Pathological Theater) has made in realizing new theoretical and practical approaches.
The event will help spotlight a college course that Teatro Patologico has spawned: "The Integrated Theatre of the Emotions," an accredited college program in theater for students with mental and physical disabilities. The program has been developed by D'Ambrosi in collaboration with the University of Rome "Tor Vergata" and MIUR (the Italian Ministry of University and Research).
Last May, Dario D'Ambrosi's award-winning version of "Medea," performed with a chorus of actors with diverse abilities from his Teatro Patologico di Roma, was presented in Brussels before the European Parliament. It was part of the initiative, "EU: performing arts and disabilities - the Italian Way."
WATCH FOR OPENING OF BROOKLYN'S MYSS TIC ESCAPE ROOMS
Myss Tic Escape Rooms, located at 794 Union Street in Brooklyn's Park Slope, will take you back to the Ziegfeld Follies. Their new room, "Ghost Light," will open soon. It takes you backstage at the New Amsterdam Theater during the Vaudeville era. A ghost light illuminates the mstery of Olive Thomas, one of the most famous girls of the Ziegfeld Follies. She died under mysterious circumstances when she was poisoned in Paris. Since then, many stage hands swear they still see her. A ghost light is placed on the stage so that Olive and her colleagues can relive performances during the night and not bother the living during the day. Your mission is to turn on the light, but once the spirits start performing, you have to run fast if you don't want to be trapped in their world.
Left: Gara Roda, Artistic Director of Myss Tic Escape Roms, in set of "Ghost Light Dreams." Photo by Imanol Fuentes. .Right: Imanol Fuentes as scientist in set of "Montauk Dreams." Photo by Gara Roda.
You will also be able to experience "Montauk Project," in which you infiltrate the old Montauk Air Force Station, which was shut down in the 1970's (or actually, transformed into Camp Hero State Park). Your mission is to learn what's alive there from past experiments--and why people are disappearing in its surrounding forests.
HINT TO GMAIL USERS
Make sure you receive emails from Jonathan Slaff & Associates by dragging and dropping this email into your PRIMARY tab or by starring the email.