SEPTEMBER 28 TO OCTOBER 21
VARIOUS LOCATIONS IN AND AROUND NYACK, NY
SECOND ANNUAL PHOENIX LIVE ARTS FESTIVAL
Building on the success of its critically-acclaimed inaugural festival in 2022, Phoenix Theatre Ensemble, led by Artistic Director Elise Stone and Executive Director Craig Smith, will present its Second Annual Phoenix Live Arts Festival from September 28 to October 21, 2023 in and around Nyack, NY. The festival features world-class theater, music, dance, family shows and one-of-a-kind performances. There will be four indoor and outdoor productions, partnerships with Children's Shakespeare Company and Emotions Physical Theatre, and special events all over downtown Nyack. Phoenix Theatre Ensemble is a prominent producer of classical theater which was founded in NYC in 2004 and now makes Rockland County its second artistic home.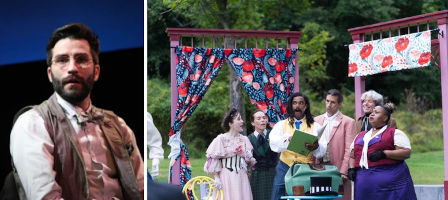 (L) Josh Tyson as Raskolnikov in "Crime and Punishment," playing September 28 to October 1.
(R) "The Wind in the Willows," playing October 6 to 9. Photos by Gerry Goodstein.
The presenters aspire to create an arts festival to rival the national arts festivals, celebrating classical theater, classical music and the community of Nyack. Presented during the Hudson Valley Fall Foliage season, the festival features immersive theater and live performance programs, all in nontraditional spaces. These include a stage version of "Crime and Punishment" by Dostoevsky, four solo plays, one dance work, an improvised Regency Era production, two plays by and for kids, a staged reading, a musical concert, a poetry slam and a community theater "Dracula."
OCTOBER 2
EDISON BALLROOM, 240 W. 47TH STREET
NEW FEDERAL THEATRE GALA
Woodie King, Jr.
Woodie King, Jr.'s New Federal Theatre (NFT), led by Artistic Director Elizabeth Van Dyke, will hold a 53rd Anniversary Celebration October 2, 2023 at Edison Ballroom, 240 West 47th Street. The event will honor Woodie King, Jr., Gabrielle Kurlander and Sade Lythcott and is chaired by director Kenny Leon and actor Lynn Whitfield. Its honorary benefit committee includes Dee Davis Enterprises, Frankie Faison, Heather Beal, Ron Himes, Ruben Santiago Hudson, Delroy Lindo, Jonathan McCrory, Jonathan Rankin, Norman A. Small, John E. Scutchins, Diane Stiles, Elizabeth Van Dyke and Claude Winfield.
OCTOBER 12 TO 29
GENE FRANKEL THEATRE, 24 BOND STREET
"SCRAMBLED EGGS" BY REGINALD L. WILSON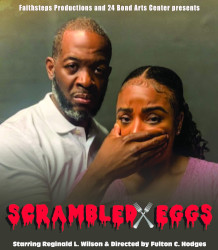 In honor of Domestic Violence Awareness Month, Faithsteps Productions and 24 Bond Arts Center present "Scrambled Eggs," a new seven-character fictional work by Reginald L. Wilson, directed by Fulton C. Hodges, that reveals the underpinnings and dynamics of domestic violence. It's a compelling story that can incite conversation on this difficult issue, build understanding and inspire advocacy. Audience members are encouraged to wear purple to demonstrate support and show survivors they are not alone. (Across the country, people will "Go Purple" on October 20 to spread awareness.)
OCTOBER 17 TO NOVEMBER 12
NEW FEDERAL THEATRE AT ASP/CASTILLO THEATRE, 543 W. 42ND STREET
"TELLING TALES OUT OF SCHOOL"
Following an enthusiastically received work-in-progress of the play last May, New Federal Theatre (NFT) will present the world premiere of "Telling Tales Out of School," a new play by Wesley Brown. The piece offers a unique perspective on the Harlem Renaissance by providing a character study of four of its most-noted female prime movers--Zora Neale Hurston, Nella Larsen, Jessie Fauset and Nancy Cunard--revealing their ambitions, longings and resentments and illuminating the feminine energy they brought to the movement. Director is Woodie King, Jr., Founder and Producing Director Emeritus of NFT and an iconic figure of Black Theater. King and NFT received a 2020 Tony Honor for Excellence in the Theatre. The Off-Broadway Alliance named him a "Legend of Off-Broadway."
L-R: Petronia Paley (Nellallitea "Nella" Larsen), Richarda Abrams (Jessie Fauser), June Ballinger (Nancy Cunard), Elizabeth Van Dyke (Zora Neale Hurston). Photo by Lia Chang.
It's June, 1954 and a memorial service for Alain Locke, architect of the Harlem Renaissance, is being held at Abyssinian Baptist Church in Harlem. Among the attendees are the four writers. Not having seen one another in over twenty years, they gather at the Hotel Theresa after the funeral. Over tea, an afternoon of boundless praise of Locke unravels into disturbing revelations about the great man and the four women who have come to honor him. With Richarda Abrams as Jessie Fauset, June Ballinger as Nancy Cunard, Petronia Paley as Nella Larsen and Elizabeth Van Dyke as Zora Neale Hurston.
OCTOBER 23 TO 31
MORNINGSIDE PLAYERS, 100 LASALLE STREET, MANHATTAN
"HEDY! THE LIFE & INVENTIONS OF HEDY LAMARR"
Heather Massie as Hedy with WiFi.
Photo by Al Foote III.

Heather Massie will perform her solo play, "HEDY! The Life & Inventions of Hedy Lamarr," at Morningside Players, 100 La Salle Street, Manhattan, for general audiences October 25 to 29 and for special school groups October 23, 24, 30 and 31. The award-winning play celebrates the unexpected scientific genius of Hedy Lamarr, the Viennese-born Hollywood film star of the 1930s-1950s. Leslie Burby directs.
Known as The Most Beautiful Woman in the World, Hedy Lamarr spent her spare time in Hollywood inventing new technology. She had stored away knowledge of munitions while married to an Austrian arms dealer, Fritz Mandl. She employed this knowledge to support the US Navy's war effort during WWII by inventing The Secret Communication System with composer George Antheil, to make torpedoes more accurate. Also known as Frequency-Hopping Spread Spectrum Technology, her invention is used today in cell phones, WiFi, CDMA, GPS, and Bluetooth.
The show premiered Off Broadway in 2016 on Theatre Row, and has since toured throughout the US, Ireland, Northern Ireland, Italy, Sweden, Finland, Ukraine, Iceland, Zimbabwe, South Africa, Egypt and Tunesia, garnering 24 awards and critical acclaim.
OCTOBER 31
THEATER FOR THE NEW CITY
VILLAGE HALLOWEEN COSTUME BALL

Nonstop theater, a costume competition and ballroom dancing will bewitch the East Village October 31 in the Village Halloween Costume Ball, which is presented annually by Theater for the New City (TNC), 155 First Avenue. This unique festival continues as a grand coming-together for real witches, everyday New Yorkers and artists alike. An explosive fall tradition, it is always held on the actual night of Halloween and celebrates artistic creation and fertilization. The one-night fiesta takes over all four of TNC's theater spaces, plus its lobby and the block of East Tenth Street between First and Second Avenues. Customarily over 1,500 wildly-clad celebrants gather for big-band dancing, dining, showing off costumes and viewing acts from the cutting-edge of Cabaret and Theater. Admission is $20; costume or formal wear is required.
NOVEMBER 9 TO 26
THEATER FOR THE NEW CITY
"SPIES FOR THE POPE"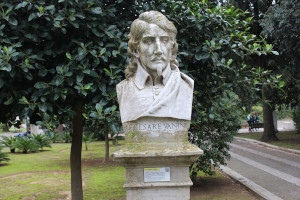 Giulio Cesare Vanini's bust can be seen at "Villa Comunale Giuseppe Garibaldi" in Lecce (Via XXV Luglio). It was sculpted by Eugenio Maccagnani, an artist from Lecce, in 1886.
Take a deep dive into 17th century culture and politics in this sweeping historical drama. Playwright Douglas Lackey charts the rise and tragic fall of Giulio Caesare Vanini, the philosopher and biologist who was garroted on a false charge of atheism in Toulouse in 1619. Vanini is celebrated in Italy today as "one of the three martyrs for freedom of thought." In the lead-up to the Thirty Year's War, he zig-zagged across Europe, changing clothes, politics, and even his religion along the way. Could he have been a spy? The play tells all. Alexander Harington directs.
JANUARY 9 TO 21, 2024
THEATER FOR THE NEW CITY
THUNDERBIRD AMERICAN INDIAN DANCERS POW-WOW AND DANCE CONCERT
Theater for the New City, 155 First Avenue,will present its 49th annual Thunderbird American Dancers Pow Wow and Dance Concert. There will be dances, stories and traditional music from Native Peoples of the Northeast, Southwest and Great Plains regions. The event has become a treasured New York tradition for celebrating our diversity by honoring the culture of our first Americans. TNC donates all proceeds from the event to college scholarship funds for Native American students.
---
THROUGH SEPTEMBER 17
IN PARKS, PLAYGROUNDS AND CLOSED-OFF STREETS THROUGHOUT ALL FIVE BOROUGHS
"LIFE ON THE THIRD RAIL, OR A SUBWAY DELAY TO THE FUTURE"
Photos by Jonathan Slaff.
Theater for the New City's award-winning Street Theater Company tours through September 17 in "Life on the Third Rail, or A Subway Delay to the Future," a rip-roaring original musical which tells a story in which a violent hurricane floods the subways, sending a heroic subway crew into a new world. Book, lyrics and direction are by Crystal Field, Artistic Director of Theater for the New City (TNC). The musical score is composed and arranged by Joseph Vernon Banks. Free performances will tour parks, playgrounds and closed-off streets throughout the five boroughs.
AUGUST 21 TO SEPTEMBER 3
THE CHAIN THEATRE, 312 WEST 36th STREET
"A SÉANCE WITH MOM" BY NANCY REDMAN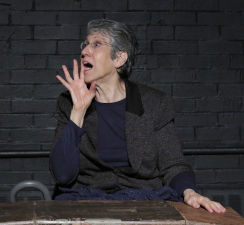 Nancy Redman. Photo by Jonathan Slaff.
Four April seances and an additional fourteen in May did not do the trick, so award winning actress/playwright/comedian Nancy Redman joins forces with iconic director Austin Pendleton for 18 more sessions of "A Séance with Mom." The plot? In this new solo comedy/drama, a woman named Nadine wants to summon her mother from the grave to tell her something very important. Michael Mraz (nytheatre.com), reviewing two of her previous shows in United Solo Theatre Festival, wrote "Redman is hilarious and intriguing to watch throughout. She's been described in the past with comparisons to Woody Allen, Richard Lewis, and Jackie Mason; and while I can see the reasoning behind this and this is certainly amazing company to be in, after seeing her solo shows two straight years, she is distinctively herself: none other than Nancy Redman, and I think the comparisons don't quite do her stage presence and craft justice....She is just as fantastic an actor as she is a comedian...more people should be allowed to discover that."
---
On August 1, Applause books released "Gunplays," a collection of plays by William Electric Black, which is now available on Amazon, Barnes & Noble and Target.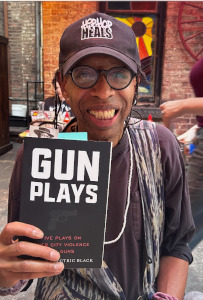 William Electric Black with Gunplays book
"Gunplays" is a series of five plays addressing inner city violence and guns. The idea of the plays is to generate understanding the social forces behind this scourge that our society has so far been helpless to resist.
The debut productions of all five plays in the series were presented between 2013 and 2018 by Theater for the New City, 155 First Ave., New York City.
The Gunplays project also includes "A Gun Is Not Fun," a venture that includes children's books and an in-school curriculum for grades K - 5 targeting a younger audience a la Sesame Street. A pilot program is presently being developed by Dr. Cornelia Griggs, pediatric surgeon at Mass General in Cambridge.
Mr. Black is also working with local NYC organizations such as the Lower East Side Girls Club and Guns Down Life Up to help reach a younger audience re: gun violence awareness and prevention. His efforts have been featured on NPR, NBC Nightly News, ABC6, and APNews Chicago.
WATCH RECORDING OF PLAYWRIGHT SOPHIA MURASHKOVSKY ROMMA'S PANEL ON HOLOCAUST AND GLOBAL ANTISEMITISM AT NY CITY BAR ASSOCIATION
(above) Sophia Murashkovsky Romma presiding at the event.
(below) panelists, who included Holocaust survivors.
Playwright Sophia Murashkovsky Romma is also an international human rights attorney and her plays often sound off against antisemetism. She organized and led a lunchtime panel April 19 at NY Bar Association, 42 West 44th Street, featuring experts, Holocaust survivors and advocates who battle Holocaust Denial. Recent reports of the New York City Bar Association were shared on subjects including antisemitic conspiracy theory, Holocaust Denial and Distortion and the rise of Antisemitism in Western and Eastern Europe. A video recording of this important event has been released and can be watched here.
One of the afternoon's most salient presentations was from The New York City Bar Association's European Affairs Committee, whose report surveys laws, proposed legislation and regulations, legal proceedings and political events that "suggest a revival of attempts at state-sponsored or state-sanctioned antisemitism in Europe."
Following a recounting of antisemitic laws from the Early Middle Ages through the 2000s, the Committee's report cites the current resurgence of such legislation in countries throughout Europe, focusing on two themes:
• Legislation that prohibits speech alleging that a country collaborated with the Nazis or was responsible in any part for the Holocaust, notwithstanding the irrefutable historical record, and
• Legislation that restricts or prohibits religious practices, such as the ritual slaughter of animals (kashrut/kosher and halal) and circumcision.
The report called these "a reliable harbinger... of far more pernicious consequences."
Here are transcripts of some of the other presentations I saw for you to read:
* New York City Bar Association, The Rise of Antisemitism in Europe: Could De Facto Again Become De Jure?
* Sophia Murashkovsky Romma, Esq., "The Plaguing Path to the Pestilence of Antisemitism"
* Radio Bulgaria, "The Saving of the Bulgarian Jews discussed at a forum in New York"
SUBSCRIBE TO LORCAN OTWAY'S UNFOLDING BOOK ON PATREON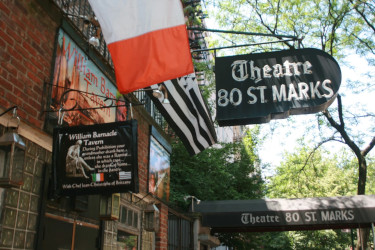 Theatre 80 St. Marks. Photo from its website.
As you will remember, the two-year shutdown of businesses by New York State devastated NY's theaters and bankrupted Lorcan and Genie Otway, owners of Theatre 80, when a predatory firm purchased their mortgage and doubled their debt. These hardworking senior citizens have been out on the street with no resources, a couple who have given their lives to the theater. (Last I heard, they were living with Father Pat Moloney in his building just east of Tompkins Square Park.) What they have are the stories of growing up in Lorcan's unique family with his two Dads and Romani artist mother.
They are still trying to get the building back, so Lorcan doesn't have the time for busking, but he has been putting together some of the stories from a book he's writing. It tells the history of his colorful family and their adventures in operating Theatre 80. To help with the fight, and enjoy some cracking good stories, subscribe to his series on patreon! Lorcan writes, "Tell all your friends. And if you don't like the stories, tell all the folks you don't like!"
Here is a taste:
Episode 1 Salvation and Depression
Episode 2 Pinkie's Song
Episode 3 Matty the Knife
Introduction to the Patreon "Then Out Loud I said..." (The story of the Otways and Theatre 80. Crime, theater and betrayal by the government.)
Here is the Patreon itself... All the stories as they come out!!!

"SONG OF THE NORTH" HAS NATIONAL TOUR
"Song of the North" by Hamid Rahmanian, a visually stunning, cinematic-style shadow play for all ages, had its American premiere at Brooklyn Academy of Music in 2022 and was the first puppet theater production to ever be presented on BAM's Harvey stage. Now it will tour across the US.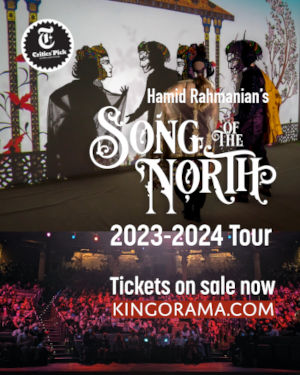 Storres, CT - Sep 21 - Jorgensen Center
San Francisco - Oct 20-22 - Fort Mason
Seattle - Oct 27 - Meany Center
Chicago - Jan 19 & 20 - Int'l Puppetry Fest
Fairfax, VA - Jan 27 - George Mason
Lewisburg, PA - Jan 30 - Weiss Center
Richmond, VA - Feb 2 - Modlin Center
Pittsburgh, PA - Feb 17 - Pittsburgh Cultural Trust
Los Angeles - Apr 5-7, The Freud Playhouse (UCLA)
Created, designed and directed by Hamid Rahmanian, a 2014 Guggenheim fellowship-winning filmmaker/visual artist, it is inspired by the tenth century Persian epic "Shahnameh" (The Book of Kings). It tells the story of Manijeh, a heroine from ancient Persia, who uses her strengths and talents to reconcile the warring kingdoms of Iran and Turan and to rescue her beloved Bijan from a perilous predicament of her own making. It's a magical evening of large-scale shadow puppetry that transports audiences into ancient worlds full of color, history, and stunning imagery.
KEN JAWOROWSKI HAS A BOOK OF THE WEEK
KenJaworowski and his debut novel
Playwright and New York Times editor Ken Jaworowski just had his debut novel, "Small Town Sins," released by Henry Holt & Co. on Aug. 1. Publishers Weekly awarded the book a starred review and named it a book of the week. It's a gripping Rust Belt thriller that captures the characters of a down-and-out Pennsylvania town, revealing their troubled pasts and the crimes that could cost them their lives. Read this coverage in The Pennsylvania Gazette.
SEEKING VOLUNTEER BOARD MEMBERS FOR HISTORIC OPERA HOUSE IN RIVERHEAD, LONG ISLAND
The Vail-Leavitt Music Hall in Riverhead, NY seeks new volunteer Board members skilled in fund-raising, PR, business management, production, theater and music technology and physical-plant maintenance to assist in the rejuvenation and remaking of Long Island's oldest theater. Contact: vlmusichall@gmail.com
---
REQUIRED READING
The Village Sun is an online newspaper serving Downtown Manhattan, including Greenwich Village, East Village, Soho, Lower East Side, Union Square, Hudson Square, Chelsea and beyond. It's 100% unconsolidated, noncorporate, undiluted and unmerged. From Lincoln Anderson, the award-winning former editor of The Villager. Subscribe, why doncha? It's free!
---
Jonathan Slaff & Associates
55 Perry Street, Ste. #1M, New York, NY 10014