OCTOBER 25 TO 31
MARTIN E. SEGAL THEATRE CENTER
PRELUDE FESTIVAL
The Martin E. Segal Theatre Center at the Graduate Center, CUNY will present its annual PRELUDE festival from October 25 to October 31. This fest is dedicated to artists at the forefront of contemporary NYC theater, dance, interdisciplinary and mediatized performance and offers an array of short performances, readings, and screenings -- a free survey of the current New York moment and the work being prepared for the next season and beyond. There are also new commissions and panel discussions with artists, scholars, and performers. All events are free and open to the public on the festival's digital platforms.
"Ancestor Dances" -- Artistic Direction, Choreography, Dance: Maura García.
This year's festival will feature a line-up of artists including Stefa Marin Alacron; Mariam Bazeed; Rodney A. Brown (The Brown Dance Project); Benjamin Camp, Makoto Hirano, and Alex Torra (Team Sunshine Performance Corporation); Natalie Green and Michelle Talgarlow (Mugwumpin); Maura García; Jake Hooker (A Host of People); Sibyl Kempson (7 Daughters of Eve Theatre & Perf Co.); Adil Mansoor, Nicole Shero, and Paul Kruse (Hatch Arts Collective); Carra Martinez; Indee Mitchell (LOUD, New Orleans Queer Youth Theatre and Last Call: NOLA); Jeremy Paul (Maelstrom Collaborative Arts); Damani Pompey, Issa Perez, and Cain Coleman (Magnus Works); Isaac Pool, Miriam Gabriel, Alexa Grae, Nina Guevara, Sahar Sepahdari-Dalai, and Alexa Grae; Daisy Press (Voice Cult); Alex Tatarsk; Anh Vo; Kiyan Williams; and Declan Zhang and Kyle Brenn.
Curators are Sivan Battat, Malcolm Betts, David Bruin, Ty Defoe, Jesse Firestone, Alessandra Gómez, Nile Harris, Miranda Haymon, Jake Hooker, David Mendizábal, Lumi Tan, Jay Wegman, and Arien Wilkerson. MORE INFO
OCTOBER 31
THEATER FOR THE NEW CITY
VILLAGE HALLOWEEN COSTUME BALL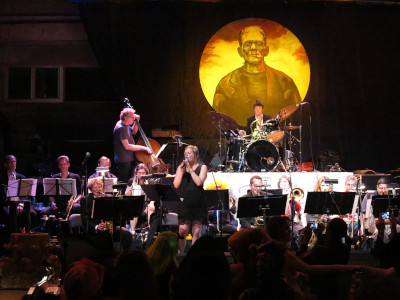 Hot Lavendar Swing Band performs at Theater for the New City's Village Halloween Costume Ball, 2014. Photo by Jonathan Slaff.
Dr. Fauci says "go out there and enjoy Halloween," and we're taking that as doctor's orders. Happily, Theater for the New City's Village Halloween Ball will be held outside this year. The fete will take place October 31 as an open-air celebration outside the theater, on East Tenth Street between First and Second Avenues. A large tent will provide rain protection. Performances, a costume competition and dancing to the music of swing and Latin bands are planned. Events are scheduled from 2:00 PM to 11:00 PM. In the evening, there will be Chop Shop Theater--a succession of free, live, 10-minute performances staged in the theater's set shop for audiences watching through an open garage door on East Tenth Street. Admission is free but donations will be gratefully accepted. No reservations are necessary. More info.
NOVEMBER 6 TO 28, 2021
THEATER FOR THE NEW CITY
"THE DARK OUTSIDE" BY BERNARD KOPS
Playwright Bernard Kops, now 94, is one of Europe's best-known and most admired playwrights. He was born in the East End of London of Dutch-Jewish working class parents in 1926. He achieved recognition with his first play, "The Hamlet of Stepney Green," which was performed all over the world. He has written more than forty plays for stage and radio, nine novels and six volumes of poetry. He lives in London. Only four of Kops' plays have been produced in America, the most recent being "Paying Sinatra" at Theater for the New City in 2013.
L: Playwright Bernard Kops.
R: Austin Pendleton and Katharine Cullison in "The Dark Outside." Photo by Jonathan Slaff.
Austin Pendleton and Katharine Cullison will head a cast of five in "The Dark Outside," his latest play, which will be presented by Theater for the New City November 6 to 28. Kops deals with the conflicts and struggles of a family trying to keep together while the world outside is ever increasingly chaotic and desperate. Although the play appears to be a domestic drama, it is set against the visual metaphor of an ancient 400-year-old mulberry tree protecting a family in their garden. The ancient tree is a symbol of longevity and hope, often known as the Tree of Life, reminding us of the mystical healing power of Mother Nature.
NOVEMBER 18
ROULETTE, 509 ATLANTIC AVE., BROOKLYN
MARI KIMURA IN "LISTEN TO THE MUGICŪ - MUSIC WITH MOTION SENSOR"
As part of an evening named "Interpretations: Mari Kimura / Joseph Kubera," violinist/composer Mari Kimura will share six instrumental works conceived for her motion sensor invention MUGIC®. It will be the most broad-ranging showcase to-date for the innovative device, which is helping to fuse the capabilities of classic, contemporary violin with improvisational, interactive computer music into a distinctive sound palette of its own.

L: Mari Kimura; R: MUGIC® on her bowing hand.
Six pieces for MUGIC® will be offered, of which three are premieres: Kimura's own "Iron Bird for cymbal and MUGIC®," performed by percussionist Aiyun Huang (World premiere); "Motion Notions" by Dai Fujikura (New York premiere), performed by Kimura on violin, and MUGIC®; and Kimura's "KISMET for MUGIC® and ensemble," performed by Ensemble Decipher (US premiere). Three other works written and performed by Kimura will round out the hour.
MUGIC® -- a wearable electronic gadget with a gyroscope, accelerometers and a magnetometer.
This one-hour medley will be the first part of a two-part evening that is co-presented by The Interpretations Series and Roulette. In the second part, veteran pianist Joseph Kubera will perform a solo recital featuring "Block Design" by Tom Johnson, "Queens Plaza" by Daniel Rothman, and other works. Presented as part of The Interpretations series, now in its 32nd season, a New York-based concert series focusing on the relationship between contemporary composers and their interpreters.
NOVEMBER 27 TO DECEMBER 19
NEW OHIO THEATRE
NYLON FUSION THEATRE COMPANY PRESENTS "CANDLELIGHT" BY JOHN PATRICK SHANLEY (WORLD PREMIERE)
John Patrick Shanley in 2015
John Patrick Shanley celebrates the creativity of childhood, the purity of young love, the power of innocence and the strength of the inner child in "Candlelight," a new work of magical realism that he alternately describes as "Peter Pan meets Romeo and Juliet" and "A Nuyorican tragedy dripped in Brooklyn Blood." The play takes place in the mind of a fearless ten year old girl named Esperanza. She falls in love with a boy of the same age named Tito, who worships her. They are surrounded by dangerous and surreal events that make it unlikely that either will ever survive. Three children characters, Esperanza's father, a mirror, a bathrobe and a demon are all played by adults "to get adults in touch with the passionate exercise of life," according to Shanley. Nylon Fusion Theatre Company, which has presented a handful of Shanley's plays to-date, will present the work's world premiere, directed by Lori Kee.
BEGINS DECEMBER 23, 2021
THEATER FOR THE NEW CITY
"THE SLAVE WHO LOVED CAVIAR" BY ISHMAEL REED, DIRECTED BY ROME NEAL
Ishmael Reed
Renowned playwright, poet and satirist Ishmael Reed takes aim at the New York City art world with this new play about the life and career of Jean-Michel Basquiat. Reed examines the racism directed at Basquiat and the ways that Andy Warhol, the art establishment and the fashion industry exploited and profited from Basquiat's artistry. Why was racism toward Basquiat allowed to masquerade as "art criticism"? How does this implicate the New York City art world? Directed by Rome neal, Artistic Director of Nuyorican Poets Cafe.
JANUARY 6 TO 23, 2022
THEATER FOR THE NEW CITY
"I JUST WANT TO TELL SOMEBODY" BY SMOKEY STEVENS
Ronald Smokey Stevens earned a place on Broadway thanks to raw talent and his wits, becoming a polished song-and-dance man in such productions as "Bubbling Brown Sugar," "Inacent Black," "Dreamgirls," his own musical, "Rollin' on the T.O.B.A.," and tours of "One Mo' Time" and "Ain't Misbehavin." His films include "The Wiz" (as one of the Crows performing with Michael Jackson), "The Cotton Club" and "Times Square." He danced with such greats as tap master Charles "Honi" Coles, Lucille Ball, Cab Calloway and Gregory Hines, to name a few.
Smokey Stevens in "Bubbling Brown Sugar"
He has adapted his autobiographical novel, "I Just Want to Tell Somebody: The Autobiography of Ronald Smokey Stevens," into a one-man, two character theater production. It dramatizes his lifelong battle with drugs in which he, at long last, prevailed. "Smokey" plays both himself and his nemesis, a sarcastic doppelganger called "D MAN." The play walks us through modern moments of theater history that were his triumphs and the journey through drug usage that was nearly his undoing.
He's now Artistic Director of Capital City Readers Theatre in Washington, DC, recipient of The @NAACP 11th Annual Theater Arts Award, and a documentary filmmaker. In an archival video clip, watch him performing "The Hop Scop Blues" from "Rollin' on the T.O.B.A." (1999). That production was a salute to the genius of the entertainers who toured the black vaudeville circuit known as T.O.B.A.-- Theatre Owners' Booking Association--in the 1920's and 30's. It was both a champion and a destroyer of Black Vaudeville.
FEBRUARY 21 TO MARCH 13, 2022
THEATER FOR THE NEW CITY
"DANCE OF DEATH" PARTS ONE AND TWO BY AUGUST STRINDBERG
This two-part play, written in 1900, is is being presented together for the first time in North America by August Strindberg Rep. It is labeled by some critics, not without justice, as Strindberg's greatest work. In an isolated fort Edgar, a captain of artillery, and Alice, his wife, have lived for 25 years, hating each other with a deadly venom and each wishing the other's death. Their home becomes peopled with devils. When Kurt, Edgar's friend, comes to stay in it, he is caught up in the atmosphere of evil. He falls in love with Alice and becomes her associate in a plot designed to destroy her husband. During a stroke, Edgar suddenly gains a new vision of life, realizing his own errors and pleading for reconciliation. Thus ends the first part of the drama.
August Strindberg
The second shows the final triumph of the wife. Remorselessly, she drives Edgar to his death--although in the very process of doing so, a bitter doubt enters her mind. The play's legacy can be seen in a number of contemporary plays. In "Play Strindberg," Friedrich Dürrenmatt condensed the two parts into a terse, brutal series of boxing rounds. The claustrophobic atmosphere and treatment of marital dysunction in Strindberg's masterpiece reverberate through Albee's "Who's Afraid of Virginia Woolf?," Harry Kondoleon's "The Houseguests" and even John Guare's "The House of Blue Leaves."
FEBRUARY 3 TO 20, 2022
THEATER FOR THE NEW CITY
"WHO MURDERED LOVE?"

"Who Murdered Love" by Lissa Moira and Richard West is set in 1924 New York City and in a Paris dreamscape. The story follows WWI veteran & private eye, "Sleepy" Sam Speed, Gail Friday & Everett Greene as they attempt to unravel the disappearance and possible murder of DaDa Love, at the behest of their client, the stunning heiress Honey Potts. DaDa Love is at the center of the world of DaDa artists, at the time when the Surrealists are vying for artistic supremacy. Their quest leads the trio through a mad adventure sparked by artistic and sexual jealously as they find themselves inside an Absinthe dream, peopled by outrageous artists of every stripe – some very predatory.
APRIL, 2022
THE NEGRO ENSEMBLE COMPANY, INC. (VENUE TBA)
"LAMBS TO SLAUGHTER" BY KHALIL KAIN
During the Covid-19 hiatus, The Negro Ensemble Company, Inc. has been developing "Lambs to Slaughter" by Khalil Kain, a new play with poetry and music, under the direction of Reginald L. Douglas. Kalil Kain is an urban icon who is renowned for his performances in the 1992 crime thriller "Juice," the UPN/CW sitcom "Girlfriends" (2001-2008) and the title role in the film "Tiger Woods." Reginald L. Douglas is a distinguished developer of new works and advocate for new voices. Off-Broadway opening is projected for April, 2022. Venue is TBA as of this writing.
Khalil Kain. Source: Stage 32.
The play is a drama of a single mother who has lost her older son to gun violence and must navigate the mourning process with the help of an upstairs neighbor and an ex-lover. She fears failing her younger son, who wrestles with his own demons and guilt. The piece will be Kain's first produced play. It blends compelling realistic dialogue with verse that is crafted for call-and-response. Instrumental underscore is provided by Keith Edward Johnson. The verse, seamlessly woven into the story, provides an emotional release for the characters, exploding with heightened truth and pulsating through an incendiary look at the current state of America. Kain will portray the ex-lover, a former convict who has turned his life around and seeks to save the single mother who is the play's tragic heroine.
APRIL 25 TO MAY 15, 2022
THEATER FOR THE NEW CITY
"COMMITTED" BY NATALIE MENNA
Dutch Fimmaker Theo Van Gogh in 2004. Source: Wikimedia Commons.
A work of historical fiction about the last two days of Dutch filmmaker Theo Van Gogh's life. When his highly controversial and vulgar documentary causes a tremendous uproar in Amsterdam and abroad, Theo spirals downward. The play explores the collision of an artist's radical temperament and unyielding vision with modern political realities and the inevitable tragedy when uncompromising values clash. Can friendship, family, or love save Theo from his biggest threat - himself?
STREAMING ON DEMAND
WESTERN WIND IN "CERTAIN DRAGONS & OTHER BEASTS..."
If you missed the Grammy-nominated Western Wind Vocal Sextet on October 9 at Church of St. Luke in the Field performing "Certain Dragons & Other Beasts, Fearsome, Delightful, & Strange," you can catch it streaming.
L-R: Linda Lee Jones (soprano), Elizabeth Van Os (Soprano), Eric S. Brenner (countertenor), Steven Hrycelak (bass), David Vanderwal (tenor), Todd Frizzell (tenor). Photo by Jonathan Slaff.
Western Wind delves into the deeps of the sea, the highest soaring heights of the air, and everything in between with works by Josquin, Janequin, Weelkes, Monteverdi, Purcell, Billings, Stanford, Dennis, and others. These works are both grave and fanciful, well-known and unknown, very old and very, very new. Accompanying these classics is the world premiere performance of "Certain Dragons" by Martha Sullivan, a multi-movement work created for The Western Wind. Its five movements are settings of texts from John Keats, W.B. Yeats, Siegfried Sassoon, African-American Spirituals, and Sullivan herself, all referencing dragons. You can download the program, with all the lyrics to follow along, here.
Woodie King, Jr. Photo by Jeremy Gerard.
AFTER WATCHING THE TONY AWARD FOR WOODIE KING, JR.'S NEW FEDERAL THEATRE, READ THIS FABULOUS HISTORY
When Woodie King, Jr.'s New Federal Theatre received its 2020 Tony Honors for Excellence in the Theatre, it was the subject of an article by Jeremy Gerard in The Undefeated that should be required reading for anybody interested in theater history.
New Federal Theatre has produced more works by minority playwrights and women than any other organization in the history of New York Theater. The title of the article is "Woodie King Jr. finally gets a Tony Award for bringing color to the stage."
Gerard's article traces King's theater back to its origins in the Seventies, inspired by the Federal Theater that was part of President Franklin D. Roosevelt's Works Progress Administration. The cohort of minority and women playwrights and actors NFT has launched into prominent careers is an honor roll of theater in our time. Gerard's article uniquely documents King's creative relationship with Wynn Handman, head of The American Place Theatre and with Joseph Papp's Public Theater. And it recounts such fascinating insider stories as the ascent to Broadway of Ntozake Shange's "For Colored Girls Who Have Considered Suicide When the Rainbow is Enuf."
Although the award ceremony was four weeks ago, you can watch Woodie's Tony Award acceptance speech here.

STEPHANIE TRUDEAU IN "BECOMING CHAVELA"
Stephanie Trudeau returned to Don't Tell Mama October 13 with "Becoming Chavela," her docu-cabaret about Chavela Vargas, the iconic Mexican singer and trailblazer who constantly broke the mold, was edgy in the 1990's, and is increasingly relevant today because her story pushes so many hot topic buttons: gender issues, gay rights, immigration and Mexican culture. The show features songs of lust and longing and stories of her friendships with Diego Rivera, Frida Kahlo, Liz Taylor and Pedro Almodovar.

OCTOBER 14 TO 24
THEATER FOR THE NEW CITY
ELECTRIC'S WEST SIDE STORY (ON THE LOWER EAST SIDE)
While "West Side Story" recently returned to Broadway and will soon be released as a feature film by Spielberg, seven-time Emmy award winner William Electric Black is concocting a one-man show inspired by the famous musical. "Electric's West Side Story (On The Lower East Side)" is the well-known playwright, director and performer's take on the famous play, its place in history, role today and issues it presents. In this version, audience members can become part of the performance.
William Electric Black as a gang member.
"I am telling the story in my own Electric way, using bits of "Romeo and Juliet" while channeling the characters of Tony - Riff – Maria, Bernardo, Lt. Shrank, Doc and a few others," Electric says. "I will use the show to talk about racial prejudice - hatred - and today's racial divide.
NEGRO ENSEMBLE READYING "THE ROOTWOMAN" BY MICHAEL BRADFORD
For June, 2022, The Negro Ensemble Company Inc. is preparing to mount "The Rootwoman," a contemporary play by Michael Bradford with accompanying music and vocals. In a small rural community on the outskirts of New Orleans, Cleveland Temple hasn't been able to keep a morsel of food in his stomach for weeks. His wife, Wanda Temple, is finally pregnant. His best friend, Lucias Steady can't seem to shake a twenty year old dream. His former mistress, Cecelia Shacklefoot, is drowning in the river flowing in her own back and Ms. Janie, the Rootwoman, has a secret for which even she cannot find the cure. At the end of the day, it is the whistle of a coming train that sounds the final blue note of this syncopation. This is a play about the seduction of love, the bitter taste of regret and the necessity of redemption.

JEAN-CLAUDE VAN ITALLIE
Playwright Jean-Claude van Itallie died September 9. Author of over thirty plays, translations and musicals, he was one of Ellen Stewart's original "LaMaMa playwrights" and a principal playwright of Joe Chaikin's Open Theater, for whom he wrote what has been called the classic ensemble play, "The Serpent."
Left: Jean-Claude van Itallie.
Center: "Motel" at La MaMa, 1965. Photo by Phill Niblock.
Right: "Master and Margarita" at TNC. Jonathan Teague Cook as The Devil. Behind: Gary Kimble and Kolawole Ogundiran. Photo by Jonathan Slaff.
Van Itallie was born in Brussels in 1936, raised in Great Neck, Long Island, and graduated from Harvard in 1958. In the seventies, he wrote his frequently-produced new English versions of the four major plays of Chekhov. Andrei Serban staged his adaptation of "Uncle Vanya" at La MaMa in 1983, featuring Joe Chaikin and F. Murray Abraham. "Struck Dumb," his monologue written with/for Joseph Chaikin, was presented by The American Place Theatre in New York City in 1991. "Ancient Boys," a play about a gay artist living with AIDS, premiered at LaMaMa in 1991. His "Master and Margarita," adapted from Bulgakhov's novel, was presented by Theater for the New City in 1993.
But Van Itallie is perhaps best known for his "America Hurrah" trilogy," the watershed off-Broadway event of the sixties. This trilogy heralded and was the first major dramatic expression of the anti-Vietnam war movement. Catching theatergoers by surprise, it had a shock effect on the culture. Its centerpiece, the giant puppet play "Motel," was originally presented by La MaMa in 1965 and revived there in 1981. George Ferencz restaged the masterpiece based on the original direction of Michael Kahn in 2004.
In later years, he founded Shantigar, a retreat in Western Massachussets devoted to meditation, theater of sacred intent and engagement with nature. In his final writing for the stage he was co-lyricist (with Lois Walden) of "Mila, Great Sorcerer," an opera that re-told the story of Milarepa, a Tibetan siddha. It was commissioned by Gene Kaufman and Terry Eder.
GEORGE FERENCZ
Director George Ferencz died September 14. He was well-known for his productions at La MaMa including a distinguished production of Sam Shepard's "Tooth of Crime," a trilogy of Shepard's jazz plays with Obie-winning music by Max Roach, and Mac Wellman's "Harm's Way."
George Ferencz
Ferencz first drew attention in the New York theater world as a founder and co-artistic director of the Impossible Ragtime Theater in the mid-seventies. But he became most famous for his productions at La MaMa, where he staged over 30 in the course of about about 30 years, and curated the La MaMa Experiments Reading Series. He was also a "go to" director for Theater for the New City and at he time of his death, was preparing "Aunt Susan and Her Tennesee Waltz" by Toby Armour for production there.
He was principal director of Adusah Boakye's Africa Arts Theater Company and staged American pemieres of plays by South Africa's Pieter-Dirk Uys for that company and also for La MaMa. He directed at regional theatres including the Actors' Theater of Louisville, Berkeley Rep, Cleveland Playhouse, Pittsburgh Public, San Diego Rep and Syracuse Stage. He also taught widely in universities and acting schools.
Because Afghanistan is so much in our minds, we fondly remember Ferencz's production at La MaMa of "The Last Two Jews of Kabul" (2003) by Josh Greenfeld, which was based upon a true story. After the fall of Kabul in the autumn of 2001, two Jewish men were discovered in a city that was once home to 40,000 Jews. These alleged "last two Jews" were sharing as their living quarters the ruins of a synagogue -- but not speaking to each other. This is a comic premise and the play was, indeed, rich in humor, but not without serious and dramatic overtones.
Crystal Field of Theater for the New City said, "He was more than a director, he was a light. Now a light for us has gone out." He is survived by his second wife, costume designer Sally Lesser, and his son, Jack.
MICHAEL ARIAN
Michael Arian, an actor and La MaMa staffer who had been a regular performer with John Vaccaro's Playhouse of the Ridiculous and other "downtown" companies including Hot Peaches, died September 20. He received his first Equity card in 1971 and acted from that year forward at La MaMa as well as Theater for a New City, Shakespeare in the Park at the Delacorte, in various Off-Broadway productions, and in regional theaters. He toured Europe with the touring company of "Hair" and with Playhouse of the Ridiculous. More info
INDUSTRY INTELLIGENCE

Performing Arts Insider is your everything theater guide. Publisher David Lefkowitz is constantly expanding its coverage of recorded and virtual shows--both limited-run zooms and perpetual videos on YouTube.
Subscriptions are available for both the hardcopy and digital versions.
---
Jonathan Slaff & Associates
55 Perry Street, Ste. #1M, New York, NY 10014